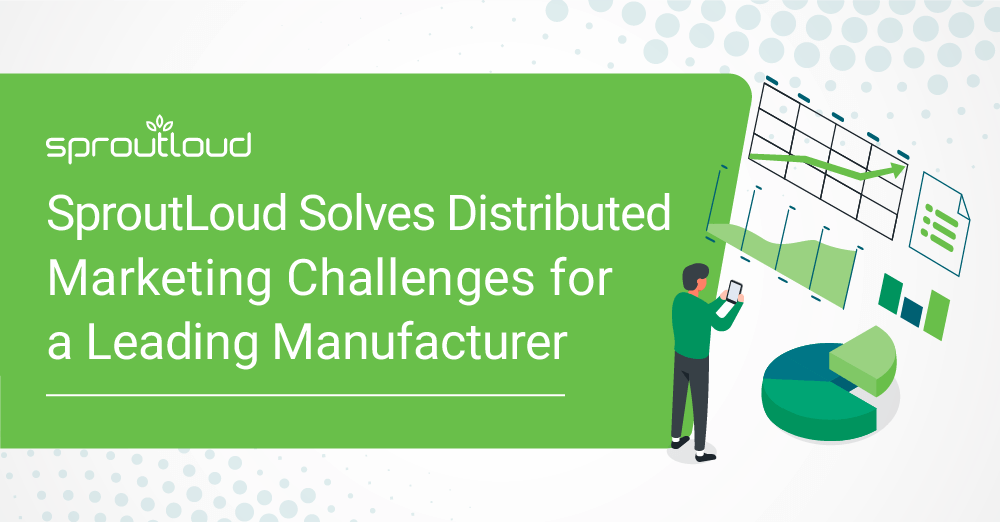 SproutLoud Solves Distributed Marketing Challenges for a Leading Manufacturer
When a leader in the manufacturing industry was dealing with a patchwork of segregated marketing fulfillment providers, too many vendors and incompatible systems, they came to SproutLoud, an industry leader in Distributed Marketing, to solve their complex array of challenges.
The company's challenges encompassed issues with Co-Op Marketing, vendor management and digital marketing capabilities:
For Co-Op Marketing, the manufacturing company was using a cumbersome claims and reimbursement process that required time-consuming brand approvals.
Regarding vendors, the company simply had too many to manage. They were using many different vendors with disparate, incompatible systems for ad building, marketing fulfillment, ordering inventory, and apparel.
For digital marketing, the company was only offering websites to their dealer network. If their local dealers wanted to use other digital marketing tactics — such as paid search or digital display ads or online listings management — then they'd have to turn to more vendors, which compounded the company's vendor management and brand compliance issues.
To address the manufacturer's challenges, SproutLoud offered solutions:
Co-Op Marketing and Instant Co-Pay Solutions
With SproutLoud's Co-Op Marketing and funds management solutions, the company now has access to change management features that allow them to offer some dealers instant co-pay options, while other dealers have an improved claims and reimbursement process that saves the brand up to 50% in claims processing costs. When the local dealers using instant co-pay, called SproutPay, participate in Co-Op Marketing with the brand, SproutLoud immediately applies both dealer funds and brand funds. This entirely eliminates the need for a claims and reimbursement process: dealers don't pay costs up front, and the brand doesn't have to waste time on preapprovals or brand compliance issues.
Vendor Management Solutions
SproutLoud was able to reduce the number of vendor relationships and streamline the entire process. The SproutLoud Distributed Marketing platform has more than 100 marketing service integrations that automate local marketing from start to finish — for digital marketing and traditional marketing campaigns, including local media buying. This immediately resolved the manufacturer's issues with vendor management and incompatible systems, because everything is handled within one comprehensive platform. With SproutLoud, the manufacturer can also keep working with their preferred vendors.
Digital Marketing Solutions
SproutLoud created one digital solution for the manufacturer's channel partner network, with pre-approved creative and digital ads. On the SproutLoud platform, the manufacturer can give their dealer network access to any digital marketing tactic, including a vastly improved dealer website experience with FrontPage — a branded landing page that perfectly replicates each partner's website with co-branded information about brand products or services. And digital marketing options their dealers were clamoring for — such as online listings, reputation management, and more — are now available on the same SproutLoud platform. This means the brand can now make a broad array of digital marketing campaigns eligible for Co-Op Marketing funds as well.
Measuring Local Marketing Performance
By offering their dealers a full spectrum of distributed marketing capabilities on the SproutLoud platform, the manufacturer has insight into local marketing performance for their entire dealer network and for each individual dealer, which was not possible when they were using a patchwork of incompatible systems and vendors. Now the brand and their dealers can easily access marketing analytics dashboards and local marketing performance reports, so they can see the return on investment for their marketing dollars.
With SproutLoud, the manufacturer was able to reduce costs and reduce time on task, while improving and expanding distributed marketing capabilities across the board for the brand and their dealers. Now, the manufacturer and their network can evaluate measurable results and make data-driven decisions to generate more leads and increase sales.