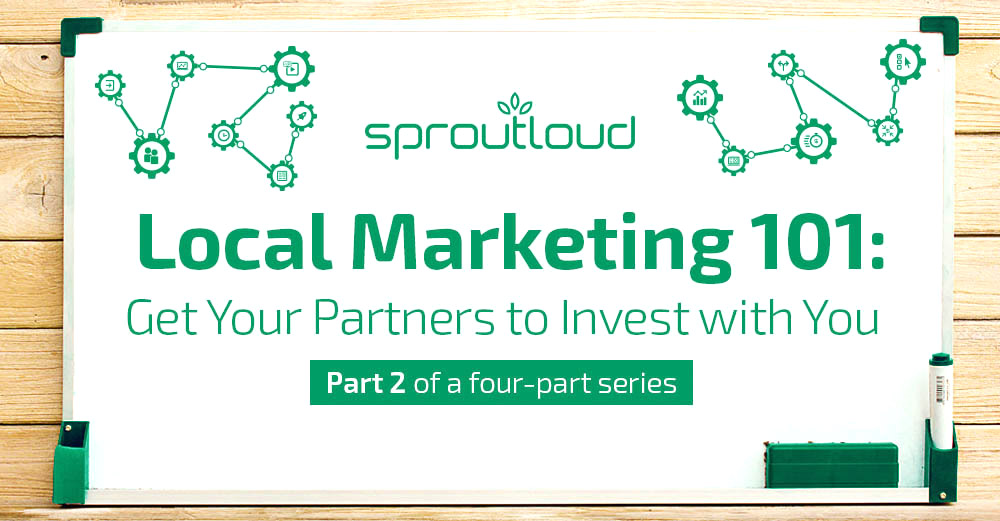 Local Marketing 101: Get Your Partners to Invest with You (Part 2)
It's time to take a good, hard look at your Channel Marketing funding strategy.
The strategic use of Co-Op and MDF funds plays a crucial role in engaging and motivating your Channel Partners. In Part 1 of this series, we discussed how Co-Op gives your Brand the power to influence your Partners' decisions in a way that do-it-yourself tools and Brand guidelines could never do. In this article — Part 2 of our four-part Local Marketing 101 series — we'll explore how upgrading your Co-Op strategy can have a direct impact on your ROI.
Amplify Your Spend
At SproutLoud, we empower Brands to amplify the power of their spend through Intelligent Funds Management. It's the central component of our Channel Marketing strategy. Essentially, it builds on the idea that if Brands and their Channel Partners are investing together in Local Marketing, then every dollar spent is going to have a greater reach and a more significant impact on customers. This is because SproutLoud combines the benefits of a robust funding strategy with the intelligence of real-time analytics, allowing Brands and their Partners to make more informed, data-driven decisions and invest only in what works.
Now, it's clear that historical drawbacks — such as time-consuming, antiquated processes and long wait times on approvals and reimbursement — tend to make Co-Op less than enticing for many Channel Partners. But what we're talking about is not a superficial make-over. SproutLoud is re-inventing Co-Op by:
Cutting Claims and Reimbursement costs up to 50 percent
Getting more dollars focused on Brand campaigns
Getting real-time insight into campaign performance
Upgrade to SproutPay Instant Funding
SproutPay Instant Funding is SproutLoud's answer to the very real concerns that both Brands and Partners have about the Co-Op process. Brands have legitimate reasons to worry about fraud, and Partners are turned off by tediously long wait times for approvals and reimbursement. SproutPay Instant Funding resolves both, because it is not a stand-alone solution. It's the centerpiece of an innovative Channel Marketing strategy.
SproutPay works like Co-Op, in the sense that Brands can attach funds to a tactic or campaign. However, it's better than Co-Op because SproutPay funds are applied instantly. Let's say a Brand that wants Partners to use digital tactics attaches an 80 percent SproutPay offer to Paid Search ad. When a Partner selects that tactic, 80 percent of the cost of the Paid Search ad is charged immediately to the Brand, while 20 percent of the cost is charged immediately to the Partner's credit card. For Partners, SproutPay is infinitely more attractive than Co-Op because it means:
No approvals.
No reimbursement.
No fraud.
The issue of fraud is eliminated altogether because Partners only receive funds when they opt-in to pre-approved, Brand-compliant campaigns. And once Brand and Partner funds are applied, the campaign is automatically routed for execution by best-in-class vendors in SproutLoud's Marketing Service Provider ecosystem. This means no vendor management for Brands or their Partners because SproutLoud does the heavy-lifting for them. We've handpicked the best marketing vendors in the business, and they're regularly vetted, monitored and evaluated for quality and performance. And that level of simplicity — in the planning, funding and execution of local marketing — is what makes SproutLoud's Through-Channel Marketing Automation Platform a real game-changer.
Change Management
We understand that no matter how appealing an Instant Funding upgrade may be, it's still a change that may require time to navigate. At SproutLoud, we believe that well-managed change can be empowering for Brands and their Partners. That's why Change Management is an embedded part of our Intelligent Funds Management strategy. Here's how it works:
Up to 50 percent savings: By replicating the Brand's existing Co-Op program and managing the entire transaction, SproutLoud saves Brands up to 50 percent in claims processing fees.
In-depth training: SproutLoud offers in-depth training, onboarding and ongoing support to our Brands and their Partners to ensure they get the most out of SproutPay Instant Funding and the real-time analytics on tactics, campaigns and Partner performance that come with it.
The best of both: SproutLoud makes it easy for Brands to use both Co-Op and Instant Funding at the same time. For example, Brands can opt to use Co-Op on some tactics and Instant Funding on others to drive adoption. Since both Co-Op and Instant Funding are available on SproutLoud's Platform, it's easy for Brands and their Partners to fully migrate to SproutPay Instant Funding as soon as they're ready for a more advanced funding strategy.