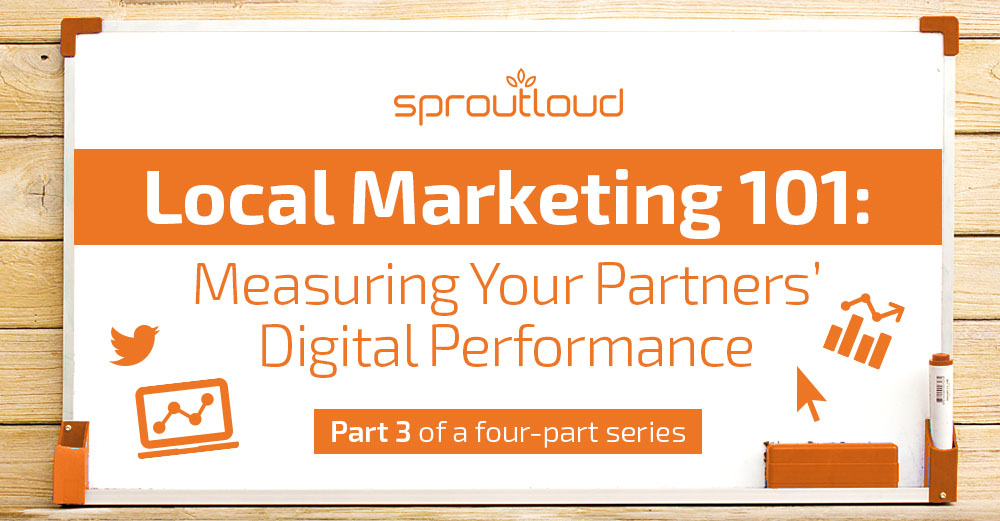 Local Marketing 101: Measuring Your Partners' Digital Performance (Part 3)
Digital drives results:
50 percent of consumers who conducted a local search on their smartphone visited a store within a day, and 34 percent who searched on a computer/tablet did the same, according to Google.
91 percent of local searches say they use Facebook to find local businesses online, according to a Local Search Usage Study.
84 percent of people trust online reviews as much as a personal recommendation, according to BrightLocal.
For Brands and their Channel Partners, Digital Marketing can be a powerful tool to guide customers along the journey from awareness to consideration to decision. In fact, 67 percent of Local Partners who participate in Co-Op marketing campaigns said they think Digital Marketing tactics would drive more sales for their businesses, according to Gleanster Research.
But there can be a wide gap between knowing something is important and successfully implementing it to attain the best results.
Digital Challenges
Your Channel Partners are, first and foremost, business owners. Their primary concerns revolve around customer service, managing employees, selling, training and paying bills. Dedicating additional time to marketing and vendor management can be struggle for many Local Partners.  They may not necessarily know which digital tactic would be the best fit or how to improve their digital presence.
And that's where Brands can make a difference. With the right solutions, data and support, Brands can help set their Partners up for Digital Marketing success. And it begins with a baseline assessment of your Partners' digital presence.
Don't Tell Me, Show Me
At SproutLoud, we've assembled a team of experts with a broad range of experience in building small business programs for major Brands, including AT&T, Verizon and Dell. Our Channel Marketing executives have had the opportunity to engage with thousands of Small Business Owners. One thing is abundantly clear: Small Business Owners are rugged individuals, who have a healthy distrust for anyone telling them how to run their businesses. So, they don't really want or need advice. What they really want is data. You can't tell them you need them to invest in digital. You have to show them why digital matters. That is why having keen insight and data is crucial.
Digital Diagnostics
At SproutLoud, we believe that clear analytics serve to demystify Digital Marketing for both Brands and their Partners. That's why we offer Digital Diagnostics on each Channel Partner's performance in critical areas, including:
Website performance: This includes your Partner's multi-screen compatibility (or how mobile-friendly the site is), search engine indexing and SEO analysis.
Directory Listings: This shows how easy — or hard

 

—

 

it is for someone to find your Partner online, and whether online directories have your Partner's accurate name, address and phone number listed.
Reputation Management: This looks at what people are saying about your Partner in online mentions and reviews.
Social Media: This reveals how successfully your Partner is using social channels to promote, market and connect with current and prospective customers.
SproutLoud's Digital Diagnostics also deliver direct insight into how each Partner stacks up against top competitors in the local market. And that's crucial information that can help your Partners gain a competitive edge.
Data-Driven Decisions
With in-depth analysis on local digital performance, Brands can take the steps necessary to engage their Partners and help guide their Digital Marketing investment.
One of the most effective ways Brands can influence their Partners' decisions is to use performance data together with an Intelligent Funds Management strategy that employs Co-Op and Instant Funding options. For example, if a Brand sees that their Partners need to ramp up their digital presence to outpace the competition, the Brand can make certain marketing programs more attractive than others. This can be done by attaching a higher Co-Op or Instant Funding percentage to Websites, Directory Listings and Reputation Management than other tactics, such as Promotional Items or Direct Mail.
With the right tools, like Digital Diagnostics, and a comprehensive Through-Channel Marketing Automation Platform that offers expert ongoing support, Brands can empower their Partners to achieve Digital Marketing success.