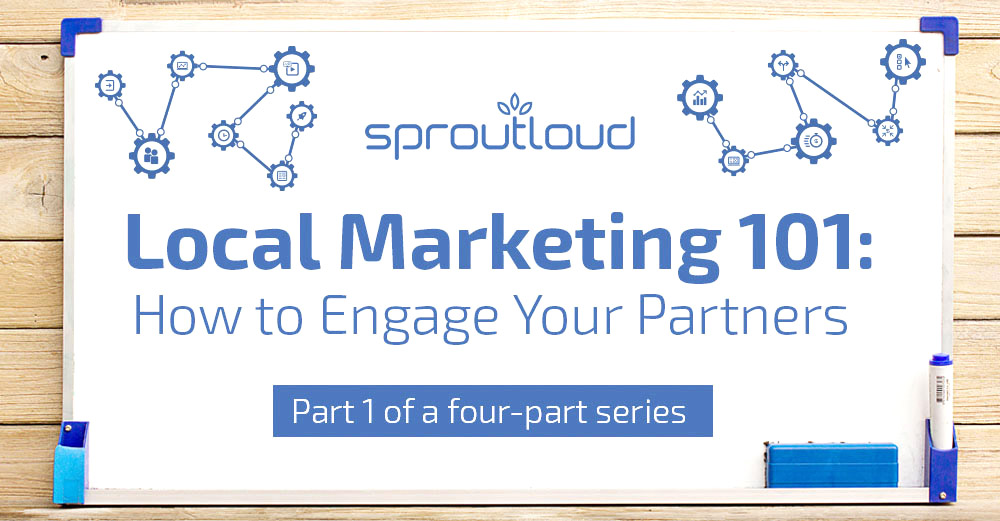 Local Marketing 101: How to Engage Your Partners (Part 1)
Brands recognize when they've hit failure points in Channel Marketing:
Partners aren't engaged or trusting of Brand Co-Op programs.
Traditional funding actually stops Partners from participating.
Partners aren't investing in the right programs or vendors.
There is no intelligence in the system to drive repeat execution.
That's when sales performance suffers.
If only you could turn the entire process on its head, come out stronger, better and more successful than ever. That's exactly what the founders of SproutLoud did about a decade ago, when we dedicated serious time to reverse engineering every facet of Channel Marketing. In this four-part series, we're sharing what we've identified as the four cornerstones of Modern Channel Marketing, which embraces the latest innovations in marketing technology and automation while focusing on what's important:
Partner Engagement
Intelligent Funds Management
Performance Metrics
Delivering Measurable Results
And it all starts with the concept of partnership.
Motivate Your Partners
Let's be honest: Money is a big motivator. Your Partners are entrepreneurs and experts in their own businesses. If your Brand can offer them simple, more cost-effective solutions, then you've got their attention.
Consider your funding strategy. If you're not offering MDF or Co-Op — in today's competitive market — it's time to reexamine that decision. Including Co-Op or MDF options in your funding strategy is crucial, because it gives Brands the power to influence Partners' local marketing decisions. Attaching funds to a Brand-preferred tactic or campaign makes it instantly more attractive to your Partners.
Plenty of platforms offer tools for ad building and asset management, but what sets Through-Channel Marketing Automation leaders apart from the rest is one thing: an innovative funding strategy that positions your Brand as a forward-thinking industry leader with a competitive edge.  Two important questions to ask:
Does the platform offer both Co-Op and Instant Funding options?
Does the platform offer an effective Change Management strategy, to gradually transition more advanced Partners from Co-Op to Instant Funding?
Measure Your Partners' Success
To set your Partners up for success in Channel, you need a baseline of their current marketing performance and the ability to get real-time analytics on digital and traditional tactics. It's also important to know if your Local Partners really understand how important their digital presence is to their success. Providing Partners with direct insight into how they stack up against their local competition can be an eye-opener.
Access to in-depth analytics gives Brands the critical information they need to guide their Partners' investment in the most effective tactics. This can mean tying call-tracking to traditional tactics, like Direct Mail, and promoting the use of digital tactics, such as:
Pay-Per-Click ads
Directory Listings Management
Dynamic Local Display ads
Social Media Content Syndication
Leaders in Through-Channel Marketing Automation understand that this level of pre-launch insight is as critical as post-launch analytics in measuring and evaluating the success of local marketing campaigns.
Give Your Partners the Support They Need 
Partnerships are successful when the mutual benefits and advantages eclipse any possible downside. Increasing sales benefits both Brands and their Partners. But the road to more sales may be a bit bumpy for your Partners, if they don't think they're getting the support and service they need. Consider the common Channel roadblocks: Are your Partners struggling with vendor management or Brand compliance or delays in reimbursement?
These are critical areas where Automated Campaign Execution can help. It's not only about implementing Ad-Builder and Digital Asset Management technology. Many promise those tools to Brands and Partners with mixed results. Leaders in Through-Channel Marketing Automation offer a comprehensive solution that includes:
An integrated, best-in-class Marketing Service Provider network that delivers Brand compliance and quality results.
Ongoing, white-glove concierge service that gives your Partners real-time assistance with enrollment, onboarding, strategic guidance, performance reporting and last-mile execution.
With the right motivation, relevant performance metrics and ongoing support, your Partners will be compelled to participate in your Brand's local marketing campaigns, because they'll see it as a win-win. Now, that's something they can't afford to miss.