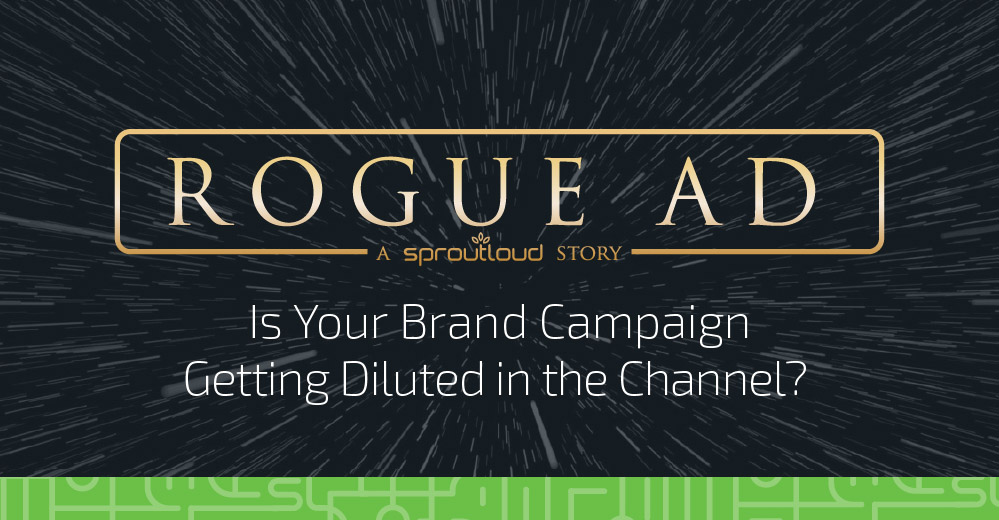 Rogue Ad: Is Your Brand Campaign Getting Diluted in the Channel?
When Jyn Erso and Captain Cassian Andor go "Rogue" in an epic tale of good vs. evil, there's no question who Star Wars fans are rooting for. But it's not quite the same when the ones going rogue are your Channel Partners, with sub-par ads that miss the mark on Brand compliance. Brand-compliant ads matter because they're engineered to deliver the kind of consistency customers need to pique their interest and build their trust. When Local Partners — or the vendors and agencies they rely on to execute local marketing — deviate from Brand guidelines, it dilutes the Brand campaign, puts sales at risk and gives competitors an edge. That's enough to bring out the Dark Side in any Brand marketer. Channeling Darth Vader might actually help shed some — well — light on the issue.
'The Emperor is not as forgiving as I am.'
– Darth Vader, Star Wars Episode VI: Return of the Jedi
Bad messaging risks putting off customers.
Consider this: We live in a galaxy where customers have more power than ever before. They have instant access to detailed product knowledge, scores of product reviews, competitive price comparisons, various locations where comparable products are available – and that's long before they set foot in a local store. Today's customers expect Brands to know them and know how to speak to them.  Bad messaging is not an advisable risk to take, especially when it could have been avoided if only Brand guidelines were followed.
The real problem here involves reining in how much local ad customization your Partners are allowed.
SOLUTION:  The top Channel Marketing Automation Platform offers Digital Asset Management, Ad Builder technology and Dynamic Templates that embed Brand standards, so every possible customization option available to your Partners is already Brand compliant.
'You have failed me for the last time, Admiral…'
– Darth Vader, Star Wars Episode V: The Empire Strikes Back
Bad art in a local ad reflects badly on the Brand's national campaign.
Nothing strikes at the heart of a Brand marketing team more than messing with their logo. Most Brand marketers won't even have to check the "rejected" pile of ad-approval requests to recall the greatest "offenders" who've dared to submit ads with non-compliant art. When a logo is stretched, or the wrong colors are used, or other local marketing execution errors occur due to local vendors that don't adhere to Brand guidelines, Brands and their Partners see it as an epic fail.
The real problem is ensuring that your Partners have access to working with high-quality, best-in-class vendors who deliver consistently flawless local marketing execution.
SOLUTION: The top Channel Marketing Automation Platform not only offers an integrated best-in-class Marketing Service Provider network, it also does the heavy lifting for Brands and Partners by ensuring that the vendors are vetted, monitored and evaluated on a regular basis. No more doubts about whether you're working with the best.
'You do not yet realize your importance. You have only begun to discover your power.'
– Darth Vader, Star Wars Episode V: The Empire Strikes Back
Why would you want your Partners spending their marketing dollars on ads that don't yield results?
Your Partners are undeniably an asset to your Brand: connecting with customers, sharing product knowledge, closing sales. But they're also independent-minded entrepreneurs, and Jedi mind tricks don't work on them.
The real problem is that Partners don't have visibility on the ROI that Brand Co-Op offers deliver.
SOLUTION: Trust the Force – but verify with analytics. The leading Channel Marketing Automation Platform delivers performance metrics on every campaign, allowing Brands and their Partners to compare tactics and evaluate messages. This level of insight guides Partners to invest in local Brand marketing based on ROI.
'Perhaps I can find new ways to motivate them.'
– Darth Vader, Star Wars Episode VI: Return of the Jedi
Ok, setting aside the not-so-thinly veiled threat, finding the right kind of motivation can influence Partner behavior and drive success where it matters most: traffic, leads and sales.
To set your Channel Partners up for success, Brands need to remove the biggest obstacle keeping Partners from investing in Brand marketing: the traditional Co-Op Claims and Reimbursement process.
The real problem, Partners say, is that Co-Op is too complicated, too cumbersome, and too convoluted by issues involving vendor management, approvals and claims. What your Partners need is guaranteed Brand compliance on every tactic, every ad, every time. They want consistent, flawless execution. And they want to have it all at a significant cost savings.
SOLUTION: Give your Partners what they want. The leading Channel Marketing Automation Platform delivers on all counts, because it not only covers ad creation and local marketing fulfillment, it also fully incorporates a strategic Co-Op Funds Management system. This means that Brands can move their Partners from a traditional Co-Op Claims and Reimbursement model to an Instant Funding model that offers:
Deep savings on claims processing
Guaranteed Brand compliance every time
Consistent and flawless automated campaign execution
Analytics that deliver meaningful data and real-time insight, so Brands and their Partners can invest only in what works.
With the leading Channel Marketing Automation Platform powering your Brand, your Partners will no doubt conclude:
 'The Force is strong with this one.'