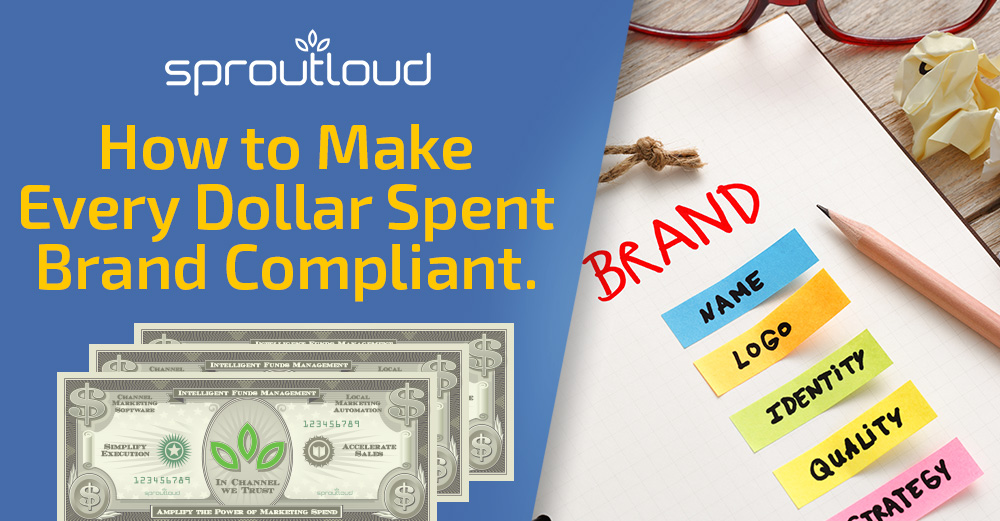 How to Make Every Dollar Spent Brand Compliant
In successful Channel Marketing programs, Partners amplify the voice of the Brand in the local market. What makes that Brand-Channel Partner relationship work is seamless communication and execution of Brand messaging. When everyone's on the same page, it just works. And it shows in upticks in customer engagement, store traffic and sales.
Unfortunately, that's not always how it plays out. Engagement can hit a plateau. Traffic can slow to a crawl. Sales can stagnate. That's why it's imperative for Brands to take a proactive approach to local marketing — before sales drop off.
Your Partners are your Brand's ambassadors in the local community. What makes Local Partners invaluable is the time they spend in front of customers, closing the sale. But your Partners' role in Channel Marketing can be so time-consuming that it cuts into their time with customers. So, how do you balance engaging your Partners in local marketing, while ensuring they have more face time with customers?
Empower Your Partners
Your Brand can empower your Partners to spend more time with customers and less time on marketing — without sacrificing quality or Brand compliance — thanks to the latest innovations in Marketing Technology.
To help your Partners become expert marketers, here's what they need:
Access to an inventory of Brand-approved marketing assets that capture customers' awareness, drive customer consideration, and lead customers to decide to buy your products or services.
Ability to customize Brand assets and marketing materials for local customers with essential information, such as local store location, website, contact information, logo and photos.
Access to the best marketing fulfillment vendors with the skills to flawlessly execute local marketing — without the hassle of day-to-day management of marketing fulfillment.
Make Marketing Effortless
The challenge is to do all that in record time, with stellar results, so your Partners can spend more time with your customers. The solution is finding the right Channel Marketing Automation Platform that makes high-quality local marketing effortless for your Partners.
Access to Brand assets, tactics and campaigns:
With a leading SaaS-based Channel Marketing Automation Platform, Partners can securely log into a customized portal and choose from an array of pre-approved Brand-compliant assets, tactics and local marketing campaigns. More advanced platforms also allow Partners to instantly access Co-Op funds and to execute campaigns with point-and-click ease.
Forget about sending assets to vendors for local customization. Today, leading Channel Marketing Automation Platforms are equipped with easy-to-use dynamic templates, Digital Asset Management tools and Ad Builder technology. The customized portal can be pre-loaded with business profile information — such as store name, address, phone number, website, logo and photos. This means customization work that once took days to complete, now takes minutes.
Finding vendors you can trust to execute effective, high-quality local marketing programs takes a significant investment in time and resources. But Channel Marketing Automation Platforms have this covered, by offering a simple and quick way for Partners to enroll in pre-built marketing campaigns. What distinguishes leading platforms from the rest is the ability to implement a rigorous vetting and monitoring process, handle daily vendor management and ensure quality control and Brand compliance.
With the right Channel Marketing Automation solutions in place, Brands can increase Partner participation in Brand-compliant campaigns and empower their Partners with more time for what matters most: engaging customers and closing sales.