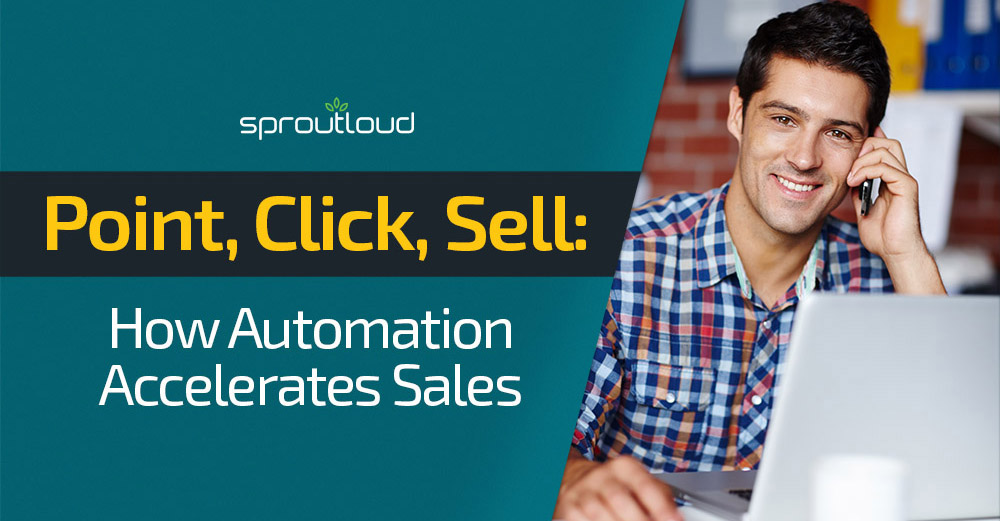 Point, Click, Sell: How Automation Accelerates Sales
Channel Partners sell.
That's what they do best. It's what the Brand needs them to do. It is what creates revenue and margin and market share. But if this is the case, why are Brands constantly asking Partners to take their eye off the ball and spend hour after hour on the administrative work of Channel Marketing? The fact is, Channel Marketing is hard for your Partners. And that difficulty can completely disrupt the performance of your field sales team. Finding a more automated way to help Partners identify, fund and launch local marketing campaigns is not just critical for your Partners — it's critical for your entire Channel Sales program. So, how do we fix it?
At SproutLoud, we created an easy-to-use, cloud-based portal where your Partners can choose from a comprehensive inventory of Brand-selected marketing campaign tactics. Integrated in the SproutLoud platform is our best-in-class ecosystem of 40+ Marketing Service Providers (MSPs). This means your Partners benefit from vetted, quality vendors fulfilling Brand-compliant, customized campaign tactics — without the headaches that come with finding, evaluating, hiring and managing vendors, because SproutLoud does that heavy lifting for them. With SproutLoud, Brands have access to virtually every imaginable local marketing campaign tactic:
Digital Tactics:
Dynamic Digital Display
Social Media Content Publishing
Email Marketing
List Management
Reputation Management
Pay-Per-Click Ads
and more
Traditional Tactics:
Newspaper Ads
TV Ads
Radio Ads
Vehicle Wraps
Outdoor Advertising
POP/POS Collateral
and more
Partners can activate 47 different types of Brand campaign marketing tactics on the SproutLoud platform.
Closing the gap between activation and execution —SproutLoud has poured a lot of innovation and ingenuity into perfecting a campaign execution solution with the latest marketing automation technology. We call it: Automated Campaign Execution — affectionately known as ACE. ACE gives your Partners flexible, convenient options on how to put their Brand marketing campaigns into market. Using automation, Partners have the ability to choose "high-touch" or "low-touch" options depending on their tactics and their needs:
Flexibility with DIY: For larger Partners, with dedicated Marketing departments, Do-It-Yourself (DIY) tactics allow them to take the Brand-approved raw assets, build the ad, select the vendor and manage execution themselves.
Convenience with DIFM: Partners can choose Do-It-For-Me (DIFM) programs where they customize the asset with preconfigured, Brand-compliant templates created in advance by SproutLoud. Then, fulfillment is automatically routed through SproutLoud's Marketing Service Provider (MSP) ecosystem.
Subscription Service with OBO:  One step beyond DIFM are On-Behalf-Of (OBO) programs. Your Partners simply subscribe to a program once, then SproutLoud's MSPs execute it recurrently with no further involvement from the Partner. Social Media Content Publishing, List Management, Reputation Management are all examples of marketing campaign tactics that can be executed on a recurrent basis.
SproutLoud has even transformed traditional marketing campaigns with Newspaper, TV and Radio Ads — taking a tedious, labor-intensive, manual process off your Partner's plate. With our Local Media Buying service, Partners can specify the media outlet and even their preferred sales person, but all the administrative work of actually placing the ad and pulling performance reports is handled by our SproutLoud Media Buying team.
Your Channel Partners sell. It is their most important function and their greatest talent. SproutLoud's Automated Campaign Execution gives your Partners back the time they spend on Channel Marketing, so they can spend more time doing what they do best.
Talk to a SproutLoud Marketing Expert today.
Call 954-476-6211 ext. 3