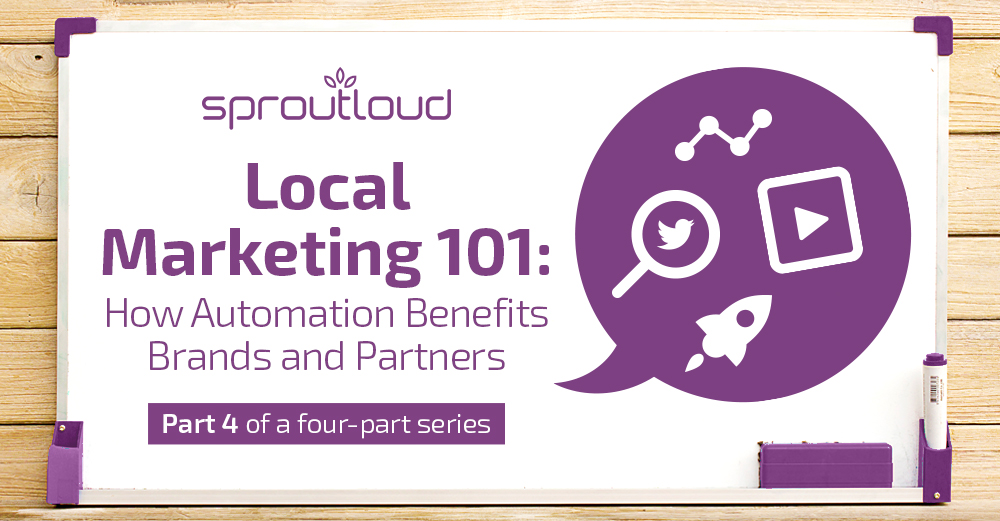 Local Marketing 101: How Automation Benefits Brands and Partners (Part 4)
In Local Marketing, the "last mile" refers to the critical moment when everything comes together in the final execution of a campaign. When it's flawless, it drives results. And when it's not, it shows. In fact, even the most well-crafted messaging and segmentation strategy can be sabotaged by subpar execution.
In this final part of our Local Marketing 101 series, we'll look at what it takes to make that last mile count and deliver measurable results for Brands and their Partners. In earlier articles in this series, we identified the cornerstones of Modern Channel Marketing:
Partner Engagement (Read Part 1)
Intelligent Funds Management (Read Part 2)
Performance Metrics (Read Part 3)
Delivering Measurable Results
And at the end of the day, results matter.
Automating Campaign Execution
For stellar results, every time, you need everyone who touches a local marketing campaign to bring their A-game. Customizing ads according to Brand guidelines, following the Brand's process for Co-Op or MDF, executing campaigns with marketing vendors, and tracking the right data to determine your ROI — all of this takes time and expertise. While your Channel Partners are entrepreneurs, business owners and experts in their own right, their primary concern is running a business. They may not have the time to dedicate to carefully vetting, monitoring and evaluating marketing vendors to ensure they're the best.
The solution lies in choosing a leading Through-Channel Marketing Automation platform that does the heavy lifting for your Brand and your Partners by automating campaign execution. Here's what to look for in a top Channel Marketing platform:
Point-and-click campaign execution: Marketing Automation should make campaign development easy to navigate for your Partners. Point-and-click options for selecting tactics, customizing assets and executing campaigns make it simple.
Best-in-class marketing vendors: When it's done well, Marketing Automation can alleviate vendor management headaches and reduce OpEx. Ask for details about how the platform handles local execution. Are vendors integrated into the platform? If they aren't, then most of the heavy lifting is still on your Partners.
Low-touch and no-touch options: Local businesses within your Partner network may vary in how involved they want to be in their local marketing campaigns. Make sure the Through-Channel Marketing Automation platform you choose can handle both do-it-yourself and set-it-and-forget-it marketing programs.
Working with the Best
At SproutLoud, we've curated our best-in-class Marketing Service Provider (MSP) network because we understand the crucial role vendors play in ensuring flawless last-mile campaign execution. Let's take a closer look at what that means:
Vetting: SproutLoud carefully vets marketing vendors based on their innovative capabilities and their track record of success.
Monitoring: Through monthly performance scorecards and quarterly business reviews, SproutLoud monitors each vendor in our MSP network to ensure we're working with top performers.
Evaluating: We constantly evaluate new vendors entering the market to ensure that Brands and their Partners receive the highest quality services available.
Integrating: Vendors that meet our rigorous standards are integrated into SproutLoud's Through-Channel Marketing Automation Platform. This means that once your Partners select local marketing campaigns and apply funding, they don't have to worry about finding, contracting and managing vendors to handle campaign execution. With SproutLoud, campaigns are automatically routed to our best-in-class MSP network for execution.
Investing Only in What Works
"Measurable" is the operative word when it comes to results. And that's one of the most significant advantages of a truly comprehensive Through-Channel Marketing Automation Platform.
SproutLoud Analytics offers in-depth performance reporting that benefit Brands and their Partners:
Centralized analytics: Aggregating metrics across vendors, for one Partner or across your entire Partner network, is no longer a labor-intensive, manual process. SproutLoud's Platform is built to make relevant data accessible in real-time.
Better insight: Brands can evaluate performance by Partner type, region or tactic.
Better results: Understanding what works and what doesn't takes the guesswork out of Channel Marketing and empowers Brands and their Partners to invest only in what works.
Finding a Comprehensive Solution
Leading Marketing Automation platforms that promise comprehensive solutions should be required to demonstrate their value. At SproutLoud, that's par for the course, because analytics are embedded into everything we do. SproutLoud delivers an easy-to-use Through-Channel Marketing Automation Platform designed to fit the needs of Brands and their Partners. We ensure Brand compliance while engaging Partners to choose, fund and customize local marketing within pre-set, pre-approved Brand parameters. But when it comes to vendor management, campaign execution and analytics, we handle the heavy lifting to ensure consistency, quality and measurable results. At SproutLoud, we believe in keeping Channel Marketing simple and effective for Brands and their Partners every step of the way.