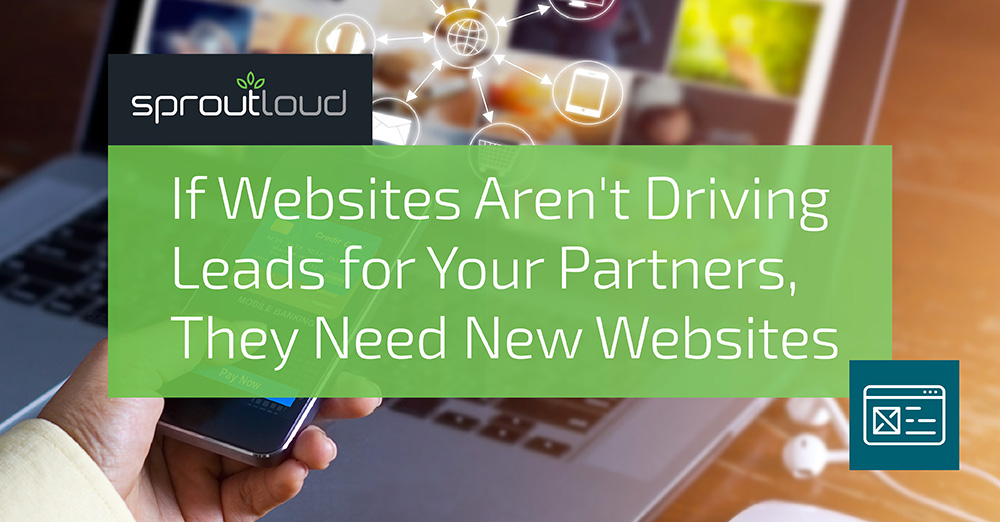 If Websites Aren't Driving Leads for Your Partners, They Need New Websites
Not long ago, Brands needed to convince their Partner networks that simply having a website was important. But it's just not enough anymore to have a mediocre website that merely displays product photos, descriptions and store locations. Today, it's all about driving results. If your Partners' websites aren't delivering measurable results — in terms of traffic and leads — then they need new websites.
Yet, getting Local Business Owners to upgrade to great websites with sophisticated demand-generation functionality can be challenging. They're often under the impression that building a website optimized for lead conversion is too difficult, time-consuming and expensive, when their current website seems to be doing just fine. The thing is that savvy consumers aren't looking for "good enough," especially when, only a click away, there's no shortage of competitors offering more:
97 percent of consumers go online prior to making a purchase to research products and services locally (BIA/Kelsey)
72 percent of consumers who search online visit a store within 5 miles (WordStream)
53 percent of online searchers visit a business within 48 hours of searching (ReviewTrackers)
What Brands need is a simple, fast and inexpensive way to give their Partners the ability to get great websites — with all the functionality to increase engagement, capture leads and drive sales in local markets throughout their Partner networks. To meet the needs of Brands and their Partners, SproutLoud developed a solution that uses leading-edge Through-Channel Marketing Automation technology to give Partners the ability to easily create websites with the critical features they need to grow their businesses, such as:
Content optimized for Google and other search engines, so their store website shows up in search results
Web forms and Automated Email Programs to monitor and nurture leads
Responsive web design that works on phones, tablets and PCs
Simple interface so Partners can point and click to update images, copy and offers
Multiple Brand-approved website templates and theme options, available in various languages
Automated Product Feed
Social Media Integration
Ability to add events, coupons and promotions
Location Finder that supports automatic geolocation, auto-completing address search, and distance search within a given radius
Built-in best practices for a seamless transition to an upgraded website, mitigating any potential traffic loss
With SproutLoud's comprehensive SaaS Platform, your Partners can easily integrate their new demand-generating web design with the marketing tactics and programs they need to drive traffic, leads and sales, including:
Paid Advertising on Facebook, Google, Yahoo and Bing
Directory Listings
Mobile and Video Advertising
Reputation Management
Social Media posting and other SEM digital marketing programs
Measuring website performance is already a built-in capability for Brands and their Partners, because analytics are embedded in the SproutLoud Platform. Brands have 24/7 access to analytics and performance metrics across their entire Partner networks. And Partners receive convenient monthly website performance reports, which include pageviews and goal completions.
SproutLoud's Local Marketing experts provide your Partners with hands-on support, by fielding questions and offering continued guidance. Once your Partners enroll, SproutLoud handles the heavy-lifting — from domain transition and automatically pulling in business information on the new site to creating redirects and a site-map strategy — to ensure uninterrupted traffic and a seamless transition.