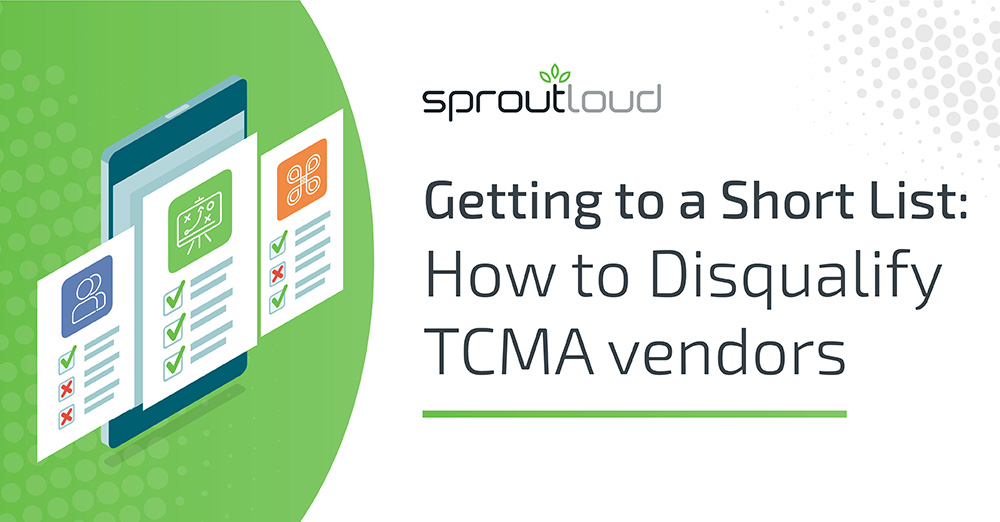 How to Disqualify Through-Channel Marketing Automation Vendors
Casting a wide net is helpful when you begin researching Distributed Marketing solutions. Online searches can quickly lead to a long list of vendors offering local ad builders, Digital Asset Management (DAM) systems, Through Channel Marketing Automation (TCMA), Distributed Marketing platforms or local marketing automation software. Reports and articles from independent research firms and local marketing experts can help you identify leading TCMA providers. And you can also quiz your business connections about what worked for them. As the search progresses, it becomes imperative to stop wasting time and effort on vendors that aren't capable of addressing your brand's challenges. Getting to a shortlist of TCMA providers is easy — if you know how to identify and eliminate unqualified Distributed Marketing vendors.
Staying laser-focused on your brand's requirements will help you weed through a long list of Distributed Marketing software vendors in record time. Here's what you need to know:
1. IT requirements for your vertical
IT data security is a top consideration for every company, but some verticals are subject to more stringent requirements and regulatory oversight than others. Industries such as healthcare or insurance will require an experienced Distributed Marketing vendor with a robust data security infrastructure already in place. A vendor that essentially offers printing and fulfillment services — one that, for example, uses off-the-shelf TCMA software — won't have the capabilities to meet your data security requirements. While less-regulated industries may have fewer data security requirements, no one wants to be vulnerable to a security breach or fraud. The important thing is to know what your vertical requires and whether the Distributed Marketing vendor is capable of meeting and exceeding those standards.
2. Single-point solution or a comprehensive platform
Is your company looking for a limited solution, like a local ad builder or Digital Asset Management system with fulfillment capabilities? Or does your brand need a more comprehensive Through Channel Marketing Automation solution that offers traditional local marketing tactics and digital marketing tactics, start-to-finish local marketing support, programs to manage Co-Op Advertising funds and robust local marketing analytics that provide visibility on ROI? Whatever the case may be, it's important to have a solid understanding of what your internal teams – especially key decision-makers – expect a TCMA platform to resolve.  Consider replacing an existing comprehensive Local Marketing solution with an upgraded comprehensive Through-Channel Marketing Automation platform. This tends to result in a smoother transition than cobbling together a series of single-point solutions with incompatible systems.
3. Platform management and deployment
How much back-end SaaS marketing platform work is your brand team prepared to take on? Some TCMA providers are designed for advertising agency-style teams that are equipped to own and manage every aspect of their partner network's local marketing efforts — from back-end platform management, partner communication, Co-Op Advertising funding, local marketing deployment, and partner support. Other options offer the same level of brand control but require less work from the brand team. A hybrid model allows the brand to manage the TCMA platform by directing set up for the platform, tagging, funding and marketing analytics, while the TCMA provider handles local marketing execution and ad campaign deployment. A third option also allows the brand to maintain control, while the Distributed Marketing software provider manages all platform management and deployment.
4. Partner Engagement
Who will handle partner engagement:  your brand or the TCMA platform provider? Understanding how your brand wants to handle partner engagement and support will help you narrow down which TCMA vendors will be a better fit for your brand. Some TCMA providers require the brand to launch the local marketing platform and handle all partner support and engagement activities. Other TCMA vendors offer a hybrid model for partner engagement, similar to the way it's handled for platform management and deployment, where the brand maintains control and provides direction and oversight, in this case on local marketing messaging and partner engagement, while the TCMA vendor handles local marketing execution and partner support. A third option leaves ultimate control with the brand, while the TCMA vendor comprehensively handles partner marketing strategy and execution for communication to the partner network, partner engagement, and partner support.
5. Media Buying Expertise
Local Media Buying requires experience and significant heavy lifting, whether you're focused on digital media buys in local markets or traditional ads via local radio, TV, newspapers, direct mail and billboards. The question is: Who's going to do the work: an in-house brand marketing team or your TCMA vendor? This key piece of information will help you narrow your list of Distributed Marketing software providers even further. If your brand wants the TCMA software provider to handle Media Buying, make sure the vendor you select has experience in media buy planning, contracting, negotiating ad prices, ad placement and purchasing, asset customization, vendor management, and brand compliance. This will typically lead you to a comprehensive Distributed Marketing software platform, rather than single-point solutions. A TCMA platform provider with security processes in place to eliminate fraud offers a definite advantage for Media Buying.
It's critical to have a clear line of sight on where your brand's stakeholders and key decision-makers stand on IT requirements; on single-point and off-the-shelf solutions vs. comprehensive Through Channel Marketing Automation software providers; on SaaS platform management and ad campaign deployment; on partner engagement, and on local media buying. When you're equipped with this information, you can quickly disqualify the wrong local marketing vendors. This leaves you the time you need to focus on finding the right Distributed Marketing software solution for your brand.