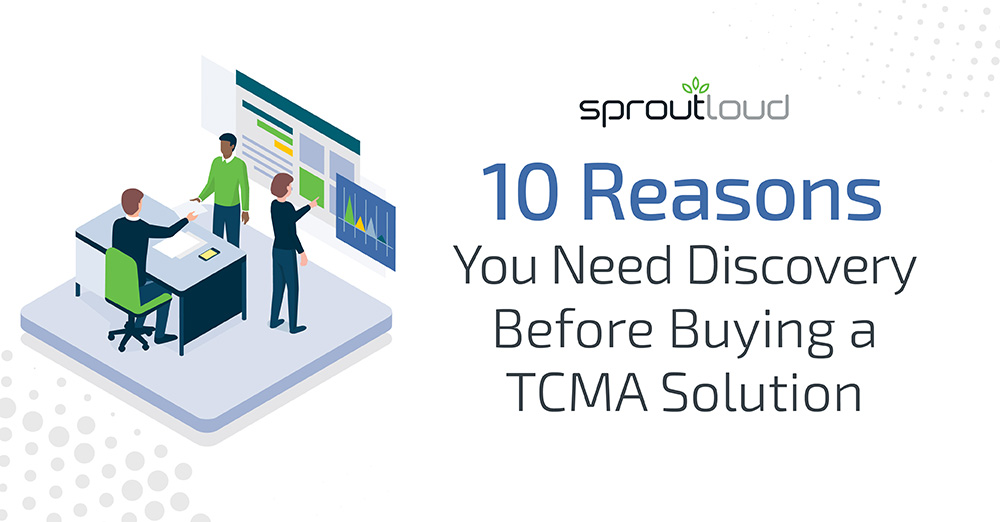 10 Reasons You Need Discovery Before Buying a TCMA Solution
When you reach the final stage of selecting a Through-Channel Marketing Automation (TCMA) solution — after researching leading Distributed Marketing platforms, qualifying (and disqualifying) potential TCMA providers and conducting multiple rounds of RFIs and RFPs — it's crucial to have a clear understanding of what you'll be getting before buying a TCMA solution. This is what makes Discovery so valuable. Paid Discovery is a process designed to give the buyer and the TCMA provider in-depth clarity on the buyer's requirements, goals and the TCMA provider's ability to meet those goals. In addition, it's also a chance for the provider to demonstrate skill and expertise in guiding a TCMA solution toward success.
RFPs are also inherently flawed. They are often created based on internal biases and what is already known, which may lead to requirements based on pre-existing processes or assumptions. So, instead of a buyer saying: "This is my problem. What is the best way to solve this problem? And why?" — most RFPs have the requirements to a desired solution already written, without giving the provider the opportunity to weigh in. Discovery helps mitigate these types of issues.
Consider the alternative, when buyers choose to forgo Discovery and move straight to the implementation of a solution. No matter how diligent a buying team is, disconnects inevitably emerge. It's important to clarify requirements, details and the proposed solution before implementation. Especially when you're purchasing a Software-as-a-Service (SaaS) solution, such as a TCMA platform, there are a lot of moving parts to consider. The average TCMA sales cycle can take up to a year or sometimes more. This process can involve anywhere from five to 15 people within a Brand's organization. And each of the internal stakeholders has different responsibilities and different perspectives about which challenges a TCMA platform should resolve, how it should be deployed and what implementation should look like for the Brand and its network of local resellers, retailers, distributors or agents.
Given all of these concerns, here are 10 reasons why Discovery is worth considering before buying and implementing a TCMA solution:
Discovery minimizes risks by clarifying requirements and problems, and it provides a better understanding of the solutions. This allows the buyer to walk away if unexpected issues arise.
Given the length of the sales cycle, the TCMA provider's technology may have already advanced. Discovery allows the buyer to clarify RFP specifications to intended solutions and ask the provider if there is a better way to solve for those challenges.
Discovery informs the buyer of possible feature gaps.
Discovery allows the buyer to budget appropriately. Scope and costs are often confirmed after discovery — not before.
Discovery defines the team members and resources needed to efficiently execute with the appropriate stakeholders.
Discovery flushes out requirements that aren't always accounted for in advance.
Discovery confirms what you are actually buying.
Discovery provides a clear roadmap for your go-to-market strategy.
Discovery tests your working relationship with the provider, in terms of personalities, skill sets and expertise.
Discovery reaffirms the importance of building a strong consensus across your team about why you chose the provider in the first place. Otherwise, you have the wrong provider.
Selecting a Through-Channel Marketing Automation solution will have a significant impact on how your Brand and its partner network implement your local marketing strategy. Making an uninformed choice means risking a wrong decision. Discovery gives you an opportunity to do more than kick the tires. It's a chance to see how things would really work — or not work — before you make a final decision. What would you pay to avoid buyer's remorse and unexpected surprises? That alone makes Discovery worth every penny.