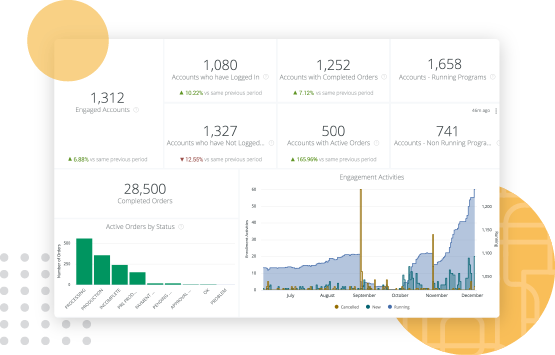 SproutLoud Analytics
Invest only in what works
Brands with incompatible systems, disparate vendors and no visibility on ROI can't measure local marketing success in any meaningful way. SproutLoud's comprehensive Channel Marketing Automation platform provides Brands with the insight they need to make data-driven decisions and drive better results throughout their Partner networks.

SproutLoud brings all aspects of local marketing, from start to finish, into one centralized, controlled, measurable environment: our comprehensive SaaS platform. This allows SproutLoud Marketing Analytics to track performance metrics in real time on every tactic, campaign and marketing program within their Partner network. Brands can also track Partner performance for an individual Partner or by group, class, tier or territory.
See what's driving local marketing ROI
Centralized analytics eliminates the manual work once needed to aggregate metrics from various vendors across the entire Partner network. With SproutLoud Marketing Analytics, Brands and Partners can access relevant data with easy-to-use dashboards:

Monitor performance metrics on tactics, campaigns and Partners.

Compare ROI on different types of tactics, including digital and traditional.

Get timely, relevant data that allows you to respond to changing marketing conditions in real time.

Automatically subscribe to analytics reports daily, weekly or monthly to get the intelligence you need to make data-driven decisions.
Learn more about SproutLoud Analytics