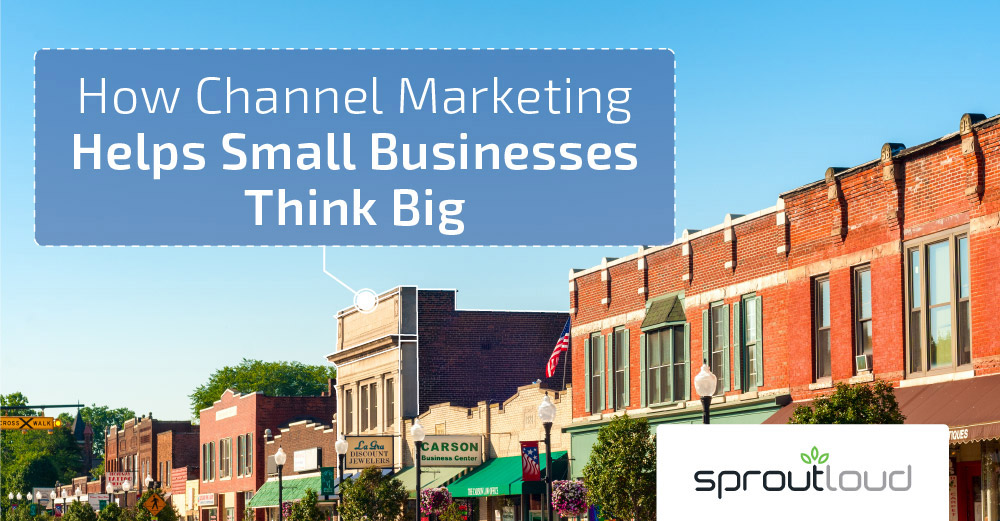 How Channel Marketing Helps Small Businesses Think Big
Let's be honest. For Small Businesses, local marketing and advertising can be very expensive. Negotiating good deals with vendors can be excruciating when Small Businesses compete  against big dogs with even bigger budgets. SMBs may not even be sure if they'll earn back marketing dollars with increased sales. Things can get even tougher when SMBs don't know how to maximize client reach and minimize the time and effort spent on marketing, so they can focus on running their business. Headaches and uncertainty lead many Small Business Owners to opt out of marketing altogether and wish for more simple times, when they could rely on word of mouth.
Some Small Business Owners have their reasons for putting the brakes on local marketing. They say it's too expensive, or they don't have time. Perhaps they feel out of touch with today's changes in marketing and the emphasis on Digital. Some may even think the local community and their customers already know them so well, why would they need marketing?
Traditionally, local marketing has taken up so much time and effort that many Small Business Owners still think they only have two expensive options to choose from:  hiring an in-house marketing team or paying out-of-pocket for marketing services from an agency or various vendors. But today, with innovations in Marketing Technology and Channel Marketing Automation, Brands and their Channel Partners have more options than ever before.
Solutions that Save Money and Drive Results
Brands can help the Small Businesses within their Partner network make the leap into effective Local Marketing that both saves money and drives results. As a recognized leader in Channel Marketing Automation, SproutLoud offers a comprehensive solution that gives Brands and their Partners access to innovative Marketing Technology and a team of experts focused on driving leads, traffic and sales.
Here's how we deal with typical pain points for Brands and their Partners:
GRAPHIC DESIGN
With Digital Asset Management tools, Ad Builder technology and dynamic templates, SproutLoud's Channel Marketing Automation Platform ensures Brand compliance and high-quality results, while making it easy for Partners to customize ads with information tailored to their local customers — for no additional or hidden costs.
CO-OP FUNDS
Long gone are the days of manual paper work and out-of-pocket marketing expenses. SproutLoud's SaaS Platform offers options that:
Streamline Co-Op Efficiencies
Guarantee Brand compliance
Eliminate the opportunity for fraud
Deliver innovative instant-funding solutions
And don't rely on Partners to pay 100 percent out of pocket before getting reimbursed.
MEDIA BUYING
Placing TV, radio, billboard and newspaper ads takes a lot time. Time Partners don't have. At SproutLoud, we do the heavy lifting for Brands and their  Partners. Our expert Media Buyers reach out to vendors on a Partner's behalf. Partners simply name their price, and SproutLoud negotiates the best rate for their budget directly with the vendor. We even handle campaign agreements and proof of performance on the Partner's behalf.
PAYMENTS
Unless you're an accountant, you're probably not a fan of paying bills. That's why SproutLoud receives and pays vendor invoices on behalf of Brand and Partners, with funds from Co-Op Marketing and Instant Funding that are pre-designated for that purpose. No more invoices. No more headaches.
AUTOMATED MARKETING PROGRAMS
This Set-It-and-Forget-It option makes marketing so easy for  Partners they don't have to think about it.  That means they can spend less time marketing and more time running their businesses. No more worrying about a Partner's online business presence, websites, digital marketing, social media, reviews and reputation. SproutLoud's got it covered. Partners simply enroll and they're set. They also receive regular reports on Brand local marketing programs, and everything is easily managed from a single platform.
CUSTOMER SERVICE
At SproutLoud, we take pride in our above-and-beyond service to our Brands and their Partners. It's like getting strategic guidance from a dedicated marketing expert at no extra cost. We help Partners find the right marketing tactic or campaign to achieve their business goals. Our easy-to-navigate SaaS Platform makes it easy for Partners to do this on their own, but we're also available to assist every step of the way in everything from checking Co-Op balances to analyzing tactic efficiency and success rates to offer strategic marketing recommendations.
At SproutLoud, no matter what our role, we have one mission: Make Channel Marketing simple and effective for Brands and their Partners. SproutLoud Channel Marketing Automation solutions empower Brands and their Partners with the leading-edge marketing innovations that they need to compete and succeed.