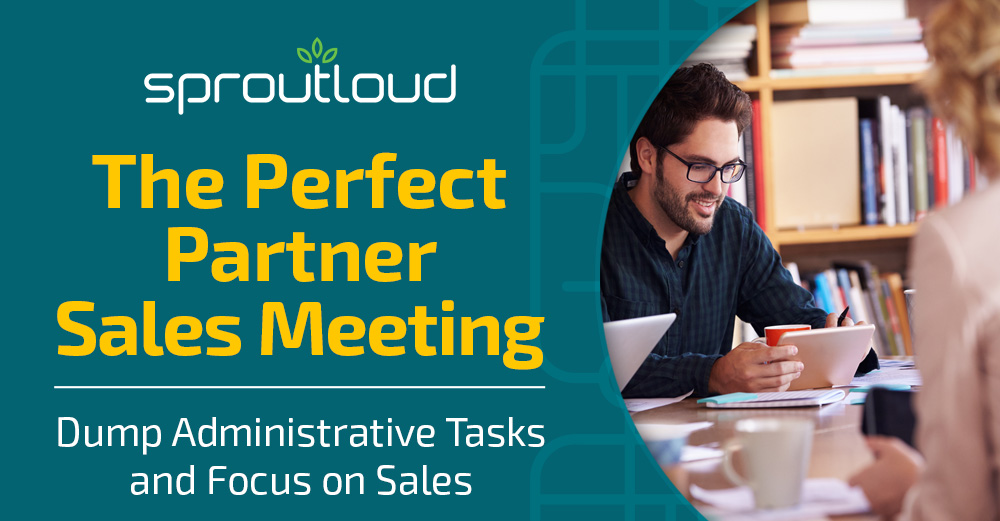 The Perfect Partner Sales Meeting
Channel Partners, small business owners and entrepreneurs, are on the frontlines of what matters most to Brands: engaging customers, nurturing leads and closing sales.
Even today — when news is made on Twitter and relevance is measured in likes, shares and retweets — Sales experts know that nothing compares to a positive, welcoming, person-to-person customer experience. Brands need their Partners to cultivate high-level expertise, not only in Sales, but also on specific Brand products and on the customer. Regional Managers, Field Marketing Managers and Sales Representatives play key roles in helping Partners expand their product knowledge and navigate the customer journey from Awareness to Consideration to Decision. That should be the focus of meetings between your Brand's Sales Team and your Partners, but too often it's not.
The fact is, traditional Channel Marketing is so complex and fraught with non-automated, off-line solutions, that when Partners meet with Brand Sales Reps, they see it as an opportunity to turn to Sales for answers:
How soon will the Brand approve pending local marketing?
When will the latest sales materials or promos be delivered?
And what happened to the reimbursement for Co-Op?
Multiply the time spent tracking down checks or delivering marketing materials with the number of meetings your Sales team holds with Partners each week and — well, you get the idea. Time is money. The truth is, when Channel Marketing gets complicated, Partners tend to opt out of participating. And those are missed opportunities for your Brand and for your Partners.
The problem is that the traditional process of Channel Marketing execution is getting in the way of developing your Partners' sales expertise. But with the right Channel Marketing Automation solutions in place, Brands can eliminate costly Partner churn and increase Partner participation. And Partners get quality local marketing without all the time-consuming hassles.
Taking Co-Op to the Next Level
Brands and their Partners are well aware how much time approvals and reimbursements take in the Co-Op process, which frankly hasn't changed much in the past century. Many teams don't want to admit they're working with faxes and chasing paper trails, but you'd be surprised how many still are. Today, many platforms offer to automate the Co-Op process. And while that may be easier than faxes and paper records, it may not be the best option. As a national leader in Channel Marketing Automation, SproutLoud is taking Co-Op to a whole new level. It's a game-changer. Brands can now streamline the Co-Op process and reduce program administration costs by up to 50 percent, and they can opt for an innovative new option: Instant Funding — all within the same platform. With SproutPay Instant Funding, Brand funds and Partner funds are applied instantly. It's an up-front, real-time allocation of a Brand subsidy for Brand-approved local marketing that's co-branded with the Partner. Brands can choose to use both Co-Op and Instant Funding or replace Co-Op with Instant Funding.
Reaping Benefits in Sales
The savings in time and money can pay big dividends for both the Partner and the Sales rep. Channel Marketing Automation allows your Sales Team to finally dump the administrative tasks, because your Partners won't need their help anymore with things like Co-Op. Not only does SproutLoud make Channel Marketing as easy as point-and-click, we also offer customer support for everything Brands and their Partners may need, and we have a team that is ready, willing and able to go above and beyond to ensure the process is simple.
Finally, the path can be cleared for your Sales team to coach, train and equip your Partners, in everything they need to be experts in your Brand's products and customers.