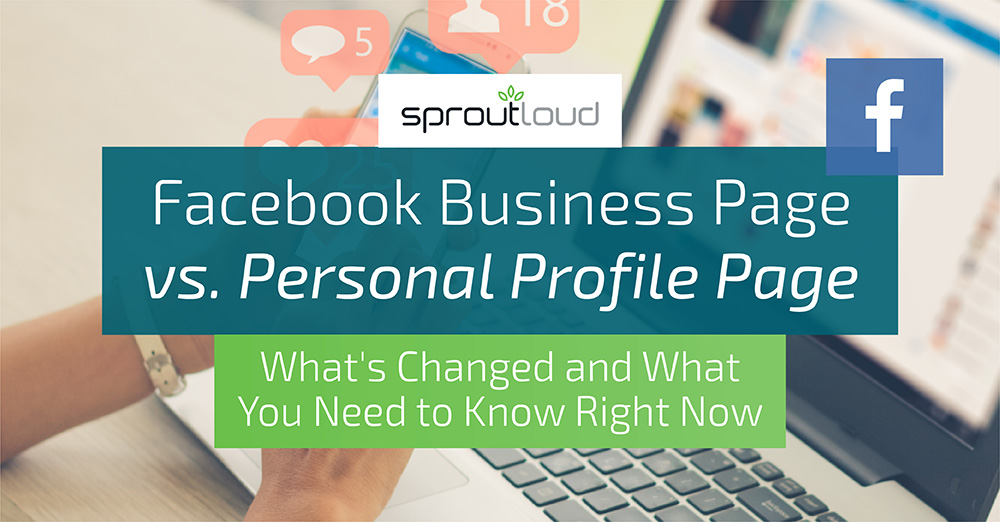 Facebook Business Page vs. Personal Profile Page: What's Changed and What You Need to Know Right Now
If you're using your personal Facebook Profile Page — instead of a Facebook Business Page — to promote your business, Facebook's recent policy change affects you. Let's take a look at what this means and what you need to know right now.
What's changed?
As of August 1, Facebook removed permission for apps to publish content to personal Facebook Profile Pages. So, if you're enrolled in an Automated Marketing Program that posts updates about your business, your products and your local marketing campaigns to your personal Facebook Profile Page, Facebook's new rules no longer allow that to occur. The good news is that all of those updates can still occur seamlessly — on your Facebook Business Page. This change actually reinforces long-standing best practices on how to use Facebook to promote your business. Facebook users can have both a Personal Profile and a Business Page, but it's important to understand the difference between the two:
Facebook Profile:  a personal account on Facebook designed for individuals. It's a social space that more than 2 billion people use to connect with family and friends, share photos, videos, random thoughts, life updates, opinions and experiences.
Facebook Business Page:  a page on Facebook solely dedicated to promoting your business. The name of the page can be your business name, and the profile photo and cover photo can be images of your store or current marketing campaigns. Setting the Business Page is free. To connect to this type of Facebook Page, people have to "like" the page. To calculate their reach, Business Pages tally "likes," whereas Profile Pages count the number of "friends."
Create Your Facebook Business Page
Whether you already have your Business Page or need to create one to ensure your Automated Marketing Program will post your business and local marketing updates, SproutLoud's Local Marketing experts are ready to help guide you every step of the way: email [email protected] or call 877-634-9260.
What to do next?
Social Media experts recommend the following best practices for using your Facebook Business Page:
Invite your friends, family, customers and business contacts to like your Page. But don't be offended if some choose not to accept. It's not a reflection on you, it's simply a matter of personal choice about their interests.
Add a profile photo and a cover photo that illustrate your business. For example, the smaller square "profile image" can be your logo and the larger "cover image" can be your storefront, your products or your current marketing campaigns.
Make all the content on your page public, so you can reach the widest possible audience.
Keep all your content professional. Engage your audience about trending topics about your industry. Ask a question or promote a sale or event. Consider it another way to keep in touch with your current and potential customers.
Do not post personal information or personal photos and videos that are more appropriate to share with family and friends — reserve this for your personal Facebook Profile Page.
Don't post your political or religious views on your Facebook Business Page. Reserve your private opinions for your Personal Profile Page, and keep in mind that it's not good for your business to alienate or offend current or potential customers.
Boost your posts. This provides the chance to be seen by even more Facebook users than the ones who have already liked your page. This is the advantage of having a Business Page because you cannot boost posts on personal Facebook Profiles.
Get insightful analytics. This is another advantage of Business Pages that can help you measure how your current and potential customers are engaging with your posts.
The good news is that this change is an opportunity to embrace best practices. Even better news is that you have all the support you need, with SproutLoud's Local Marketing experts ready to help you connect with customers and maintain a competitive edge in your local market.
For more information, contact a SproutLoud Local Marketing expert at [email protected].