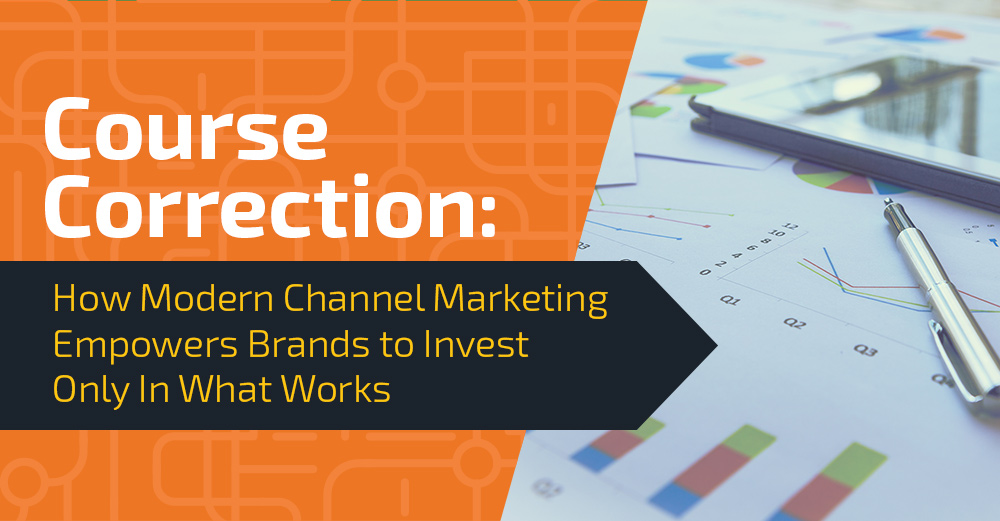 Course Correction: How Modern Channel Marketing Empowers Brands to Invest Only in What Works
Epic journeys are fraught with thousands of course corrections.
Just ask retired NASA flight director Gene Kranz, probably best known for leading the Mission Control team that shepherded the Apollo 13 crew safely home. It's what makes the story of America's first missions to the moon so compelling. It's also what drives major Brands and Small Businesses to thrive and adapt in an ever-changing environment. You can plan a strategy, but — when something unexpected or unimaginable happens — those who succeed are the ones with the courage and expertise to react in real time.
In traditional Channel Marketing, doing anything in real time is nearly impossible. That's because the system is so fractured. On one hand, today you have Brands investing billions of dollars in local marketing each year, across vast networks of Local Partners, using a growing number of marketing tactics. On the other hand, the system is so bogged down by outdated claims and reimbursement, manual processes and decision-making guided by guesswork. Why? Because no one can actually get timely, relevant data to expose what's working and what's not. Until now.
Modern Channel Marketing uses innovations in cloud platforms, dynamic templating and integrated execution to simplify and streamline local marketing for both Brands and their Channel Partners. This allows for course corrections that were just not possible before. The latest innovations in Through-Channel Marketing Automation empower Brands and Partners to make smarter, data-driven decisions to ensure they're investing only in what works. Making the move to Modern Channel Marketing requires three essential steps:
Step 1: Centralize Your Channel Marketing System
Many Brands still work within a decentralized Channel Marketing system, where customizing, funding and executing local marketing are three separate tasks. Typically, this puts a lot of pressure on the Partners to execute a successful local strategy. Centralizing your Channel Marketing programs allow the Brand to help Partners get marketing done with less effort.  And the leading Through-Channel Marketing Automation solutions make this easy for Brands and their Partners. With a cloud-based SaaS platform, Brands can:
Make Brand-compliant assets, customizable templates and marketing tactics available to select Partners or their entire Partner network.
Incentivize Brand-preferred tactics by directly attaching Co-Op funds. Brands can choose to continue reimbursing Partners with a more cost-efficient, streamlined Claims and Reimbursement process. And the latest, ground-breaking marketing technology even allows Brands to give Partners instant access to those funds.
Automate local marketing campaign execution. This means that when Partners select tactics within the SaaS platform, the tactics are automatically routed to a Marketing Service Provider for completion and execution.
Step 2: Integrate Your Vendors
The next step involves integrating vendors.
In traditional Channel Marketing, Partners typically use their own local vendors to customize and execute Brand campaigns for the local market. This means that Brands don't have any control over vendors' pricing or capabilities, and they don't have access to campaign analytics.
In Modern Channel Marketing, Brands resolve this by using a Channel Marketing Automation software solution that integrates vendors directly into the platform. This gives Brands greater control and makes local marketing easier for both Brands and Channel Partners by alleviating the time and stress of vendor management.
Leading Through-Channel Marketing Automation platforms do the heavy-lifting for you when it comes to vendor management. Here's what to look for:
Does the platform offer a robust marketing vendor network integrated with the platform to ensure automated campaign execution?
Does the platform ensure vendors are vetted for best-in-class expertise and competitive pricing?
Does the platform regularly monitor and evaluate vendor performance to ensure the best quality service and results?
Step 3: Analyze Your ROI
With a centralized Channel Marketing system that fully integrates a best-in-class vendor network, Brands have unprecedented access to performance metrics on every local marketing campaign. This empowers Brands and their Partners with a strategic perspective that wasn't even possible with traditional Channel Marketing.
When we talk to Brands, we ask them how they make decisions on the local marketing options they make available to their Partners. Too often, we hear that decisions are based on historical adoption and Partner preferences. There's a flaw in that logic. If you're making decisions based on what's popular or what's always been done, how do you know you're making the right choices? In Modern Channel Marketing, data and analytics reveal what's working and what's not. Analyzing ROI is what guides the Brand's local marketing investments.
To get an accurate, comprehensive look at ROI, you've really got to compare marketing tactics, ad messaging, campaign performance, and Partner performance across select groups of Partners and across your entire Partner network. Leading Through-Channel Marketing Automation platforms make analytics an integral part of their software solutions. No matter how big or small a Brand's Partner network is, the right data and analytics tools ensure that Brands invest only in what works. That's the competitive edge that Modern Channel Marketing delivers.