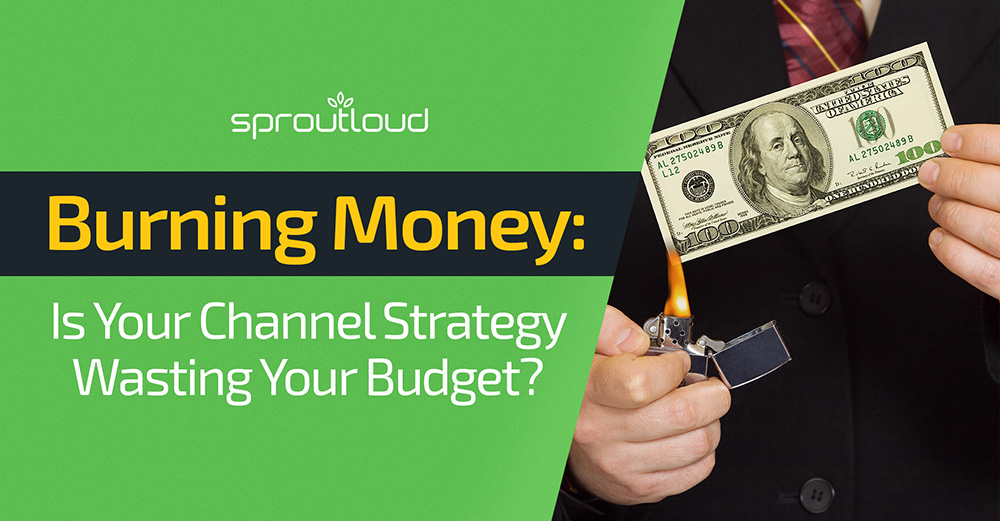 Burning Money: Is Your Channel Strategy Wasting Your Budget?
If you want to break through the noise of today's oversaturated marketing environment you have to use a variety of digital and traditional tactics to get your customer's attention. But if your Brand isn't managing the assets and the execution your Partners use — you might just be burning money.
Noise, Noise and More Noise
Customers are getting literally bombarded at every turn with advertisements — every website they visit, every mobile application they open, every TV show they watch. Even movie superheroes are driving only one brand of car.
To break through this noise, Brands have to align digital and traditional tactics against a customer's journey from awareness to consideration to decision.
Brands believe this multi-tactic approach is the best path forward at the national level and want their Channel Partners to follow suit. So, they create a series of assets for Partners to use in Dynamic Local Digital Ads, PPC Ads, Social Media Content, etc. In reality, creating assets is only part of the solution for driving multi-tactic programs through the Channel.
Throwing some assets over the fence to Partners won't create the results you want. In fact, there is a good chance that you could be "burning money" if you aren't actively supporting how Partners execute these campaigns in the local market.
Three Major Challenges to Overcome
When I talk to Brands about their Channel Marketing program I often hear the same set of challenges:
Brands spend money on assets and programs that no one uses.
Partners are not spending Brand funds on digital tactics.
Co-Op or MDF funds are wasted on poor local execution.
Partner Participation
Example:  Your Brand decides that Dynamic Local Display Advertising is really important as a local demand generation tactic. You spend budget with your agency to create some Dynamic Local Display Ads and distribute them through your Digital Asset Management (DAM) site. But weeks go by, and the majority of your Partners never launch the campaign.
When you talk with Local Business Owners (LBOs), across the board, they consistently express one thing: LBOs want to own their destiny. Starting the business, finding a location, hiring a staff — and yes, marketing — are all functions they want to control.
That is why that whenever we consult with Brands we make sure they understand one thing:  Money is the engine of Local Marketing. Partners are only likely to participate in Brand-sponsored campaigns if there is a financial benefit to do so. If you are planning any type of campaign, you have to plan for a Co-Op Advertising or MDF investment. Otherwise, you will end up wasting budget on agency fees and assets that no one will use.
The Digital Paradox
Partners list Website and Social Media as the two tactics they believe can drive the most business for them. But only a small percentage of Partners actually execute these campaigns because they don't know how — even if there is Co-Op or MDF available.
This is the Digital Paradox. How do you get Partners to execute campaigns if they don't have the expertise to do so?
We believe driving up the adoption of digital requires that the asset, funding and execution all come together in a single package. Providing Partners a solution — where they literally point and click to create, fund and launch digital — will drive up adoption and investment in Brand campaigns.
Burning Money
Why isn't the Co-Op working?  That's a question that gets asked a lot.
Partners are experts at running their business, not experts at marketing. Evaluating and managing local vendors takes a lot of time that Partners don't have. Unfortunately, this means that they may end up selecting vendors that are ineffective at best, unscrupulous at worst.
Brands are between a rock and a hard place. Give Partners discretion on where funds are used, and they end up wasting money on poor execution. Control the execution by building a roster of MarTech vendors and waste a lot of OpEx on vendor management.
We believe the solution is to utilize a platform where all marketing tactics are integrated. For Partners, this means no more searching for or managing local vendors. Brands still get to offer a large inventory of digital and traditional tactics, but don't have to spend valuable OpEx on the contracting, integration and management of vendors. Finally, Brand Co-Op and MDF funds are used locally through a centralized roster of best-in-class vendors. So, no more fraud or subpar execution.
The Next Evolution of Partner Marketing
Having talked with hundreds of Partners and Brands, we believe the path forward is focused on three key terms:  Investment, Automation and Execution. Brands must invest Co-Op or MDF funds to drive participation in their Local Marketing campaigns. Automation makes marketing more attractive and easier to execute for Partners. Finally, by centralizing all tactics and vendors in a single platform, Brands get the local execution they need without burning money on vendor management or ineffective tactics.