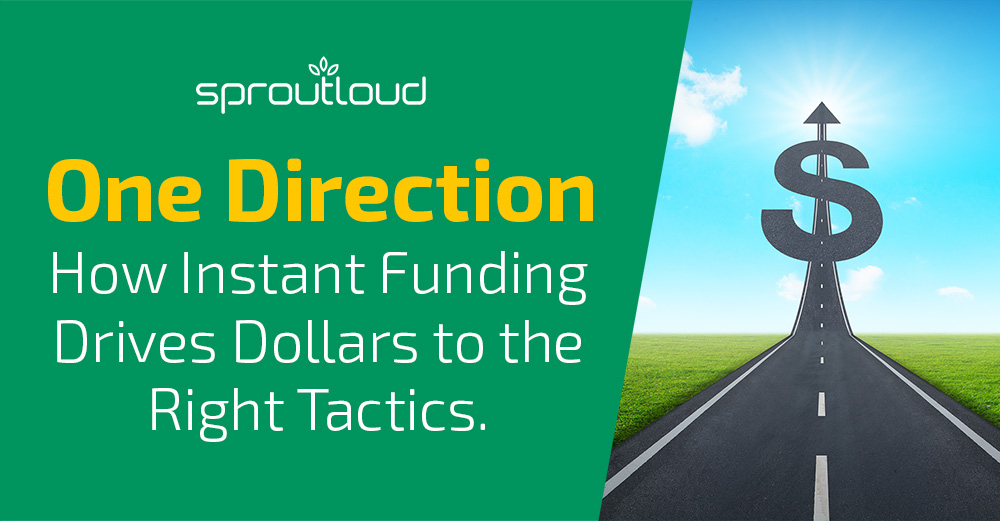 One Direction: How Instant Funding Drives Dollars to the Right Tactics
Co-Op Advertising is a great idea — in theory. Brands and their Channel Partners contribute to covering costs of mutually beneficial local marketing. Everyone wins. Except when they don't.
For Brands, the No. 1 problem with Co-Op is that not enough Partners participate. While Brands set aside about $70 billion a year toward Co-Op, their Channel Partners are leaving about half that money on the table because they think Co-Op is too difficult.
Understanding what's holding your Partners back is the key to increasing Partner participation: Keep it simple. It's not only a matter of identifying your Partners' obstacles and eliminating them. Brands also need innovative solutions that embrace a more comprehensive approach to funds management.
Let's break down the Co-Op experience from your Partners' point of view and consider the solutions:
Proof of Performance
For about a century, requiring proof of performance has been a way for Brands to combat the unfortunate opportunity of fraud. But for Partners, it slows down the process and presents a significant burden.
SOLUTION: Remove the "burden of proof" from your Partners' shoulders while simultaneously eliminating the opportunity of fraud by using an innovative and comprehensive Channel Marketing Automation Platform — which has built-in, flexible Co-Op funds management tools that cover all the bases.
Partners Pay Upfront
Requiring proof of performance means Partners pay the full cost of Co-Op Advertising up front, then wait to be reimbursed with Co-Op funds. That's tough on Small Business Owners. Delays on reimbursements can have a significant impact on their ability to keep up with the day-to-day costs of running a business.
SOLUTION: Give Partners instant access to Co-Op dollars, so they won't have to pay up front or wait weeks for reimbursement — unless of course, that's what you and your Partners prefer. In that case, look for a Channel Marketing Automation solution that delivers the level of flexibility your Brand needs.
Extensive Brand Guidelines
Brand guidelines have been essential to ensuring that Local Marketing meets Brand standards. But it's another reason the process is so slow. To follow Brand guidelines, Partners need to find resources or pay agencies to customize ads and follow a labor-intensive process of submitting and obtaining Brand approval.
SOLUTION: Deliver high-quality, Brand-compliant ads every time by embedding Brand standards directly into the Channel Marketing Automation process with customized templates, Dynamic Asset Management, Ad-Builder technology, and a best-in-class Marketing Service Provider network for impeccable local marketing execution.
When Instant Funding is part of a comprehensive Channel Marketing Automation solution, it also brings added benefits. Instant Funding is such an attractive option for Partners that it not only increases Partner participation, it can also serve as incentive and steer your Partners in the right direction: Brand-preferred marketing tactics.
Let's say your Brand would like Partners to adopt a preferred digital marketing tactic, such as Paid Search or Dynamic Local Display Ads, over more traditional options like Direct Mail or Print Ads. Offering Instant Funding on Paid Search and Dynamic Local Display can be a catalyst that helps drive Partners to choose the right tactics.
With Instant Funding, Brands can give their Partners exactly what they want and get even more in return. For Partners, this means they don't have to worry about implementing Brand guidelines because those Brand standards are fully embedded throughout the Channel Marketing Automation process. It also means no more paying 100 percent of local marketing costs upfront and no more proof of performance. For Brands, this means eliminating fraud, guaranteed Brand-compliant and best-in-class local marketing execution, and driving more Co-Op dollars to Brand-preferred marketing tactics.
Now, that's a win-win.