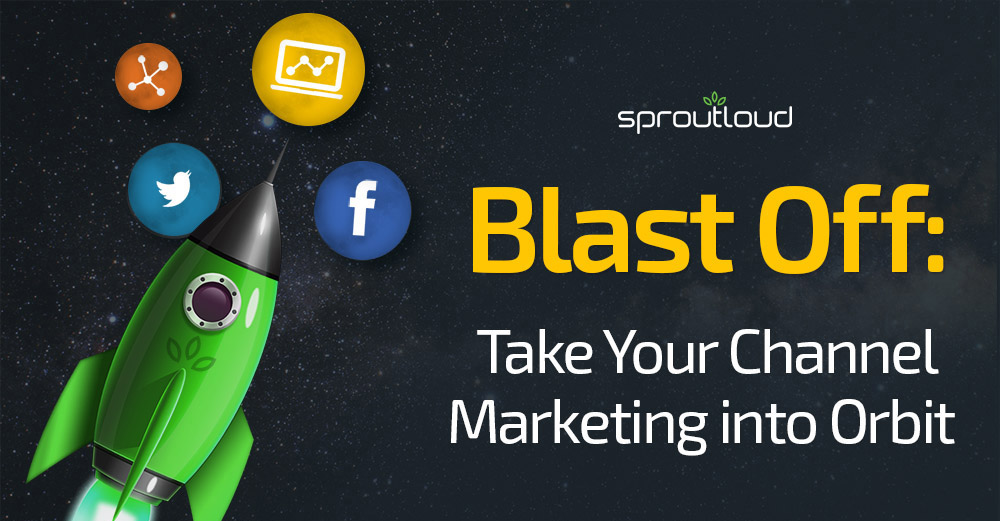 Blast Off: Take Your Channel Marketing into Orbit
Launching a multi-tactic national campaign with the right balance of traditional, digital and social tactics involves a lot of moving parts. Brands want Local Partners to deploy more tactics. Those tactics are delivered by more vendors. Managing those vendors takes more people. It's no wonder that keeping OpEx under control is so difficult.
Brands today need better solutions — without sacrificing quality or results. Delivering a comprehensive multi-tactic campaign shouldn't require you to hire an army of vendors or a building full of people to manage them. And until now, that's been the only way to get things done. But there is a better way.
A Disruptive Approach to Channel Marketing
Reinventing your Channel Marketing strategy means focusing on what's essential:
Delivering marketing campaign assets to Partners that will create demand.
Offering a comprehensive set of tactics that will reach more customers.
Encouraging Partners to use Brand funds to drive more sales.
The major barrier to delivering on these essentials is decentralization. Getting one campaign prepared to be delivered by dozens of martech vendors slows down execution and means you launch fewer campaigns per year. Your Channel Partners — small business owners — traditionally have very little time for marketing. The idea that your Partners will be spending hours getting up to speed on all your digital and traditional marketing tactics is unrealistic. Partners also tend to only spend money on what they are comfortable with, which can make it really hard to get them to move into modern digital tactics.
These challenges demand a completely new approach to the problem. What you need is a single console where you can develop, launch and fund campaigns. Well, with you in mind, we built it. We call it: SproutLoud LaunchPad.
Consistency in Brand Compliance, Messaging and Timing Campaign Execution
SproutLoud LaunchPad is a single SaaS platform equipped with everything your Brand needs to execute multi-tactic campaigns through your local Channel Partners. Think of it as a custom-designed virtual space for your marketing team with every tool you need in a single location.
All campaign assets, including digital and traditional, are loaded into LaunchPad by SproutLoud Studio. These assets will be fully customizable by your Channel Partners according to guidelines created by your Brand. This means that Partners can customize ads with their phone number, location and photos without inundating your inbox with approval requests. This takes the guesswork out of Brand compliance and ensures consistency in both messaging and the look and feel of the creative.
LaunchPad puts an end to vendor sprawl and reduces the administrative time, costs and people required to manage vendors. SproutLoud LaunchPad is integrated with 40+ best-in-class Marketing Service Providers (MSP). These MSP are the market leaders in every campaign tactic imaginable — from Dynamic Digital Display Ads and Social Media Content Publishing to Community Engagement and Direct Mail. Since these vendors are integrated into LaunchPad, your Brand team can easily offer more tactics to your Partners without spending so much time managing vendors.
LaunchPad is the only solution available that ties the funds you give your Partners directly to the marketing tactics you want them to execute. This allows you to drive your Partners toward behaviors that you know will deliver the best chance of success. Digital is a great example. Most Partners don't have a lot of expertise in digital tactics. Brands shy away from building Co-Op programs for digital even though Partners want them. In fact, Brands invest most in traditional tactics like TV, Newspaper and Print Ads, while local business owners believe Social Media and Websites drive the most sales, according to a recent report by Gleanster Research.
But with LaunchPad, your Brand can provide up to 100 percent funding on digital campaigns. Those digital campaigns will be automated through the MSP program for your Partners. So with an attractive funding offer and low-touch (or no-touch) execution, your Partners will be motivated to deploy the tactics you want.
Brands can even choose which tactics and assets to make available to their Local Partners, by geography, customer demographics and even Partner class. This means you can offer your Platinum Partners a totally different experience than your Silver Partners.
With LaunchPad, Channel Marketing is as easy as 1-2-3:
Select the latest campaign assets that have been loaded into LaunchPad.
Point and click to choose the tactics you want to make available to your Partner groups.
Attach funding directly to the tactic and activate the campaign.
And because you are taking a decentralized vendor approach and moving to a single SaaS platform, you get much better tracking and performance reporting with SproutLoud Analytics. It is sad to say, but 83 percent of Brands put little to no effort into measuring performance because they think it's so hard, according to a recent report by Gleanster Research.
With SproutLoud Analytics, your Brand has centralized insight into what's working and what isn't. For the first time, you will be able to compare the performance of Search dollars to Direct Mail dollars. You can even analyze which messages are working best in a particular territory or across the nation.
LaunchPad simplifies the entire Channel Marketing process of campaign planning, vendor management and local market execution.
Talk to a SproutLoud Marketing Expert today.
Call 954-476-6211 ext. 3