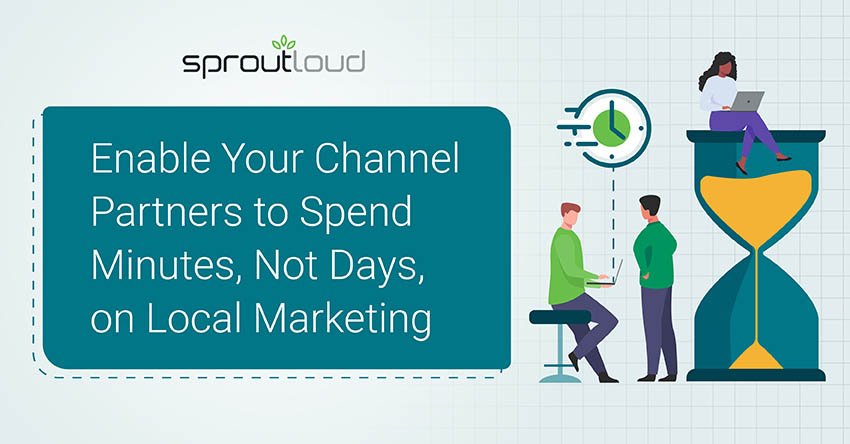 Enable Your Channel Partners to Spend Minutes, Not Days, on Local Marketing
Here's the worst kept secret in Channel Marketing: Your channel partners don't want to spend time on brand-to-local marketing, because they'd rather spend more time with customers and closing sales. That's why they need Channel Marketing Automation solutions that make local marketing fast, easy and effective.
Getting timely, relevant, compelling, brand-compliant messaging in front of potential customers frequently and consistently is essential to keep your brand top of mind when customers are ready to make a buying decision. But many Enterprise brands and their channel partners aren't operating at optimum speed, because issues with complexity, brand compliance, local customization, and vendor management are slowing them down. Let's take a look at how the right Channel Marketing Automation solution can enable your channel partners to spend minutes, not days, on local marketing.
Complexity is the No. 1 Challenge
For some brands, the growing complexity of omnichannel marketing campaigns means local ad agencies and specialized martech vendors are tasked with more of the work. Campaigns often include a broad mix of digital marketing and traditional tactics, including:
Paid Search
Video ads via OTT and CTV
Audio ads via Pandora and Spotify
Social Media ads
Dynamic Local Display ads
Reputation Management
Online Listings Management
Email Marketing
Direct Mail
Media buys (TV, radio, newspaper, billboard)
Most brands rely on channel partners to handle creation and execution of local marketing, while retaining control on approvals through an internal brand marketing team. This has an impact on how brands and resellers approach brand compliance and customization.
Brand Compliance and Local Customization
Brands are looking for high-quality expertise to create local marketing that is both flawless and brand compliant. That's why brands develop complex and detailed brand guidelines. When those brand guidelines are shared across the channel partner network, multiple partners review, interpret and share the guidelines with their own local vendors and agencies. And errors occur: an outdated logo, the wrong color, a typo in the messaging. This means local marketing goes from agencies and vendors to partners to the brand and back again, when they're not approved for execution. That's how delays happen. But all this is completely avoidable with the right Channel Marketing Automation solution.
SproutLoud's platform takes the guesswork out of local customization. Our Ad Builder technology, Digital Asset Management tools and brand-approved dynamic templates simplify the entire process for channel partners and frontline employees, from start to finish. This means brand marketers no longer need to manage queues of customization requests, because templated parameters for customization are pre-set by the brand to meet brand guidelines. SproutLoud transforms brand-to-local campaigns and marketing assets into flexible formats, eliminating delays due to lack of brand compliance for a faster turnaround.
Take Vendor Management Off Your Partners' Plate
Customizing brand-to-local marketing is essential to keep ads relevant to local customers. That's why your partners turn to martech vendors and ad agencies to localize brand assets. With SproutLoud, the entire process is simple and seamless within the platform, where permissioned reseller partners have access to plan, create and execute brand-to-local marketing campaigns. Then, those campaigns are automatically routed for fulfillment with our integrated network of 100+ best-in-class Marketing Service Providers. This gives brands control of compliance, while partners have the flexibility to customize and execute local marketing without spending excessive time as the middleman between agencies, vendors and the brand.
Let Your Channel Partners Spend Less Time on Marketing
With SproutLoud, brands control which channel partners and employee end users have access to which brand assets, messaging, campaigns, and tactics. Brands can also tie brand-preferred campaigns to Co-Op Marketing and Market Development Funds, through the claims and reimbursement process or instant co-pay with SproutPay, or a combination of both to influence and incentivize partner engagement.
By integrating and automating the entire local marketing process — from planning and ad building to execution and fulfillment — within the SproutLoud platform, channel partners and frontline employees don't have to waste time managing vendors or agencies, or submit (and re-submit) ads for brand approvals. This saves precious time, so they can spend less time on brand-to-local marketing and focus on what matters most: customers and sales.