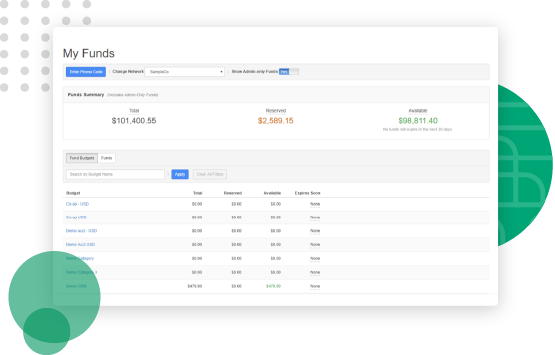 Intelligent Spend Management
Giving Brands more accountability on marketing spend
Brands pour billions into Co-Op Advertising, MDF or other funding options every year, with minimal to no understanding of how that money performs.

Intelligent Spend Management gives Brands a comprehensive solution that: tracks the funding options offered to their Partner networks, provides visibility on the results of their marketing spend, offers cost-saving solutions, and includes change management features to mitigate any risk or disruption to their networks.
SproutClaims
SproutClaims is SproutLoud's cost-saving claims management system:

SproutLoud replicates and simplifies the Brand's existing Co-Op Claims and Reimbursement system within the platform, saving Brands up to 50% on claims processing costs.

Partners simply select tactics or marketing programs that offer Co-Op, MDF or other funds, then they use brand-compliant customization options available with Studio.

With SproutLoud's easy-to-navigate analytics dashboards, Brands can determine ROI on local marketing campaigns and measure Partner engagement on the platform.
SproutPay Instant Funding
SproutPay Instant Funding is an intuitive co-pay system that makes participating in Brand-subsidized local advertising as easy as online shopping:

SproutPay allows Brands to attach a percentage or preset amount of Co-Op, MDF or other funds to specific tactics or marketing programs.

When Partners select those tactics or programs, Brand funds are applied immediately at checkout.
Partners only pay their portion of local marketing costs.
Then, Partners continue using SproutLoud's platform to select tactics and programs with Partner Portal, customize assets with Studio, flawlessly execute local marketing with our integrated ecosystem of world-class Marketing Service Integrations, and easily access performance metrics with SproutLoud Analytics.

When every aspect of local marketing, from start to finish, occurs within the SproutLoud platform, Partners can get Brand messages in local markets faster.
Hybrid: SproutClaims + SproutPay
SproutLoud's advanced change management features make Co-Op Advertising funds management easy for Brands, by allowing the implementation of both SproutClaims and SproutPay within the same Partner network:

Brands may select a preferred group, region, tier or class of Partners to begin implementing SproutPay Instant Funding. It could be used as an incentive or reward for high-performing Partners.

Within SproutLoud's platform, only those Partners designated by the Brand would have access to SproutPay.
The rest of the Brand's network would seamlessly continue claims processing with SproutClaims.
As quickly or gradually as the Brand prefers, SproutLoud can migrate more Partners to SproutPay, based on criteria pre-determined by the Brand.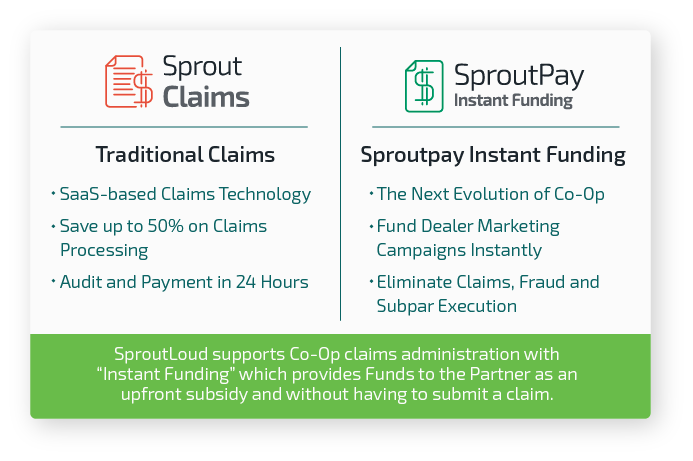 Learn more about Intelligent Spend Management