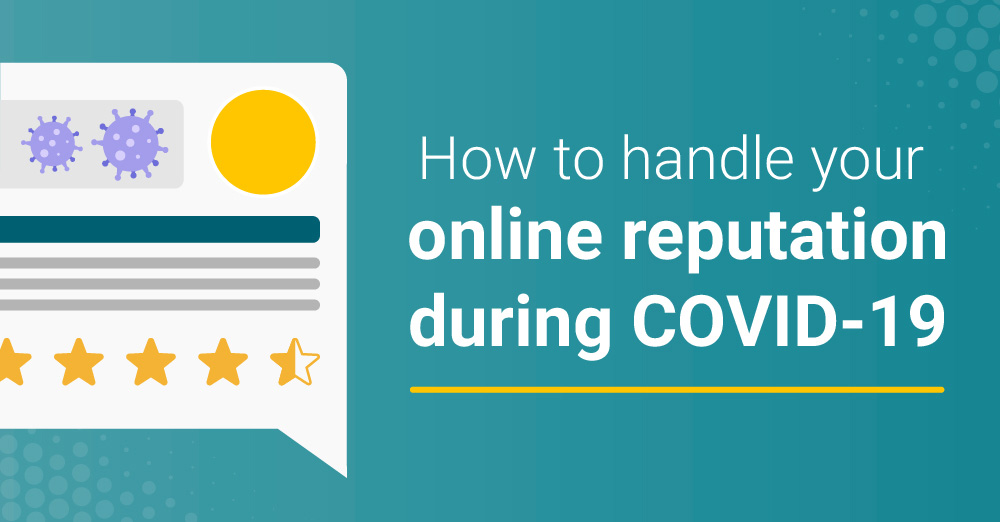 How to Handle Your Online Reputation During COVID-19
Online customer reviews are more influential than ever on consumer purchasing decisions. This remains especially true when you're trying to do business during a global pandemic.
Even if your business is not categorized as "essential," consumers still need your products, and they will still talk about you. Consistently monitoring customer reviews and providing timely replies can help you better understand your customers' concerns and directly address their questions.
Responding to your customers during a COVID-19 doesn't have to be complicated, and it shouldn't take much time away from your core business. Here is a simple guide to help you turn customer reviews into opportunities to engage your customers, build relationships and grow brand loyalty — especially during COVID-19:
Be empathetic
Learning to live and work and do business during a pandemic is new for everyone. Feelings of anxiety, confusion and stress are to be expected from consumers. And when people complain, they want someone to listen. Keep this in mind, and put your empathy hat on before responding to any review. Begin by acknowledging the review and the feelings the customer is expressing.
Don't be dismissive of their experience, but rather apologize for it if their experience was negative. Avoid using defensive or negative language in your reply. Make sure you sound natural and helpful in your reply. Remember that you're not litigating the issue. The goal is to be kind, helpful and convey to the customer that you hear their concerns.
Be transparent
Now more than ever, it's imperative to overcommunicate with your customers. Transparency in providing accurate and up-to-date information about your business, products, services and company policies can lead to greater customer loyalty.
Be brief. Encourage customers to contact your company directly to resolve any additional concerns they may have.
Here's an example of responding with transparency:
We're sorry you've been experiencing delays with our new delivery service. We'd love to talk to you directly about your concerns. Please give us a call at [include a customer service phone number], so we can see how we can help. 
Be authentic
Be sure to leave a comment using conversational language that is sincere and authentic. Take a careful look at the customer's review and reply with a balanced tone, appropriately kind and professional language and a sincere demeanor. A constructive and genuine response, which both conveys that you are listening and highlights your business strengths, can help turn a negative review into a golden opportunity to have a positive impact on potential customers. Customers will remember your company if you're there for them when they need you the most.
And if you're feeling a bit overwhelmed or burdened at the thought of constantly monitoring online customer reviews, our SproutLoud local marketing experts can help. Learn more about our Reputation Management program.
If you are a current SproutLoud client,
click here to book time with a local marketing expert.