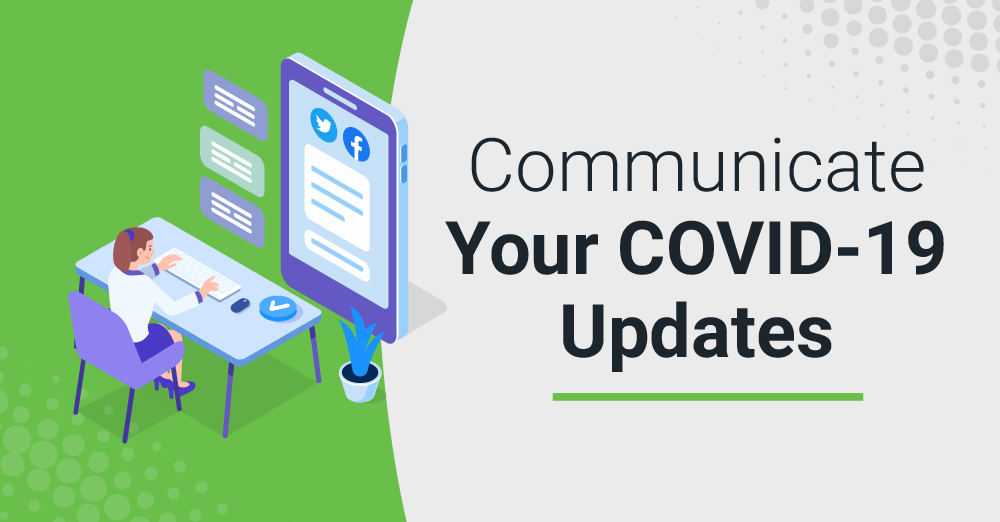 Communicate Your COVID-19 Updates
As we navigate through the COVID-19 pandemic and these changing times, many business owners are concerned about how to keep their business running smoothly.
With so much going on and information changing so quickly, here are some tips to help your business adapt and keep your customers and potential customers up to date on the latest news related to your company.
In addition to updating your business information on your online listings and website, use your online listings like Google My Business and Facebook to post communications to reinforce any urgent information or messages. For example, create a post if you update your business hours in order to overcommunicate these changes to your customers. You can also include links to your website or other resources from these posts.
While people are home, they are spending time on social media, which is a great way for your business to communicate with your customers and engage with your community. We recommend posting at least daily or twice per day with any new updates about your business. Make sure to include local information within your posts so that it resonates with your community.
If you had any previously scheduled posts unrelated to COVID-19, you should review and potentially unschedule content that may appear to be insensitive during this time.
Communicate with your customers via email and share timely updates about your business.
Monitor and reply to reviews and comments about your business on online review sites. As people may be tense and frustrated, they may turn to your online listings to leave reviews. Now more than ever, it's important to respond to these customers, on Facebook and Yelp for example, to give them peace of mind. However, it's also notable that Google recently announced limited Google My Business functionality due to COVID-19, including disabling the ability to leave new reviews, reply to reviews, and post new Question and Answer content.
We know that there is a lot of uncertainty with COVID-19, and it can be difficult to know what to do with your business. We hope these tips help you keep your business running smoothly. Please contact the SproutLoud Customer Support team if you have any questions.
If you are a current SproutLoud client,
click here to book time with a local marketing expert.