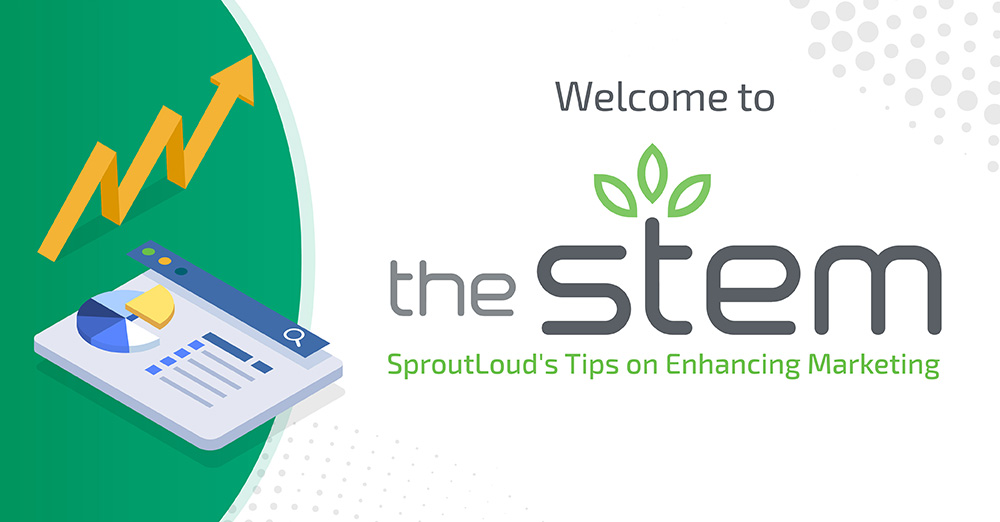 Welcome to The STEM: SproutLoud's Tips on Enhancing Marketing
At SproutLoud, we talk to thousands of local partners each month. In every conversation, we always hear the same question: What's working for everyone else?
Whether you're looking to make a decision on which direct mail piece you should try next, trying to keep up with the latest and greatest advertising methods, or simply need help deciding how to use your Co-Op Advertising funds, we know it can be difficult and time-consuming to make decisions about your marketing efforts. For that reason, we're pleased to introduce you to SproutLoud's Tips on Enhancing Marketing — The STEM — a monthly newsletter delivered straight to your inbox. The STEM includes key tips, success stories, and most importantly, the answers to some of the most popular questions we receive from partners like you.
We know that all of our partners are busy running their businesses and don't have much time to allocate to anything else, especially marketing. Each email we send will take just under five minutes to read. On top of that, we'll make it very easy for you to contact our team if you read something you like and want to learn more. Our team of Local Marketing Experts are here for you.
If you, like most of our partners, have been wondering if your customers can find you online, if your website is really working for you, or what exactly "Dynamic Local Display" is and how this will help your business,  then The STEM is for you.
We'd also like to hear from partners on which topics are most important to you. Whether you have a specific marketing question or simply want advice, we'd love to help. You can submit your question or topic request here.
Our Partners often tell us that there's so much going on with running a business, which makes it hard to keep up with marketing. We've heard from you that it's challenging to dig through what's real and what will drive results, versus things that may look good but don't actually provide much value. At SproutLoud, staying true to our roots is important to us. We'll always give you our raw, real, plant-based recommendations — no pesticides. That's why we've built The STEM.
Interested in chatting with a Local Marketing Expert? Schedule an appointment at your convenience.
Not on our mailing list yet? Click here to sign up. You won't want to miss out.
Want a sneak peek of what's up coming next? Click for a preview on our first topic: managing your online presence.