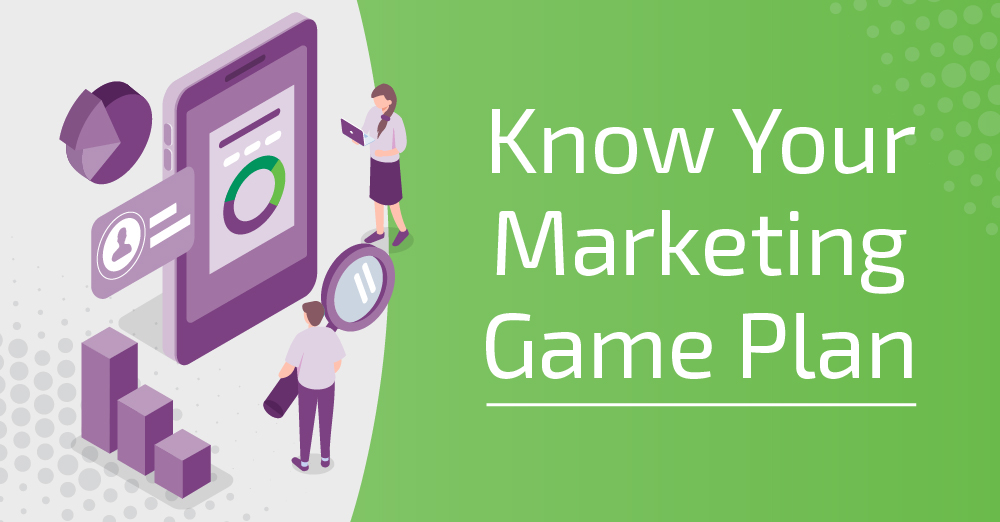 Know Your Marketing Game Plan
We published a blog highlighting why you need digital marketing and based on your feedback we wanted to give you some advice on where to start.
With digital marketing, there are many options available and depending on how involved you are with executing your marketing strategy either running it like a pro or sitting on the sidelines, it can be challenging to know where to invest first. With that in mind, we've built out a game plan for you. Get off the sidelines and get in the game – or your competitors will beat you to it.
Give some love to your website
When was the last time you took a good, hard look at your current website? Is your content up to date? Do you have outdated information or, even worse, missing information?
Do you have a Contact Us page or an easy way for website visitors to click to call you? We recommend making it as easy as possible for your customers and potential prospects to contact you by ensuring your business information is clear, accurate, and actionable. These are critical components of a website that every business needs.
If there are resources available to you through the brand products or services you sell, learn about them. Your brand network may offer a set it and forget it website solution that will help take this content management off your plate.
Google it
We get it, there's a lot to pay attention to online. That's why we know it's easy to overlook the importance of checking business information on top online directories like Google, Facebook and Yelp. Including essential information such as your business name, address, phone number, business hours and website is critical. If top directories are missing this information, it will be challenging for customers and prospects to get in touch with you. Even worse, they may end up finding a competitor instead. Although Google, Facebook and Yelp are the top directories consumers use, there are many other directories that feed information to consumers online. Take advantage of a directory listings management program if there's one available to you. Not only will this save you time in managing the information online – it will also get you exposure on directories you might not have considered if you did it on your own.
Go ahead, get digital
Once you've taken care of the basics – your website and online directory listings – now you can take it to the next level. Organic search will only go so far. To get your business information in front of eyes that are not already following you, consider using digital advertising on Facebook, Pandora or Display Banner Ads. It is critical for you to understand your audience before launching digital ads. Consider where your customers would be online, then meet them there. Programs through your brand network will help cut out the confusion when it comes to figuring out your audience.
If gaining brand awareness is important to you right now, Display Banner Ads would be the right next step. Thinking of increasing engagement with your community? Facebook Advertising is for you. Want guaranteed impressions through a newer medium? Give Pandora Advertising a go.
Regardless of the digital avenue you go down, make sure you take a moment to review the results. Looking at the performance of each program will help you assess how you are spending your marketing funds and where to invest more.
Ready to get in the game?
Now that you've got the game plan, take it and run. We love to help business partners like you get in the digital marketing game. Lean on the SproutLoud Local Marketing Experts to coach you on which program to focus on your efforts on and take your marketing game to the next level.
Ready to get started? Schedule time here.