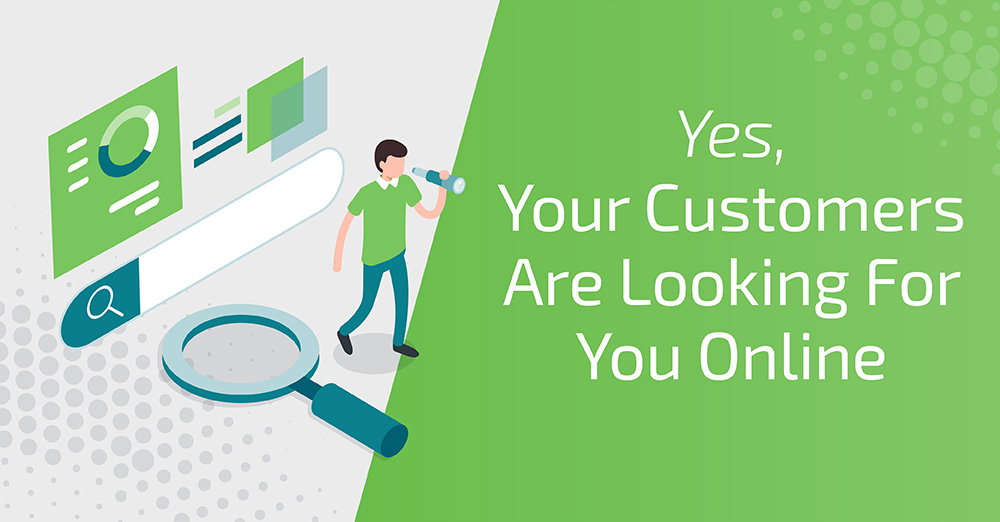 Yes, Your Customers are Looking for You Online
We constantly hear from business owners that they can't justify spending money on a website when their business information can be found somewhere else online – such as Facebook or Google. Websites can be a huge investment in both time and money so we want to be sure business owners like you are clear on the value – and how this ties into the directory information that may be present online.
It comes as no surprise that 45% of small, local businesses do not have a website (2017 CNBC/SurveyMonkey Small Business Survey) and out of the 55% that do, only about one third of them are keeping their website up to date by sharing relevant news and promotions with their current and potential customer base. For this reason, you might be thinking what most small business owners are thinking – are websites for small businesses a thing of the past?
From what we've learned in helping small businesses, we can assure you that websites are critical to your online presence and connecting with your customers. Let's explore the top three reasons why you need a website.
1. Your customers expect you to have a website
63% of consumers will still click through to your website to learn more about your business, although they easily found all your business information through a local search through a directory such as Google (The Local Search Association). When consumers come across a listing with no website, many won't find your business to be trustworthy and will move on to the next listing, even if your business information is accurate on the listing. Ouch!
2. A website plays a key role in building your brand
A website can direct your customers and prospective customers to engage with your business, view your business images, read your story, learn about your products, share your involvement in the local community, and show consumers who you are and what your business is about.
3. Local Search Ranking: SEO and links are important factors
Do you know that it is nearly impossible to rank in the local pack listing, where Google search results show local business listings, without having a website? A website is essential for local SEO, especially considering the recent advancements of mobile search. It is extremely difficult to gain visibility through local searches without a website contributing to your local SEO. Plus, more content on your website means more links. More links can also impact your local search ranking and presence. Though content alone is not enough – ensuring that your website is relevant, up-to-date, and frequently updated is just as important.
Now that we are talking about local search ranking and online presence, is having a website enough?
While having a website is an important first step and positively contributes to your local search ranking through many factors including SEO and link building, a website alone is simply not enough. Consumers still need to easily find your business information online in order to find your website, which is accomplished by creating and maintaining your local listings through online directories. You can learn more about maintaining your online listings by clicking here.
Don't know where to start or have questions on how you can improve your online presence? Click here to schedule a time with one of our Local Marketing Experts to evaluate your current online presence and how we can help you.
The summer of 2019 is all about educating business partners on the importance of having a strong online presence. More to come on this in our next blog. Can't wait until then? Check out some similar articles below:
How to Update Your Online Listing Even When You Don't Have Time
Google My Business: What you Need to Know