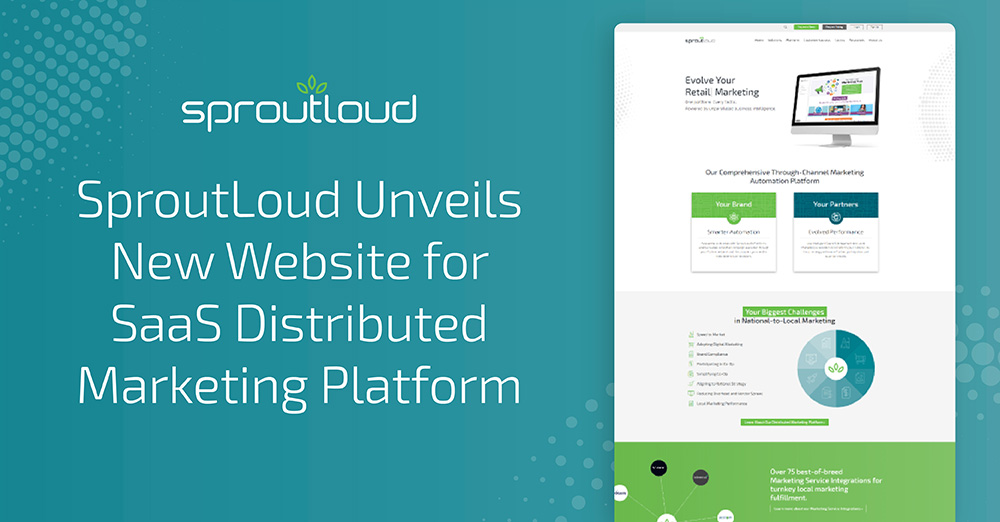 SproutLoud Unveils New Website for SaaS Distributed Marketing Platform
SUNRISE, Fla., January 17, 2019/PRNewswire/ — SproutLoud, a leading Through-Channel Marketing Automation platform, launched its newly redesigned website. The new SproutLoud.com more closely aligns the company's online messaging with its own mission: Simplify Channel Marketing to help Brands increase sales in local markets.
"What we do — Through-Channel Marketing Automation (TCMA) — has a very complex ecosystem of parts. With our new website, we not only make it easier for Brands to understand what we do, but we also show them how SproutLoud understands the challenges Brands and their Partners face in the local marketplace. The new site illustrates how SproutLoud offers the distributed marketing solutions Brands need in one, comprehensive TCMA platform," said Gary Ritkes, president of SproutLoud.
Explore the new SproutLoud.com and you'll find a clean, crisp design and a conversational tone, with easy navigation that quickly leads Brand visitors to the answers they need, no matter where they are in the buying journey. Whether Brand buyers are just beginning to research TCMA solutions for local marketing, preparing for an RFP, or evaluating options before the purchase decision, the new SproutLoud website helps them quickly pinpoint the information they need, while introducing a full spectrum of distributed marketing solutions.
"Navigating through the site, it tells a story – about the biggest national-to-local marketing challenges Brands face today and how the right combination of innovation, technology, analytics and unparalleled service and support gives Brands and their Partner networks what they need to increase local sales," Ritkes said.
ABOUT SPROUTLOUD
SproutLoud is a leading SaaS-based Through-Channel Marketing Automation platform designed to increase Brand sales through partners in local markets. SproutLoud's advanced marketing automation technology simplifies every aspect of local marketing and delivers comprehensive analytics on tens of millions of touchpoints for major, category-leading Brands. SproutLoud gives Brands unparalleled visibility on ROI for individual tactics, campaigns, Partner engagement and platform usage. With SproutLoud, Brands have the advantage of responding rapidly to changing market conditions in real time with data-driven decisions.    
Media inquiries: Contact SproutLoud Content Marketing Manager Elizabeth Vempala at [email protected]
Sales inquiries: Contact [email protected] or 954-476-6211 x3