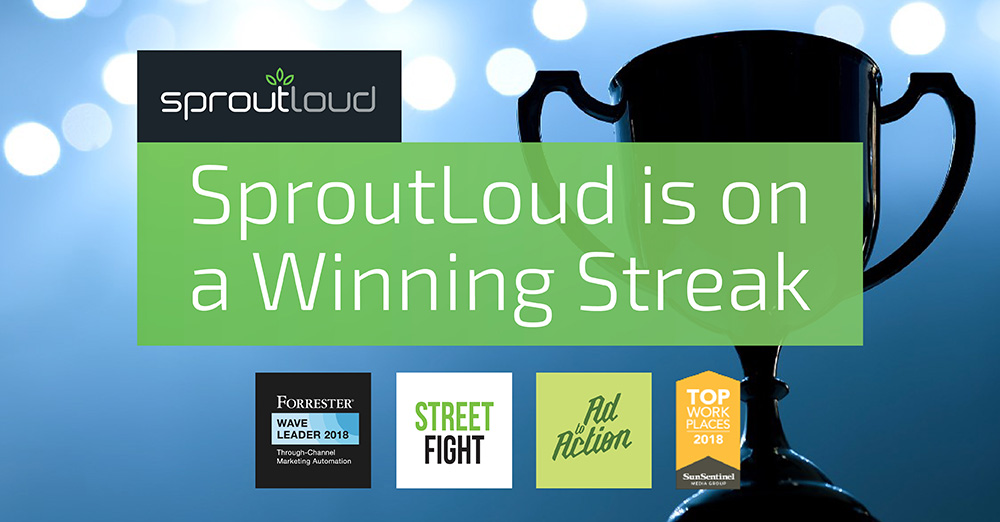 SproutLoud is on a Winning Streak
2018 is turning out to be a banner year for SproutLoud, which has earned accolades from Forrester Research, Street Fight, the Local Search Association and The Sun Sentinel.
"This year is an outstanding year for the team at SproutLoud. Our team has worked tirelessly to help Independent Partners to execute better Local Marketing with the Brands they sell." said Jared Shusterman, CEO of SproutLoud. "The fact SproutLoud is being recognized for our innovation at the same time employee feedback led us to being named a Top Workplace is gratifying. It's the passion and high-level expertise of this team that consistently drives SproutLoud to be a leader in our industry."
Forrester Research Ranks SproutLoud a Leader
in Through-Channel Marketing Automation
Forrester Research recognized SproutLoud as a leader in Through-Channel Marketing Automation (TCMA) in The Forrester Wave™: Through-Channel Marketing Automation, Q2 2018 report. Among all TCMA vendors evaluated in The Forrester Wave™, SproutLoud received among the top 2 scores in strategy, technology and supporting products and services.
"We believe Forrester's recent acknowledgment of SproutLoud is a clear indication that our strategy and products are working." said Gary Ritkes, President of SproutLoud. "For Brands that focus on driving sales through Independent Channel Partners, SproutLoud has built a SaaS solution that will reduce costs, improve speed to market and get more Partners investing alongside the Brand."
SproutLoud Wins Street Fight's Local Visionary Award
Street Fight, an editorially independent company that covers the disruption and evolution of the local marketing industry, awarded SproutLoud a Local Visionary Award for Most Effective Integration with an External API at the Street Fight Summit West in Los Angeles.
"This honor is particularly meaningful to us at SproutLoud, because we're passionate about Small Independent Partners," Ritkes said . "SproutLoud developed a way for Local Business Owners to easily order call-tracking numbers in real time while building customized local ads. This gives them access to sophisticated local marketing insight that was previously reserved for large corporations."
Using innovative "tags," Local Retailers receive performance metrics across every local marketing tactic they launch. Retailers can measure response rates, answer rates and call scoring — all from a single SaaS dashboard. Now, Local Business Owners can make data-driven decisions to improve local marketing ROI with the same precision as their Big Box competitors.
SproutLoud Wins Local Search Association's
Ad-to-Action Award
SproutLoud won the Local Search Association's Ad-to-Action Award for its innovative and comprehensive SaaS Platform — which helps Local Businesses customize, fund, execute and launch Co-Op Advertising campaigns.
"To be recognized by the Local Search Association alongside the biggest marketing tech companies is a proud moment for us," Ritkes said. "It continues to validate SproutLoud's position as a leader in the market in National-to-Local Brand execution through SMB Partners."
SproutLoud Named Top Workplace by Sun Sentinel
SproutLoud was named as a 2018 Top Workplace by The Sun Sentinel. This honor was bestowed on 70 South Florida companies based solely on employee feedback gathered by a third-party research firm, Energage, LLC.
"We're proud that SproutLoud employee feedback led to the company being recognized as a Top Workplace," said Bill Cronic, Vice President of People and Organizational Development at SproutLoud. "We have a passion for what we do, and we love contributing to the communities where we live and work. At SproutLoud, we care deeply about our people. We recognize that the only way we can put our Clients first is by putting our people first."