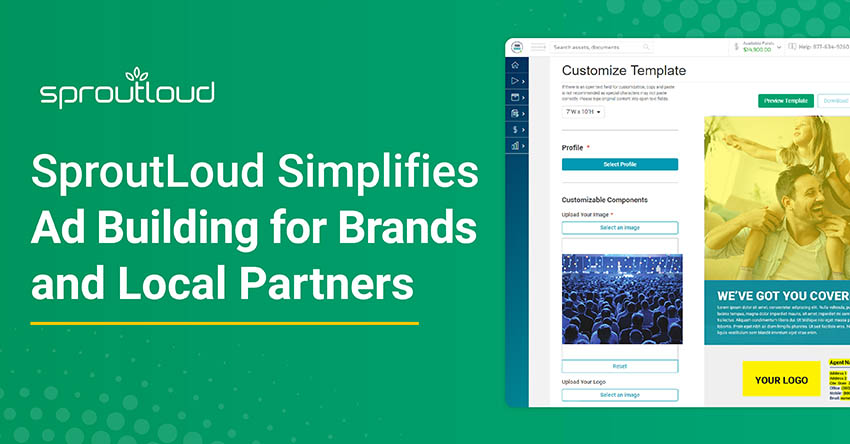 SproutLoud Simplifies Ad Building for Brands and Partners
SproutLoud, a leader in distributed marketing software solutions, is proud to announce the release of the most intelligent Ad Builder of its time, an upgrade to creative ad templates that helps brands co-create advertisements with their distributed users (employees, resellers, dealers, agents, brokers, etc.) in local markets.
With the new ad building features in the SproutLoud platform, brands can create their own customization experiences with new development tools. The improved user experience decreases the time partners spend customizing ads. Fewer clicks and more intuitive templates simplify the workflow, while ensuring consistency and brand compliance.
For example, with new customization widgets, if a brand has marketing assets in an external Digital Asset Management system (DAM), the brand can now easily use the SproutLoud platform to make those assets available to their entire partner network, or a select group of partners. The new customization widgets allow brands to build their own Ad Builder implementation that connects directly to the DAM system, or any other system as required.
With SproutLoud's upgraded customization features, brands can also:
Selectively grant permission access to specific customizations components
Make one centralized change that auto-populates across all templates
Build their own custom widgets to power customization
Use the SproutLoud platform to access external resources outside the platform, such as external DAM systems
Leverage their own development resources to deliver solutions to market faster
Current SproutLoud clients using the Ad Builder module will be automatically upgraded to the newest technology. Learn more about SproutLoud's distributed marketing software solutions at sproutloud.com.
ABOUT SPROUTLOUD
SproutLoud is a leading SaaS-based Through Channel Marketing Automation platform, designed to increase brand sales through partners in local markets. SproutLoud's advanced marketing automation technology simplifies every aspect of Distributed Marketing and delivers comprehensive analytics on tens of millions of touchpoints for major, category-leading brands. SproutLoud gives brands unparalleled visibility on ROI for individual tactics, campaigns, partner engagement and platform usage. With SproutLoud, brands have the advantage of responding rapidly to changing market conditions in real-time with data-driven decisions.