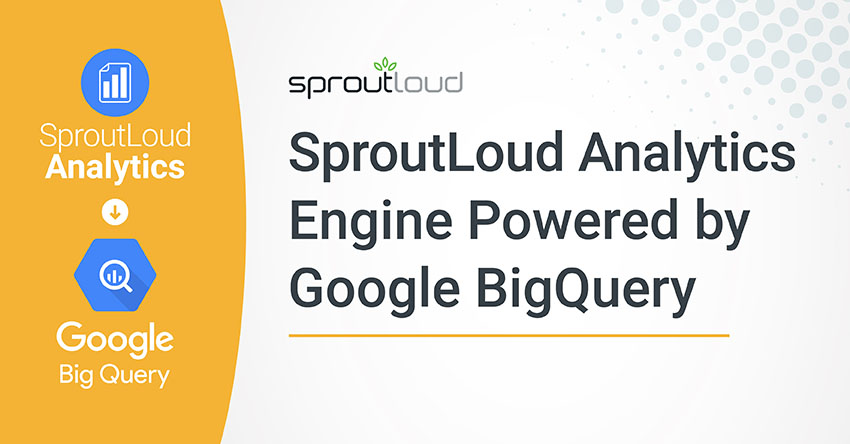 SproutLoud Analytics Engine Powered by Google BigQuery
SproutLoud has migrated its analytics platform to Google BigQuery, which offers multiple benefits for clients who rely on SproutLoud distributed marketing software solutions. Google BigQuery provides SproutLoud with scalability to analyze large data sets, enterprise performance, security, machine learning, and data science at scale.
"This provides a technology base that would be impossible for us to build in-house. We can now focus all our energy to build wonderful solutions for our clients and showcase the power of data being generated from within our platform. Absorbing large client data sets to further enrich internal data is a huge value add as well," said SproutLoud Chief Technology Officer Anjan Upadhya.
A significant part of having a data warehouse to support analytics is how to securely store and process the data. BigQuery allows us to have data encrypted at rest and in transit, with enterprise level performance. As demands grow, provisioning of resources is very easy now. An automatic per second scaling ability removes the need to provision and manage resources to maintain the data warehouse.
BigQuery also gives us the capability to query massive data sets and provide in-depth analytics to our end users. Data science powered by machine learning gives us very exciting opportunities to bring innovative products to market.
Being cloud native brings a higher level of resilience for disaster recovery as well. After much consideration, SproutLoud decided to proceed with the migration. The process took about two years to complete. This included migrating and re-architecting our analytics engine and pipeline to become completely cloud-native, going from our own data warehouses to Google BigQuery. However, the SQL (sequential query language) gives users a familiar tool to a traditional database to query the data. Training the team was easy. We were able to get up to speed quickly.
"Google BigQuery is a solid technology for insights and analytics. It's designed to grow as demand grows. We are very satisfied with our decision to migrate and excited about product opportunities as a result," said Upadhya.