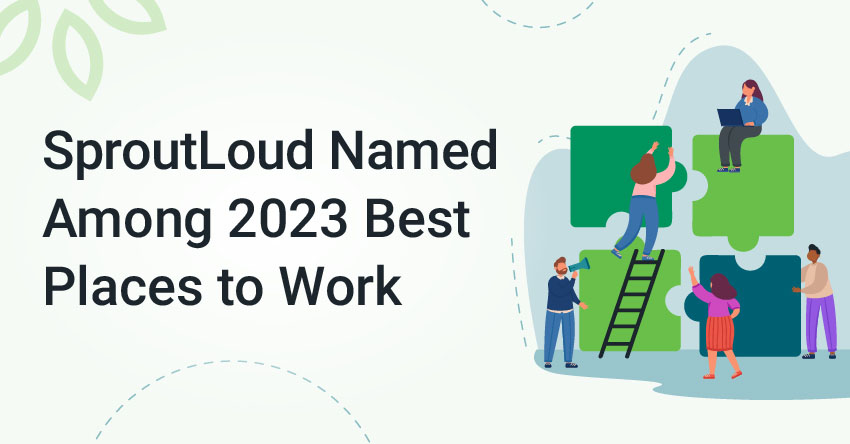 SproutLoud Named Among 2023 Best Places to Work
SproutLoud, a leader in Distributed Marketing, won recognition as one of 2023's Best Places to Work by the South Florida Business Journal. This award is based on employee feedback gathered by an independent third-party firm.
"Recruiting and retaining the best of the best powers our ability to innovate and lead," said Bill Cronic, SproutLoud's Vice President of People and Organizational Development. "SproutLoud continues to lead in the local marketing automation space, keeping local businesses growing by delivering superior brand-to-local consumer experiences. And we're proud that our team members' experiences of working at SproutLoud place the company among South Florida's top employers." 
The Best Places to Work contest, run by Quantum Workplace, has conducted more than 9 million employee surveys over 19 years, recognizing organizations where voices are heard, cultures are thriving, and employees are engaged. Research shows that a healthy workplace culture enables companies to attract higher quality talent, experience less turnover, and deliver meaningful results.
"Team members from entry-level positions to leadership embody the company's core values," Cronic said. "We all rely on one another, as we work toward one mission as one team."
 ABOUT SPROUTLOUD
SproutLoud is a leading SaaS-based Through Channel Marketing Automation platform, designed to increase brand sales through channel partners, distributors, and customer-facing employees in local markets. SproutLoud's intuitive distributed marketing platform makes it simple to launch brand-compliant, sophisticated, omni-channel marketing campaigns quickly and easily. SproutLoud gives brands unparalleled visibility on ROI for individual tactics, campaigns, promotions, partner engagement, and platform usage. With SproutLoud, brands have the advantage of responding rapidly to changing market conditions with data-driven decisions.
Media inquiries
Contact Elizabeth Vempala, SproutLoud Senior Content Marketing Manager,
at [email protected]
Sales inquiries
Contact [email protected] or call 954-476-6211 x3