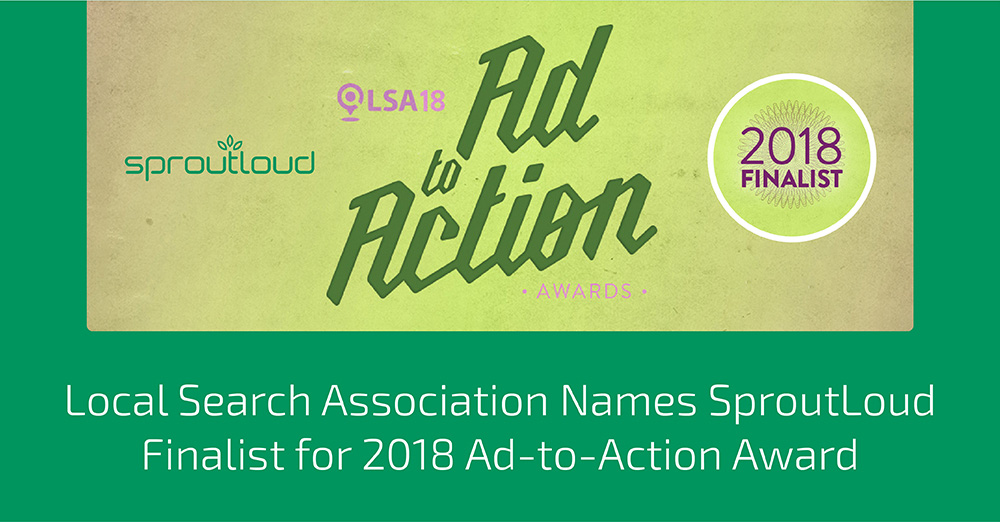 Local Search Association Names SproutLoud Finalist for 2018 Ad-to-Action Awards
SproutLoud is a finalist in the Local Search Association's 2018 Ad-to-Action Awards, which celebrate innovation in Local Marketing. As a leader in the Channel Marketing Automation landscape, SproutLoud is being recognized for its innovative and comprehensive SaaS Platform, which helps Local Businesses customize, fund, execute and launch Co-Op Marketing campaigns.
The LSA Award finalists were selected from among the most prominent and creative media companies, agencies and technology providers in the location-based media and marketing industry. The 2018 finalists reflect the most compelling campaigns, strategies and technologies for influencing local consumer actions, according to LSA.
"It's an honor to be recognized by the Local Search Association," said SproutLoud CEO Jared Shusterman. "SproutLoud's SaaS Platform embodies our passion for Small Business and our commitment to leveling the playing field, so Brands and the Local Businesses that compose their Indirect Distribution networks can compete and win in local markets."
SproutLoud's SaaS Channel Marketing Platform offers software, service and support to simplify campaign execution, amplify the power of the marketing spend and accelerate local sales.
The Local Search Association is a not-for-profit industry association of media companies, agencies and technology providers who help businesses market to local consumers. Winners of the 2018 LSA Ad-to-Action Awards will be announced May 1 at the LSA18 Conference in Chicago.