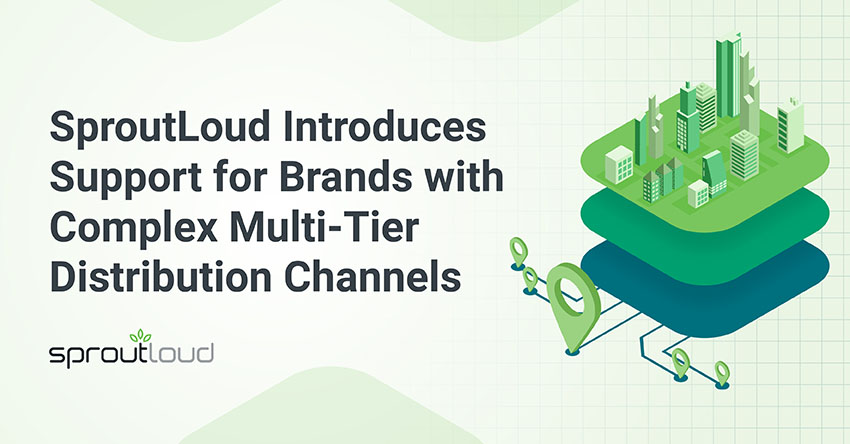 SproutLoud Introduces Support for Brands with Complex Multi-Tier Distribution Channels
SproutLoud, the leading provider of distributed marketing solutions, today announced that it has expanded its support for multi-tier distribution channels. This new set of features allow brands to extend their marketing and sales enablement tools to more parties at different levels of the distribution chain, giving them greater control over their marketing efforts and enabling them to build stronger relationships with their end customers.
"Nothing exists on the market today that allows brands to jointly collaborate with multi-tiered partners, who often have their own networks of dealers, contractors and employees, in order to extend channel partner marketing efforts. Legacy distributed marketing systems often treat each brand and their channel partners as two-party siloed relationships, when in reality a distribution ecosystem may be multi-tiered and far more complex, requiring joint go-to-market collaboration with far more than just two parties," said SproutLoud CEO Jared Shusterman. "SproutLoud's focus on the vertical integration of multi-tier distribution models means extending marketing and sales enablement tools holistically through the channel. And SproutLoud is the first and only distributed marketing platform to recognize and build for this."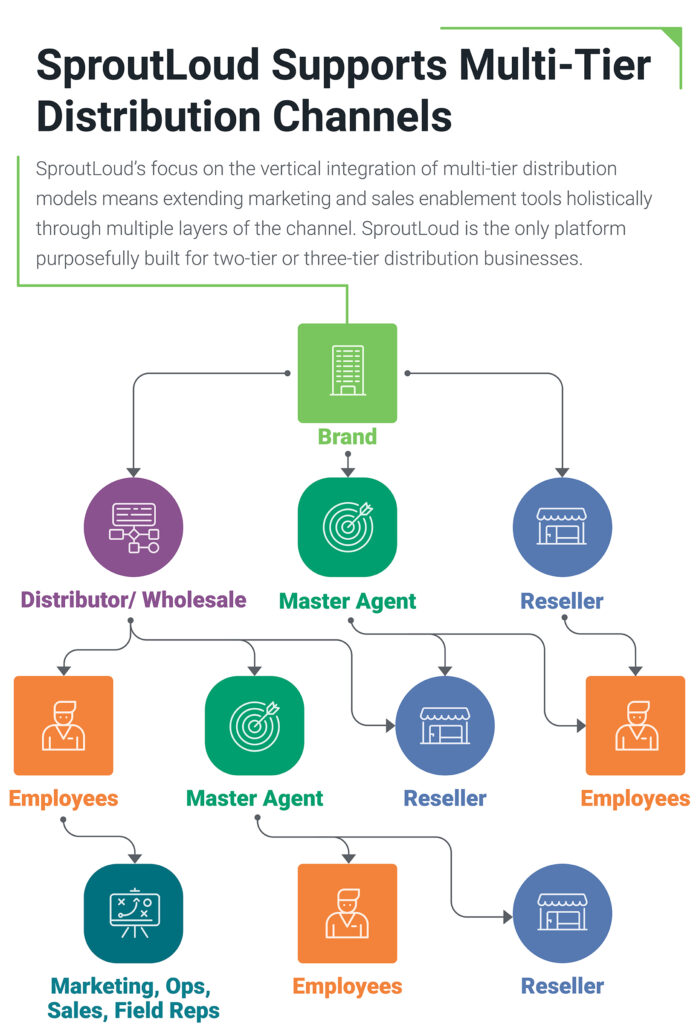 SproutLoud's multi-tier distribution support includes features that make it easy for brands to manage marketing efforts across multiple channels. These features provide the following benefits:
Multi-tier support for distributed marketing means brands can expose their tools to more parties at different levels of the distribution chain.
With multi-tier support, brands can build relationships with the frontline employees and channel partners, who otherwise may not be known to them, and influence the actions of the parties who are closest to servicing the consumer.
Multi-tier support gives brands more control over funding, branding and messaging workflows allowing all parties to synchronize and integrate their message to the end consumer.
SproutLoud's multi-tier distribution support is available now to all SproutLoud customers. To learn more, visit sproutloud.com.
ABOUT SPROUTLOUD
SproutLoud is a leading SaaS-based Through Channel Marketing Automation platform, designed to increase brand sales through channel partners, distributors, and customer-facing employees in local markets. SproutLoud's intuitive distributed marketing platform makes it simple to launch brand-compliant, sophisticated, omni-channel marketing campaigns quickly and easily. SproutLoud gives brands unparalleled visibility on ROI for individual tactics, campaigns, promotions, partner engagement, and platform usage. With SproutLoud, brands have the advantage of responding rapidly to changing market conditions with data-driven decisions.
Media inquiries
Contact Elizabeth Vempala, SproutLoud Senior Content Marketing Manager,
at [email protected]
Sales inquiries
Contact [email protected] or call 954-476-6211 x3