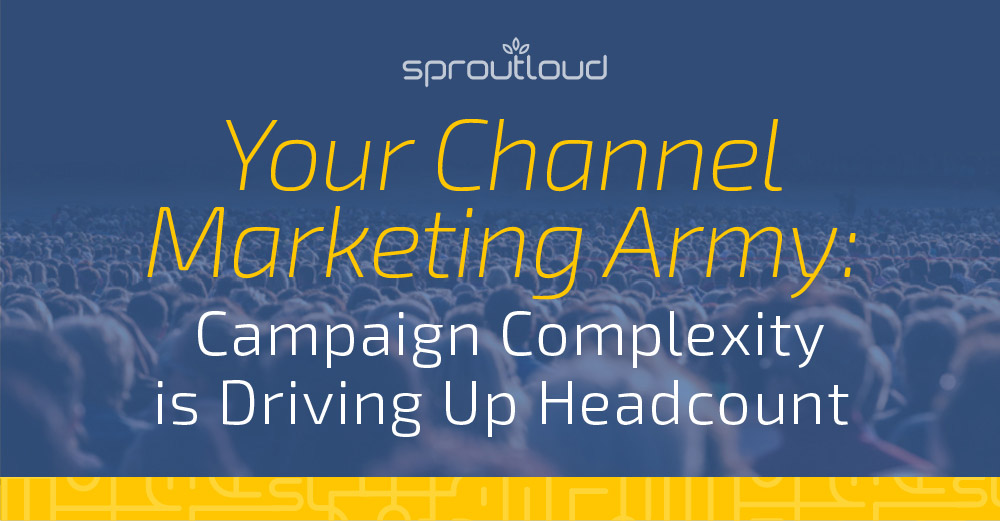 Your Channel Marketing Army: Campaign Complexity is Driving Up Headcount
Distributing local marketing through indirect channels — Local Partners, retailers, dealers, agents, local businesses — doesn't put much of a dent in Capital Expenses, but it tends to require an intensive investment in Operational Expenses. Just consider the number of Brand marketers dedicated to managing campaigns, agencies, vendors and Partner relations. It's a veritable Channel Marketing army. When you take a closer look at the OpEx, it's evident what's driving the surge.
Complexity in the Channel
Channel Marketing is more complex now than ever. The truth is, rapid changes in the past decade have transformed the approach to Channel across the board, for everyone from big Brands to small businesses. Remember the days when four trusty marketing programs — Newspaper Ads, TV, Radio, and Direct Mail — were the pillars of practically every marketing campaign? Then came LinkedIn in 2002, Facebook in 2004, Twitter in 2006, and the iPhone in 2007. And everything changed. It wasn't that long ago when marketing experts were debating whether social media really mattered. Now, it's simply indispensable:
43 percent of small business owners say they'd choose social media above every other online marketing option, according to a recent Small Business Survey by Local Search Association (LSA).
63 percent of consumers use websites to find or engage with businesses, according to LSA's recent Digital Consumer Study.
30 percent of consumers won't consider a business without a website, according to research by YP and LSA.
Today's multi-tactic marketing campaigns are often composed of more than a dozen essential tactics with an emphasis on Digital, including:
PPC ads
Directory Listings Management
Reputation Management
Social Media Content Syndication
Paid Social Ads
Websites
Microsites
Local Video Ads
Dynamic Local Display
Email Marketing
Data-Match Retargeting
And each tactic also requires a level of expertise for planning, creation and execution.
Managing Agencies
Many Brands and Partners turn to agencies for expertise to create and launch Digital and Traditional marketing tactics. This involves an investment, not only in agency costs but also in headcount to manage complicated agency relationships.
Successful multi-tactic campaigns require the right blend of Brand compliance and local customization. Whether they're customizing print, digital or social media assets, too often results from agencies fail to meet Brand guidelines. Perhaps the color is off or a logo is stretched or the messaging isn't Brand compliant. Flawed local marketing execution triggers a long and expensive Brand-approval process. And this leads to an increase in OpEx and a delay in getting your message to market.
Managing Vendors
If you opt to work directly with marketing vendors instead of an agency, Brand compliance and consistent execution remain significant concerns. Today, about 5,000 marketing technology vendors offer services in 49 different categories, according to a recent Marketing Technology Landscape by chiefmartech.com. And new vendors are entering the market all the time. In fact, 79 percent of Brands saw an increase in the number of marketing vendors last year, according to SproutLoud Marketing Research. It requires a team to manage vetting, monitoring and ongoing evaluation to ensure that you're working with high-quality vendors with a proven track record for success. That's why direct vendor management is a significant OpEx investment.
Managing Partner Relations
By far, the most crucial relationship to your Brand's Channel Marketing success is the relationship with your Partners. They deserve dedicated attention. Questions about Brand compliance guidelines, campaigns and Co-Op require a significant amount of your Brand marketing team's time. And once your Partners opt in to Co-Op, the labor-intensive process of claims and reimbursement kicks in:
Receiving approval requests
Reviewing assets for Brand compliance and quality
Rendering a final decision on approval or denial
Recording and tracking reimbursements
Let's face it. If Co-Op claims and reimbursement is time-consuming for your Brand marketing team to manage, just consider how much effort your Partners are putting into local marketing submissions, revisions, resubmissions and proof of performance — all for reimbursement of a percentage of costs that they've already paid up front. No wonder Channel Partners say that the No. 1 reason they don't participate in Co-Op is that "it's just too difficult."
Channel Marketing Automation Solutions
You can take the pressure off your Brand's Channel Marketing troops with one simple solution: a leading Channel Marketing Automation Platform. The right platform will not only simplify agency management and vendor management, but it will also offer much needed service and support to Brand and Partner marketers on the frontlines, with an easy-to-use SaaS-based platform. It's essential to choose a platform with an integrated Marketing Service Provider network that offers high-quality execution and proven results. This requires a SaaS Platform that already has a local marketing fulfillment system in place to handle vetting, selecting, managing and monitoring vendors, so that level of day-to-day vendor management doesn't fall on your Partners or your Brand marketing team. What sets apart leaders in Channel Marketing Automation from the rest is the depth and breadth of support and service they offer. Look for high-level customer service that's easily accessible through a web-based Portal. Finding the right Channel Marketing solution gives your Brand and your Partners the strategic advantage they need to succeed.