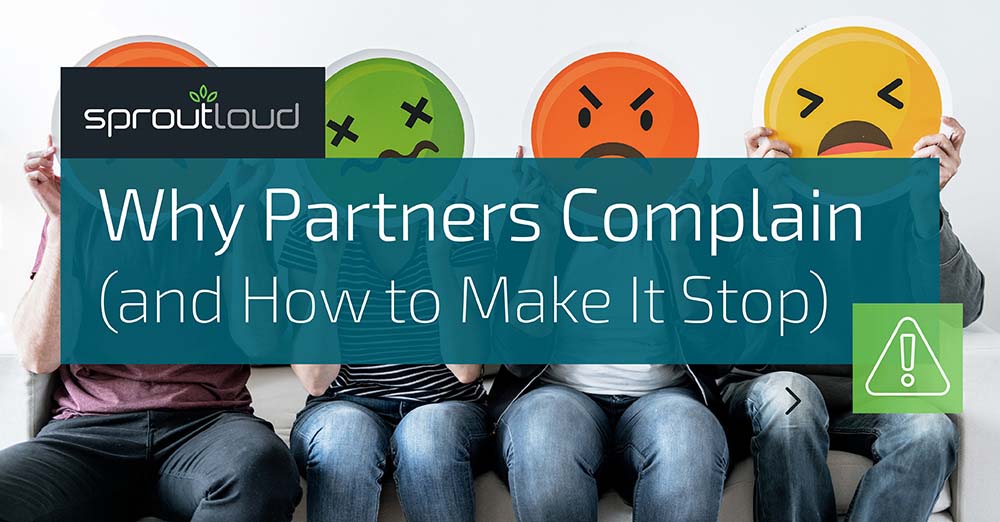 Why Partners Complain (and How to Make It Stop)
Channel Sales teams invest a lot of time into building relationships with the retailers, dealers, agents and distributors in their local territories. But discovering how much time your Sales team actually spends reacting to Partners' marketing questions and complaints can be a real wake-up call.
The truth is, Partners find traditional Channel Marketing to be highly complex:
Submitting proof of performance required for Co-Op Advertising claims can be a hassle.
Waiting weeks for Co-Op reimbursement checks can wreak havoc when your Small Business budget is already stretched thin, covering payroll and inventory.
Knowing which Brand campaigns to run and which tactics to select can complicated.
Sorting out how to get the right marketing materials at the right time to keep up with the most current campaigns and promotions can be time-consuming.
Partners will inevitably have questions and need help. But we need to level set here, to understand why Sales reps are spending so much time on marketing issues. The reality is that when Brand marketing budgets shrink, something has to give. In some cases, Brands end up not hiring regional marketing managers or marketing field reps that would be dedicated to assisting Partners. Other Brands opt to outsource regional marketing. When this leads to gaps in serving Partners' needs, historically, it's been easy to say: Just let the Sales reps do it. That's how Field Sales reps end up providing impromptu marketing assistance. This is by no means an ideal situation. In fact, it's problematic, because your Regional Sales managers and Field Sales reps are experts in sales, not marketing.
You need a great Channel Sales team that understands the local territory and excels at finding and onboarding Partners with the training and tools they need to close customers. Sales reps need time to:
Nurture Partner relationships
Help Partners build product expertise and connect with their local communities
Focus on product positioning
Help Partners develop effective strategies for sales probing and closing customers
Keeping Your Sales Team on Track
To ensure your Brand is setting up both your Sales team and your Partner network for success, it's essential to separate the Sales role – of announcing and positioning marketing – from the Marketing role of managing and executing marketing while simultaneously handling all the back-end administrative work. Your Sales reps need to engage Partners. They're not equipped to go deeper when Partners have questions about sourcing vendors, or which campaigns to run, or which tactics drive more store traffic.
Channel Sales teams can waste a great deal of time attempting to resolve administrative issues caused by outdated Channel Marketing processes. For example, it could take 10 conversations and a string of emails for a Field Sales rep to find someone to answer a Partner's question, when the issue could have been resolved in one call to the right Local Marketing expert. Yet the traditional Channel Marketing approach lays the burden of success squarely on the shoulders of your Channel Sales reps. This means your Sales reps have to spend too much time talking about marketing and too little time talking about sales. This leaves Partners frustrated, Sales teams overloaded, and Brands facing dismal sales results.
Innovations in Channel Marketing Automation
Today, innovations in Channel Marketing Automation technology are making it cost-effective for Brands to remove the burden of marketing from the Sales team. Automating the entire process on a SaaS Platform simplifies every step of Channel Marketing, including:
Building and customizing ads for both Digital and Traditional Marketing
Managing and executing Brand-compliant campaigns
Using an integrated network of expert marketing vendors
Streamlining claims and reimbursement
Opting for Instant Funding with Co-Op Advertising
Accessing real-time, relevant analytics to demonstrate ROI
They key is to look for one comprehensive, easy-to-navigate platform that comes with expert Local Marketing support for your Partners and your Brand team. This evolution in Channel Marketing Automation technology means your Partners receive the expert support and service they need, while your Channel Sales teams can finally focus on what they do best: Sales.
Your next read:
Part 1 of the 4-part "Channel Sabotage" series: