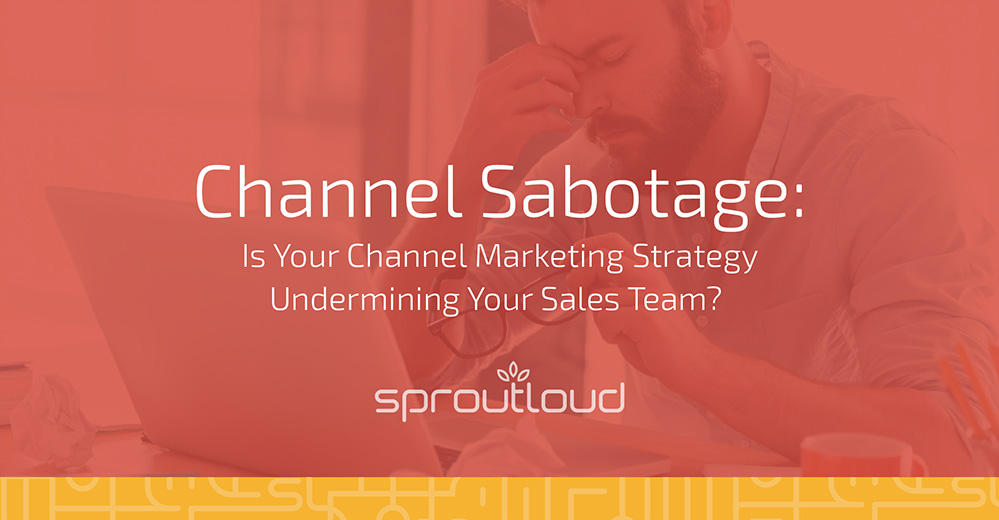 Channel Sabotage: Is Your Channel Marketing Strategy Undermining Your Sales Team?
If outdated Channel Marketing practices are distracting your Channel Sales team with administrative issues, then they're not focused on enabling your Partners to sell. Answering questions about marketing programs, tracking down reimbursement checks and even delivering marketing materials take time away from helping Partners position and sell your products. In this 4-part series, we will examine how traditional Channel Marketing practices might be sabotaging your Channel Sales efforts.
Set Your Partners Up for Success
Executing a strong Channel Partner program requires a lot of moving parts. First, you have to hire a great Channel Sales team that understands a local territory and can find the right Partners. Next, the Channel Sales team needs to onboard those Partners with the training and tools they need to close customers. But as every sales leader knows, consistent long-term growth is driven by sales representatives who nurture Partners, helping them build product expertise and community relationships.But the reality is that Channel Sales teams waste a lot of time trying to solve administrative issues caused by complicated Channel Marketing processes. The classic Channel Marketing approach lays the burden of success squarely on the shoulders of your Channel Sales reps. This leads to too much time talking about marketing and too little time talking about sales. The result: frustrated Channel Partners, overloaded Channel Sales teams and dismal sales results.What if today's innovations in marketing automation technology could revolutionize your Channel Sales approach?Let's look at how technology can solve some of the most annoying challenges your Channel Sales teams face every day.
The Challenge: 'Where's My Check?'
Co-Op advertising programs, where the Brand and the Local Partners cooperatively pay for marketing tactics, can be a powerful way to create traffic and drive sales. But the antiquated administrative process of approving and distributing funds is so time consuming that often Partners opt not to participate. Every year, local businesses leave about $33 billion earmarked for Co-Op advertising untouched. Now that says something doesn't it?  The process must be pretty broken if over $30B of free money is left on the table.From your Channel Partners' perspective, it isn't hard to understand why they're so frustrated:
Co-Op advertising is a time-consuming process  
If you are an Independent Partner, you know success is driven by face time with potential customers, understanding their needs and offering real solutions to their problems. But if you want to take part in Co-Op advertising, the process itself means you need to be in the back office fighting a time-consuming and convoluted process:
Find an ad you think will resonate in your local market.
Customize the ad.
Submit the ad to the Brand for approval, and wait.
If it's rejected, revise the ad.
Resubmit the ad for approval, and wait — again.
Once the ad is approved, work with local media outlets on ad placement.
Pay all ad costs out of pocket.
Submit a reimbursement claim after the ad runs.
Wait for your check to arrive.
Upfront payments for Co-Op advertising are tough on local partners  
Let's say your Channel Marketing team offers a Co-Op newspaper ad with costs evenly split between the Brand and the Channel Partner. In reality, the Channel Partner pays 100 percent of the ad costs in advance, and the Brand reimburses its 50 percent later — only after the ad is published and a claim is submitted. If reimbursement takes six weeks or more, then paying for overhead, inventory and even employee payroll could be affected.So while your Channel Sales team is fired up and ready to train Channel Partners on how to be more successful selling, they're being bombarded with administrative questions and complaints as soon as they walk in the door: "I submitted an ad for approval five days ago and haven't heard back from marketing." … "My reimbursement claim was rejected, but I don't understand why." … "My reimbursement claim was approved five weeks ago, but I still haven't been paid." … "So, where's my check?"
Getting It Right: The SproutLoud Solution
As a Channel Sales leader, you know that putting a well-trained Channel Partner in front of a local customer is what drives sales. The key is to eliminate unneeded administrative work for your Channel Partners and, consequently, for your Channel Sales team.The solution: Take the obstacles of time and money out of the equation and simplify the entire process. SproutLoud's Channel Marketing Platform is a game-changer that uses the latest technology to simplify marketing execution, amplify the power of your spend and accelerate local Channel Sales.
Simplified Campaign Execution makes pre-approvals, invoices and paperwork obsolete. Your Channel Partners select from pre-approved, customizable assets through a cloud-based portal and launch campaigns with point-and-click ease. This eliminates the vicious cycle of submitting, waiting and resubmitting for approvals from the Channel Marketing team — which means there's no need to ask the Channel Sales team to get involved in marketing execution.
Intelligent Funds Management gives your Channel Partners instant access to funds dedicated for brand promotion with SproutPay Instant Funding. Once Channel Partners find a campaign tactic and select it online, they can instantly access the Brand's Co-Op funding through SproutPay by simply using a credit card to pay their portion. There are no pre-approval requests, no "floating" the Brand's portion of the ad, no reimbursement claims and no begging your Channel Sales team to track down their money.
Local Marketing Automation instantly executes the selected tactic on the Channel Partner's behalf. This means that instead of being trapped in the back office haggling with media outlets and struggling to keep up with social media, your Channel Partners are on the floor working with your Channel Sales team to understand more about your products and how to be successful selling them.
We've seen technology transform our world in the past 10 years. The cloud, automation and analytics are literally changing the way we do everything from buying a car to booking a vacation. Today's Channel Sales leaders are asking: How can our organization use technology more effectively to empower our Channel Sales team, enable our local Channel Partners and accelerate our sales?  SproutLoud's Channel Marketing Platform offers the total paradigm shift you need – for your Channel Marketing team, your Channel Partners and your Channel Sales team.
Read the next article in the Channel Sabotage series: