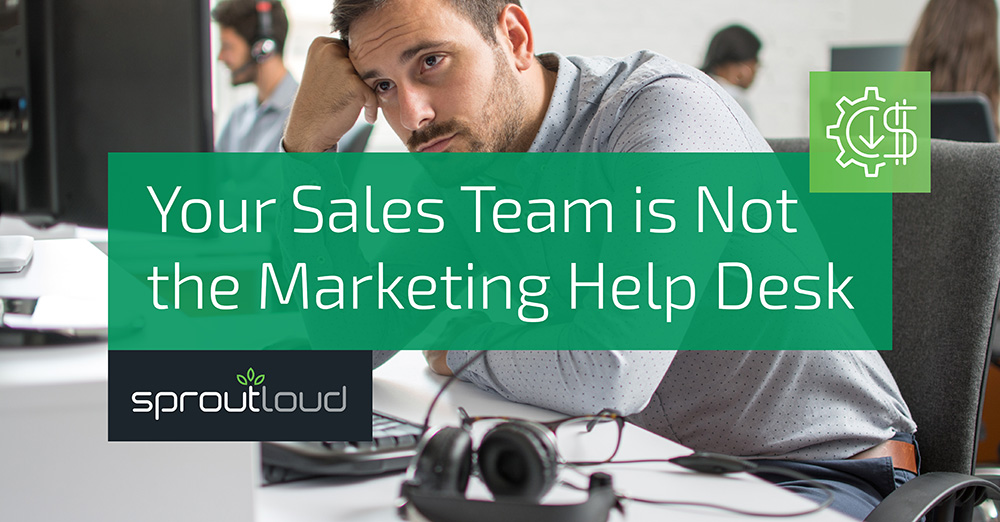 Your Sales Team is Not the Marketing Help Desk
Channel Marketing tends to be hard for Independent Partners, because they're typically not marketing experts. They have questions and frustrations that too often land at the feet of the Brand representatives they see most often: Field Sales reps. But guess what? Your Field Salespeople aren't marketing experts either. And expecting them to be is akin to sabotage. This article is the third in the Channel Sabotage series, following:
In this article, we'll take a look at why Brands can't afford to let Partners use the Channel Sales team as a resource for marketing guidance:  You are not only wasting valuable sales time, you might be wasting money as well.
The Challenge: Avoiding Being
Mistaken for the Marketing Helpdesk
Delivering a highly targeted campaign that uses digital and traditional tactics to drive customers from awareness to consideration to decision takes a lot of expertise. In fact, the Top 3 challenges local business owners face with Brand marketing programs are finding the right program, customizing marketing materials and getting reimbursed. But understanding how to align Pay-Per-Click Search Advertising with Social Media Campaigns is not what you hired a Channel Sales manager to do. So, why would you put them in a position to help Partners make those decisions?
Local Partners are incredible assets for a Brand to have. They know their community. They understand how to drive sales. But they have a lot of questions about marketing:
"Which campaign should I use?"
"How much should I invest?"
"Which vendor is best for executing Dynamic Local Display Ads?"
"What customization should I add to a campaign?"
All these questions are valid, and they all need a valid answer. But even if your field marketing team had the expertise to answer them, it would still take valuable time away from sales focused training.
Getting It Right: The SproutLoud Solution
SproutLoud's platform takes a lot of the complexity and questions out of Partner marketing. When Partners log into their Partner Portal, they will see all the tactics that are available to them. The Brand funding offer is attached directly to the campaign tactic, so making decisions on which tactics to launch is simple.
The execution of those tactics is handled by SproutLoud's Marketing Service Provider (MSP) ecosystem, which includes over 75 world-class marketing vendors for virtually every tactic your Partners could need. Since SproutLoud ensures that MSPs are delivering expert execution, your Partners no longer have to worry about which vendor to choose which means fewer questions for your sales team.
The actual customization of the asset by your Local Partner is simple as well. All assets are presented in highly dynamic templates. During enrollment, SproutLoud helps Partners preload all their location and contact information, along with any imagery or logos they would like to use in ads. This automation allows Partners to customize ads in minutes instead of paying out of pocket for local agency help.
Regardless of how strong the technology is, it is expertise that always drives success.
That's why SproutLoud's Expert Marketing Support takes the burden of guidance off your Channel Sales team. SproutLoud's Local Marketing Coordinators will proactively reach out to your Partners and help them understand every function on the platform. With SproutLoud's Digital Diagnostics product, Local Marketing Coordinators can help each Partner understand how their online presence compares to their top competitors. This is the first step to helping Partners understand which tactics can help them drive more traffic, leads and sales. SproutLoud's Local Marketing software, services and support does the heavy lifting, so your Channel Partners —and your Field Sales Team — can focus on what matters most:  Sales.
Your Next Read: