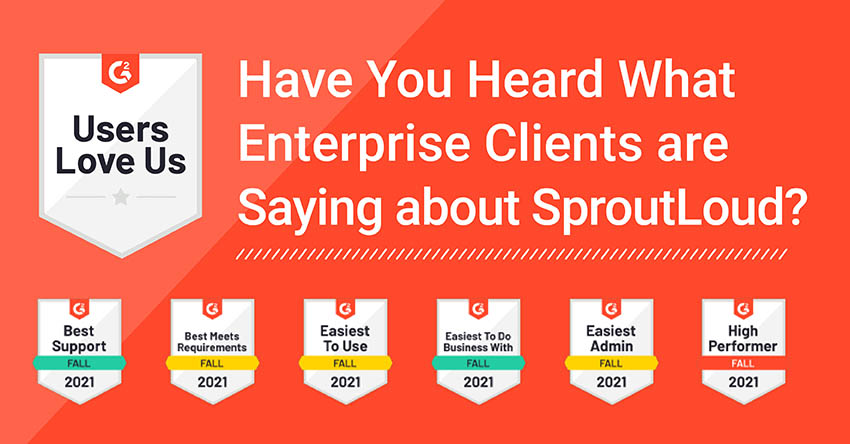 Have You Heard What Enterprise Clients are Saying about SproutLoud?
"Users Love Us" is 1 of 7 badges SproutLoud recently earned from software review platform G2, in recognition of organic reviews from verified users of SproutLoud's Distributed Marketing platform. Since its inception in 2006, SproutLoud marketing automation technology has delivered measurable results and made marketing easier for Enterprise clients and their national and global networks of SMB resellers in local markets. But don't take our word for it — look at what Enterprise clients are saying about SproutLoud:
"SproutLoud has helped us transform how we do business with our customers related to co-op and local advertising. What used to plague our organization with antiquated, manual processes that included redundancies, loopholes, and general confusion across the org – turned into an elegant solution that is easy to use and understand and that is systematized and streamlined for our customers," wrote Chris P., Head of Customer Partnership Marketing, Event Management, Sponsorships & Motorsports at an Enterprise company in the tire industry.
In another review on G2.com, Brand Management Manager Ricky S. wrote: "As a member of a Fortune 40 company in the telecom industry, we needed an upgrade in marketing tools to be nimble in the metro cities and rural towns alike across the country. We are extremely fast-paced and demanding and needed a vendor to not only accommodate but to exceed our expectations on a daily basis. SproutLoud has always gone above and beyond for our business and has helped consistently deliver results across the enterprise. … We have developed lasting relationships across their organization and our enterprise. They are just a delight to work with."
Todd J., a senior marketing manager at a large Enterprise corporation called SproutLoud "a great business partner and a platform that evolves." In his review on G2.com, Todd wrote: "After out-growing two previous providers, my company turned to SproutLoud's software to help take our marketing strategy and content and execute through a network of thousands of Retailers. The best part about SproutLoud is the level of effort they take to understand our business needs and then continually apply that understanding to implement process improvements and platform enhancements that help us support our sales channel. They put a lot of effort, time, money and thought behind their product — and it shows. As a result, my company benefits from improved capabilities year after year, which means our local marketing programs only grow stronger and more diverse."
SproutLoud was recognized by G2 for delivering what Enterprise clients and their channel partners need most:
Best Support
Best at Meeting Requirements
Easiest to Use
Easiest to do Business With
Easiest Admin
High Performance
ABOUT SPROUTLOUD
SproutLoud is a leading SaaS-based Through Channel Marketing Automation platform, designed to increase brand sales through partners in local markets. SproutLoud's advanced marketing automation technology simplifies every aspect of Distributed Marketing and delivers comprehensive analytics on tens of millions of touchpoints for major, category-leading brands. SproutLoud gives brands unparalleled visibility on ROI for individual tactics, campaigns, partner engagement and platform usage. With SproutLoud, brands have the advantage of responding rapidly to changing market conditions in real-time with data-driven decisions.
Media inquiries
Contact SproutLoud Senior Content Marketing Manager Elizabeth Vempala:  [email protected]
Sales inquiries
Contact [email protected] or call 954-476-6211 x3