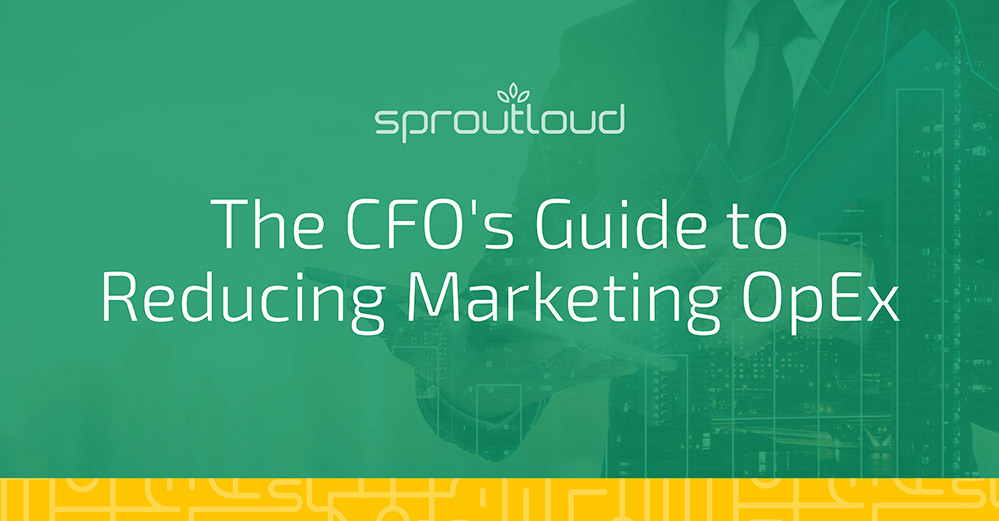 The CFO's Guide to Reducing Marketing OpEx
Marketing has become so fractured in nature that organizations must manage multiple solutions for national and channel campaigns. From various vendors for email, digital and social to CRMs and marketing automation platforms, the list is as exhaustive as the time it takes to control them all. And while most companies commit millions of dollars to Market Development Funds (MDF) those funds often go into a black hole where execution is inconsistent and analytics are non-existent. Consequently, marketing OpEX is rising at an alarming rate. When the complexities of local marketing are added to the mix, many organizations often find themselves over budget and underserved.
Most CMOs know all too well the feeling of spending the majority of the day reviewing vendor selections, contracts and agreements, and dealing with operational problems — instead of working on programs that actually create revenue. So, exactly how do we reverse this trend?
In today's market you need to use a legion of marketing channels (digital, social, search, POS, direct mail and event) to get your message to the customer. This has driven the number of vendors you have to support sky-high. Soon you find yourself in an alternate "more is more" universe: more vendors, more contracts, more invoices, more IT integration and, ultimately, more people to manage it all. While this dilutes marketing spend, too many organizations believe this is just the cost of doing business.
Luckily, disruptive companies like SproutLoud are changing the game by helping big brands broaden their tactics at the local level while reducing their overhead.
How can you reduce the overhead traditionally associated with marketing execution?  
SproutLoud's cloud-based SaaS platform distributes marketing campaigns from a simple browser-based portal. This reduces the cost of giving local dealers access to both solid traditional and the latest digital marketing tactics. The corporate marketing team delivers the campaigns to the portal and the dealers select them by logging into the SproutLoud portal from any browser. Because there is no software or data-center footprint,  budgets for IT support are greatly reduced. This means that marketing can reinvest those funds into customer-facing campaigns that actually create revenue.
SproutLoud integrates 100+ best-of-breed Marketing Service Providers seamlessly into our platform so brands spend less money managing vendors and get the best possible price for every campaign they execute. Even existing vendors who you are currently using can be easily moved to the SproutLoud platform. Simpler execution, less overhead and more buying power means brands can evolve their go-to-market strategy and get more traction with their customers at the local level.
How do you amplify the buying power of every marketing dollar?
In traditional claims-based reimbursement models local partners have to endure a long process to recover out-of-pocket expenses. SproutLoud's Co-Op funds management system streamlines the process by helping you deliver funds specifically tailored to support your marketing objectives.  Through our highly effective co-pay model, SproutLoud empowers brands to make funds instantly accessible to their channel partners on preferred campaigns. The SproutLoud platform makes it easy for partners to unlock these funds, according to pre-set brand preferences, so partners only pay for their portion of the campaign. This reduces OpEx costs for the brand and drives more partners to use Co-Op Marketing Funds.
How do you manage your marketing investments based on real data?
With both traditional and digital campaign options available from any browser, SproutLoud can automatically transform any partner into a marketing expert. The partner just selects the campaign, enters their co-pay information and then executes. Whether it's traditional direct mail or paid digital, local partners can 'set it and forget it' and return to what they do best – selling. This results in more traffic, more leads and accelerated growth.
But while you are growing your business you also can  get smarter about how and when you execute campaigns. SproutLoud's platform gives you the ability to see real-time analytics on what is working and what isn't. So if you are running a social campaign in the West and a direct mail campaign in the East, you will be able to compare results and define which one has the best ROI. With this powerful insight you can continue to refine your local strategy so each dollar goes further and further.
What's the big picture?
For CFOs, the top priority is making sure every dollar a company spends is delivering the best return possible. Marketing has always been sort of a "dark art" — you absolutely have to do it, but how the money performs is anybody's guess. With SproutLoud you are able to lower the cost of IT support and vendor management. You are able to amplify your buying power by centralizing vendors and accessing the co-pay multiplier through stronger partner participation. And when you have clear insight into how every single program performs you can drive your marketing investment towards where it makes maximum impact.
So with less OpEx, more total budget and better ROI for every campaign, the question is: Why aren't we spending more of our budget on local marketing?