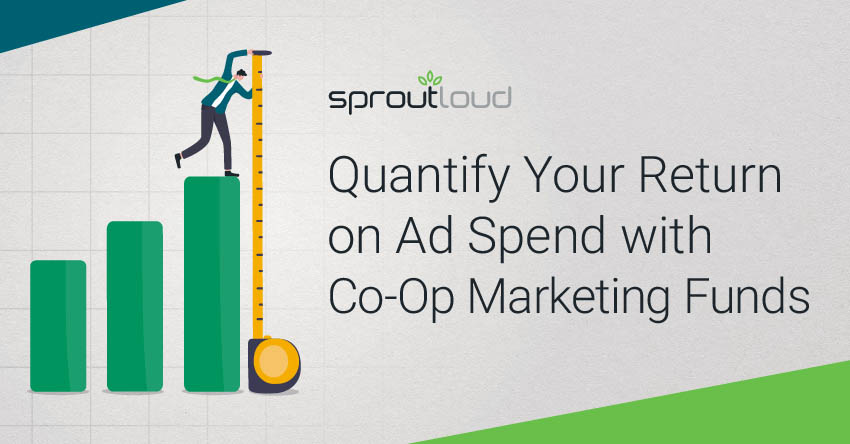 Quantify Your Return on Ad Spend with Co-Op Marketing Funds
Within Enterprise brands' distributed networks of dealers, distributors, retailers, resellers, agents, brokers, franchisees, multi-locations, local branches, and employee end users, everyone has one thing in common: They want to see a Return On Ad Spend.
"Taking a holistic approach to digital marketing strategy — from brand awareness to lead nurturing — allows brands, their resellers and end users to guide potential customers through the entire buying journey," said Kevin Hill, Vice President of Digital Strategy at SproutLoud.
Driving Brand Awareness
The journey to increasing traffic, leads and sales begins with brand awareness.
"Display ads, OTT and YouTube ads are really brand awareness channels. It's about getting brand impressions in front of an audience within a geographic area. Think of it as radius targeting. Each one of these allows us to target a specific audience by socio-economics or by matching personas the brand has already created," Hill said. "But the sweet spot for local channel partners is really consideration. That's what's going to move the needle, when it comes to resellers using their local marketing budgets and investing Co-Op Marketing funds. They want to see returns, in terms of driving leads."
Customers in the Consideration Phase
Brands have a lot of influence when it comes to helping their resellers move potential customers to the consideration phase of the buying journey.
Brands can help their resellers focus their Co-Op Marketing funds on ad campaigns and marketing programs designed to capture in-market shoppers. Leading distributed marketing software makes this easy for resellers. With a few clicks, they can opt into brand-preferred tactics like Paid Search, Paid Social Ads, Organic Social, and Online Directory Listings. This way, resellers can capitalize on "near me" searches and ads targeted to customers in specific geographic areas surrounding brick-and-mortar locations.
Measurable Results and Conversions
In the customer buying journey, the next step after brand awareness and consideration is converting potential customers into leads.
This is where channel partners and end users rely heavily on their brands for distributed marketing software they can use to quickly and easily deploy co-branded landing pages that fully track phone calls and form fills. With marketing analytics dashboards, brands and their reseller partners can see measurable results across various digital marketing tactics and connect the dots to lead generation.
However, if local resellers stop at lead generation, they're missing opportunities.
Lead Management and Lead Nurturing
"Today, brands are asking more questions, like 'Ok, great, we're getting leads, but what comes next in terms of nurturing leads?' They're looking for distributed marketing software solutions with robust solutions for lead management and lead nurturing," Hill said. "Within the SproutLoud platform, leads are centralized, allowing for brand-compliant, automated, trigger-based email and direct mail campaigns that keep the brand top of mind."
Given that channel partners tend to have a finite amount of Co-Op Marketing funds, brands can incentivize their resellers on how to invest their local marketing budgets. By shifting more Co-Op program funds to proven digital marketing tactics and programs focused on lead generation and nurture, brands can guide their resellers to greater returns on their ad spend.