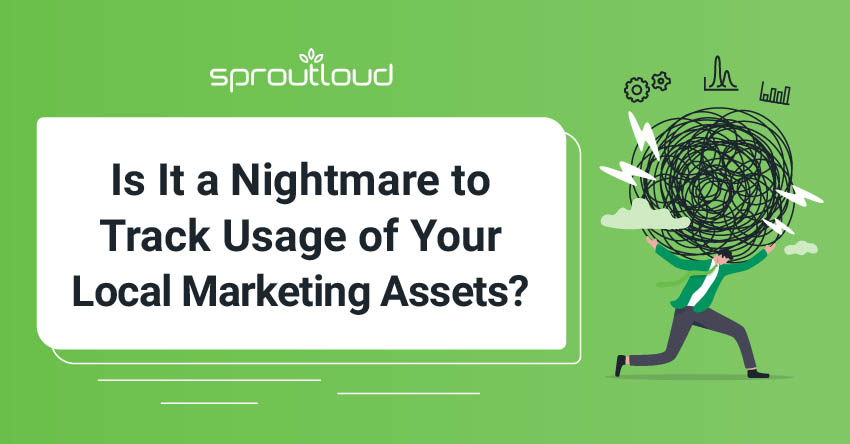 Is It a Nightmare to Track Usage of Your Local Marketing Assets?
Too many questions. Not enough time. Missed opportunities. Wasted resources. Wasted budgets. Is anything you're doing actually working? Do your competitors know something you don't know? How do you connect the dots between local marketing assets and consumer purchase decisions?
This is the stuff brand marketing nightmares are made of.
Major brands that rely on independent local resellers, corporate locations, and different types of employee end users make a significant investment in branded local marketing assets, messaging, and campaigns. If your brand team doesn't have a clear line of sight on channel marketing assets, usage and performance — who's using what, how they're using it, when they're using it, how they're paying for it, and whether any of it actually leads to more sales — they need better marketing automation solutions (and probably more sleep). With the right marketing technology, the entire process of tracking local marketing assets for brand compliance, usage and performance can be simplified and automated for your brand team, your local resellers, and your employee end users.
Today, more and more brands are increasing their channel marketing investment to include local marketing automation software. Because they know: You can't improve your ROI if you don't have the right martech solutions in place to measure it.
How do you track usage of your local marketing assets?
If you're using multiple single-point marketing vendors and creative agencies that use disparate systems that aren't compatible, then yes: Tracking usage of your local marketing assets will be too time-consuming if not impossible. With the right local marketing automation software, it's easier, faster and far more effective because a comprehensive solution can bring together ad building technology, digital asset management, local marketing execution through vetted high-performing marketing vendors, Co-Op Marketing funds management, partner marketing attribution, and marketing analytics all in one platform. That makes it easy for your brand team to:
Tag branded local marketing assets
Ensure brand compliance with customizable templates
Assign permission to determine which resellers and employee end users have access to which assets
Track resellers' and employee end users' local marketing usage (who is accessing what, when, and how often)
Track when specific local marketing assets and ad campaigns are in market
Connect specific local marketing assets and brand-complaint messaging to digital marketing tactics and campaigns where they're used
What if your resellers aren't using the right local marketing assets, messaging, tactics or campaigns? What if they're not using them often enough? Or if they're not using them at the right time for seasonal or time-sensitive promotions?
Incentives work. Making the entire process faster and easier to use through automation also works. And brands can take back more control of how, when and how often branded local marketing assets and campaigns are used.  Local marketing automation software equipped with funds management options give brands greater control over which local marketing assets, tactics and campaigns are more attractive to local resellers, who typically have very little time and less marketing expertise than your brand team. For example, brands can dial up the amount or percentage of Co-Op Marketing Funds or Market Development Funds that they make available to their reseller networks, or they can offer instant co-pay options on certain tactics or campaigns, so resellers can avoid the Co-Op claims and reimbursement process altogether. When this is done strategically, it incentivizes resellers and end users to use more brand-preferred assets and digital marketing tactics, such as paid search, location-based mobile display ads, social media auto-posting, or OTT/CTV video ads.
How do you know that your local marketing assets are effective?
If you want to know what works and what doesn't, then your local marketing assets need to be tied to relevant performance metrics. This means marketing analytics is a must-have for any local marketing automation software. Look for marketing analytics that have easy-to-use performance dashboards that allow your brand team to choose which metrics are most relevant. Make sure software's marketing analytics dashboards let your brand team slice and dice the data in various ways, including tracking channel partner performance. Leading local marketing automation software will allow permissioned users to share marketing analytics reports with your internal teams, stakeholders and decision makers, as needed.
Are your local marketing assets, messaging, ads and campaigns reaching the right audience at the right time?
To determine ROI and make data-driven decisions on your local marketing investment, you need the right data at the right time. Leading marketing automation software solutions will give you timely, relevant and easy-to-access information that you need to make better decisions. Should you adjust your local marketing spend up or down on certain tactics or campaigns? Are you making the right types of assets available to reach target audiences? Is your messaging reaching the right audience at the right time? Which assets, tactics, and campaigns are leading to greater brand awareness and brand loyalty?  Which ones are tipping the scales to more consumer purchase decisions? At the end of the day, the most important data points are traffic, leads and sales. When all local marketing activity — by your brand marketing team, sales team, field reps, field managers, resellers, employee end users, etc. — is centralized in one comprehensive local marketing automation platform, then the data your brand uses to make crucial decisions will be more complete, more accurate, and more reliable.