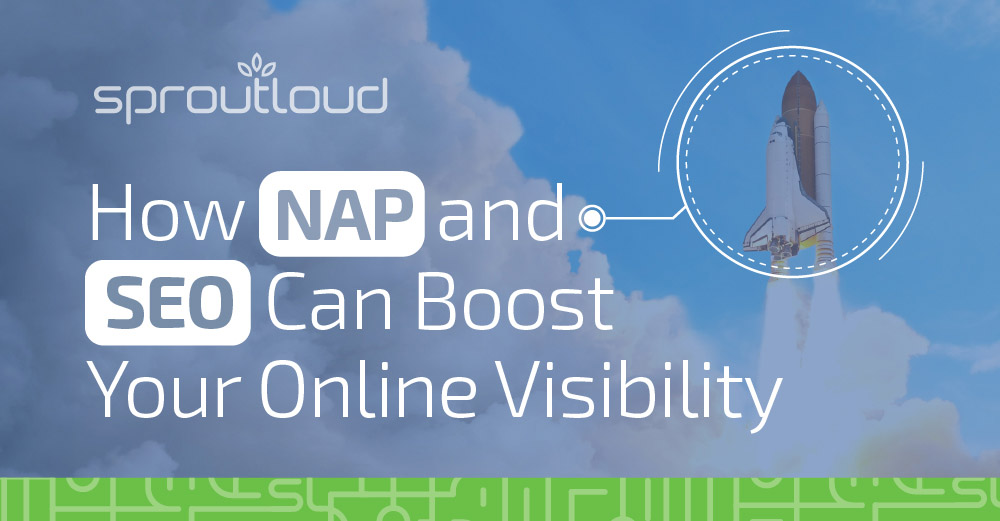 How NAP and SEO Can Boost Your Online Visibility
Improving online visibility is critical, no matter how big or small your business may be. People looking for products or services that you (and your competitors) offer also need to know how and where to find you. Today, 97 percent of consumers start the buyer journey with an online search. Whether your business shows up among local search results depends on a lot of factors, but one key component — NAP — may be within your control.
What's NAP and Why It Matters
NAP refers to a company's Name, Address and Phone number. When NAP data appears online, it's called a "citation." NAP citations about your business can appear in hundreds or thousands of online directories regardless of whether your business provided that information or not. That's because NAP data is gathered from a variety of sources, including public records, postal records, websites and various data providers.
Data providers are companies whose primary mission is to collect, verify and distribute business data worldwide. They may sell business data as leads or perhaps make it available to other companies as a paid data feed. For example, Google mines, stores and shares its vast databases of business information, acquired from data providers, websites and other sources.
For search engines like Google, Yahoo and Bing, NAP data strongly influences local search results. And that actually makes perfect sense. If you're looking for a restaurant online, you likely want local search results to deliver "nearby" options. Of course, you may specify another location in your search — if, let's say, you are looking for restaurants nearby your next vacation spot. In both cases, NAP citations have a direct impact on local search results. But when your NAP data is incorrect — a misspelled company name, the wrong phone number or address — it can mean disaster:
About $10.3 billion in potential sales are lost each year due to wrong, missing or incomplete local business information, according to the Local Search Association.
52% of consumers have visited a business to find it permanently closed, according to InfoGroup.
77% are unlikely to give a business a second chance after being provided incorrect or outdated information about that business, according to InfoGroup.
Accurate NAP citations are essential. But so is consistency. Both have a significant impact on local search results.
How Does NAP Affect SEO
SEO, or Search Engine Optimization, is a process that aims to generate traffic through free or organic search results on search engines. Though there are many factors involved in SEO, one key component of search engine algorithms is NAP data. Companies like Google, for instance, depend on NAP data to help determine search rankings, but Google certainly is not manually reviewing data from millions of companies. Search engines automatically and systematically review and cross-reference "data points" across hundreds or thousands of online directories to determine how accurate, consistent and reliable the information is. If your NAP data doesn't match across various online directories, if information is inaccurate, inconsistent or incomplete, that can have a detrimental impact on your local search rankings.
Nine out of 10 negative local search ranking factors deal with incorrect, inconsistent or mismatched NAP data or business category information. It's important to ensure your business data is updated, accurate, consistent and complete. Proactively managing online Directory Listings data helps local businesses verify their business profiles, create consistent NAP citations and other data points like hours of operation, categories and keywords across the web in order to increase local search visibility.
Benefits of Directory Listings Management
Given the vast number of online directories — those you know about and those you don't — the idea of manually managing updates is daunting. Luckily, that's not your only option. Opting for an online Directory Listings Management program can simplify the process for local businesses by:
Saving time and automating the process of creating, claiming and verifying your business data.
Taking a critical step to being more visible on search engine results pages.
Driving new leads through website visits, phone calls and accurate directions to your business.
Making it easy for your new and current customers to find your business paves the way for what every local business wants most: more traffic, leads and sales.