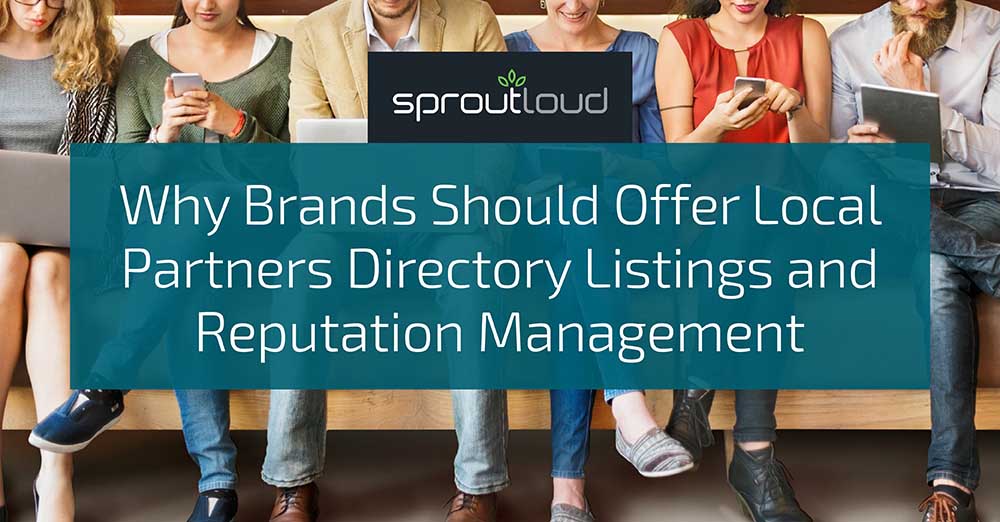 Why Brands Should Offer Local Partners Directory Listings and Reputation Management
In today's connected world, retail customers have access to more information than ever before with a quick online search. They can also share their reviews and opinions on social media and online review sites with just a few clicks. All of this has the power to affect the way people view a business, so it's crucial that small businesses manage their online presence effectively. Unfortunately, in today's fast-paced business environment, they simply do not have the time to dedicate to this.
This is why it is so important for Brands to offer their local retail Partners automated marketing programs for both Directory Listings and Reputation Management. While some marketing executives may think it is not their responsibility to provide these types of digital marketing services to their Partners, let's take a look at what makes this advantageous for the Brand.
Directory Listings
According to Hubspot, there are 57 online local business directories that you should have your business listed on. That can be overwhelming, if small business owners don't have any help creating, claiming, verifying, or optimizing these profiles.
If you provide your Partners with a Directory Listings program, they have a team of people behind them. All to help them:
Build and maintain a strong online presence by ensuring consistent and accurate information is populated across the web
Provide end-buyers with access to important business information such as address, store hours and business phone number
Claim their business online to make sure search engines show their business information for those looking for it
Why is this important?
According to BrightLocal, 97% of consumers used the internet to find a local business, up from 95% in 2016. Hubspot also states that 53% of consumers contact a business within 48 hours of performing a local search. Accurate directory listings information online means potential end-buyers can find your Partners online.  At the end of the day, when your local retail Partners drive more traffic, leads and sales, it benefits your Brand.
Reputation Management
Large Brands and Small Businesses alike can no longer afford to ignore the role of Reputation Management in a local marketing strategy. A Reputation Management program can provide your local retail Partners with:
Consistent monitoring and alerts anytime someone posts a review about your Partners' business online, such as on Google, Yahoo, Yelp and Facebook
The ability to showcase positive reviews on social media to attract current and potential end-buyers
The opportunity to easily and quickly respond to reviews when they're posted, which shows the local community that your Partners are engaged
Why is this important?
Just consider the impact a positive or negative review can have on consumer behavior — according to BrightLocal, 49% of consumers need at least a four-star rating before they choose to use a business, and consumers read an average of 7 reviews before trusting a business. It also is equally as important for a business to be active on review sites, because 30% of consumers say this is a key factor when they judge local businesses. When consumers trust the local businesses where they can buy your Brand's products, both your local Partners and your Brand benefit.
While both Reputation Management and Directory Listings are clearly crucial, many small business owners do not have the time or resources to manage these programs on their own. When Brands offer their Partner networks both Reputation Management and Directory Listings programs, it gives Partners the tools they need to increase traffic, leads and sales.