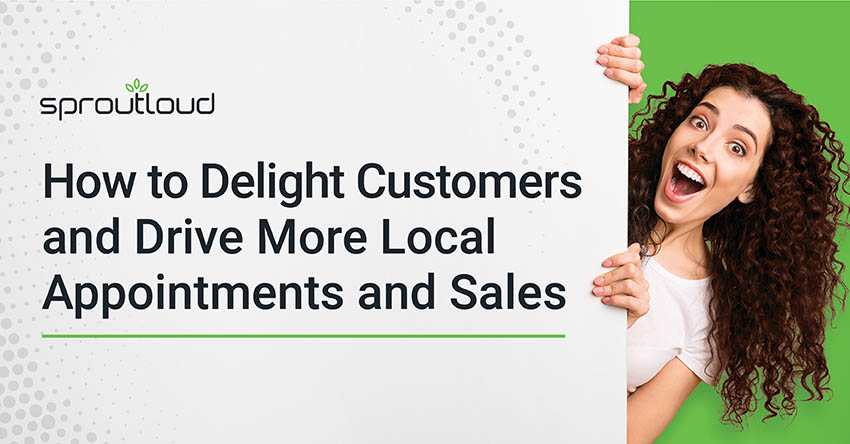 How to Delight Customers and Drive More Local Appointments and Sales
Local resellers — the independent retailers, dealers, insurance agents, brokers, and anyone else that sells brand products and services at the local level — need to focus on delighting customers in order to exceed expectations. That's why savvy brands enable their local resellers' sales and marketing teams by providing the right local marketing automation tools designed for flexibility, customization and measurable results. SproutLoud's easy-to-use hyper local marketing solutions are built to delight customers and drive more local appointments and sales.
With SproutLoud, major companies and their local reseller networks are changing the way they go to market:
Resellers and other end users can localize marketing with a few clicks and reduce one-off customization requests
Brands can easily permission marketing assets for the proper reseller programs, and SproutLoud is designed to get those messages into the market faster
Brands can also choose to have SproutLoud do the work on behalf of their resellers or they can opt for self-service
SproutLoud local marketing solutions can also help brands engage their local resellers to use the platform and increase local sales. SproutLoud provides the expertise and exceptional customer service that end users need to create custom local marketing plans, implement localized marketing strategies, and get measurable results on local marketing performance and sales. With an ecosystem of 100+ Marketing Service Integrations, SproutLoud ensures that local marketing campaigns are executed flawlessly, with on-demand, customizable marketing programs and tactics such as:
Integrated Call Tracking
Local Websites
Location Pages
Targeted Digital Advertising
Targeted Direct Mail and Email
Vehicle Wraps & Company Apparel and Promo Items
With SproutLoud, brands can get advertising funds to their local resellers immediately, while improving visibility and control:
Attach funding directly to local marketing campaigns
Manage how your brand and your reseller partners use Co-Op Marketing and Marketing Development Funds and leverage location-based marketing, in one easy-to-use platform
Track local reseller marketing performance on marketing analytics dashboards, for better insight so you can focus your local marketing spend on what works
When your local resellers have the right local marketing tools and better insight, they have a deeper understanding of the brand and what customers want. With SproutLoud, your local resellers are better equipped to meet and exceed customer expectations.
Ready to see what SproutLoud can do for you?
Book a Live Demo