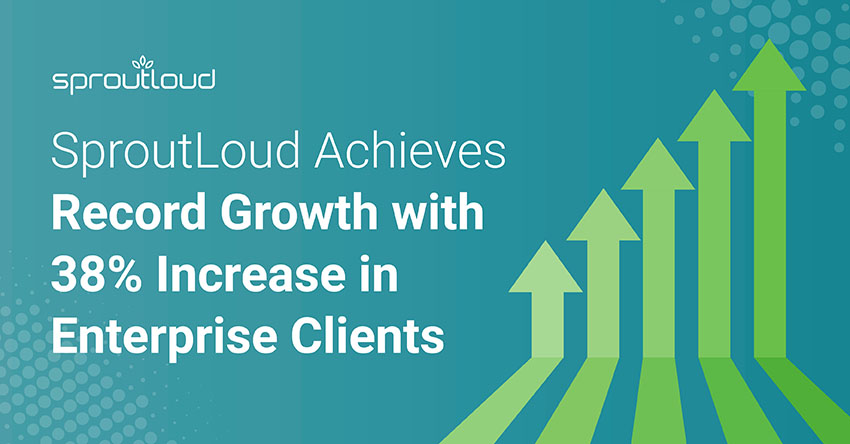 SproutLoud Achieves Record Growth with 38% Increase in Enterprise Clients
SproutLoud, an industry leader in distributed marketing technology, announced four consecutive quarters of record client acquisition growth, achieving a 38% increase in its Enterprise client roster as of June 30, 2021, over the previous 12-month period. This marks the company's highest percentage of customer growth in five years.
The significance of earning this kind of success during a global pandemic reflects a fundamental change in the way business is conducted, according to SproutLoud CEO Jared Shusterman.
"The pandemic has fundamentally changed the way businesses need to communicate and transact with customers. SproutLoud is bringing that change to the small business resellers and local front-line employees that Enterprise brands rely on in local markets," Shusterman said. "It's a testament to the market fit of our product. Major companies are looking for quality solutions that also improve their local stakeholder experience."
2020 profoundly impacted small business and local economies. And it accelerated key trends of digital transformation and buyer enablement. Those not taking notice pre-pandemic found it far more difficult to react to changes in consumer behavior and the ebbs and flows of local regulations.
SproutLoud's newest clients include leading companies in insurance and financial services, manufacturing, energy, agricultural technology, telecommunications, and travel.
ABOUT SPROUTLOUD
SproutLoud is a leading SaaS-based Through Channel Marketing Automation platform, designed to increase brand sales through partners in local markets. SproutLoud's advanced marketing automation technology simplifies every aspect of Distributed Marketing and delivers comprehensive analytics on tens of millions of touchpoints for major, category-leading brands. SproutLoud gives brands unparalleled visibility on ROI for individual tactics, campaigns, partner engagement and platform usage. With SproutLoud, brands have the advantage of responding rapidly to changing market conditions in real-time with data-driven decisions.
Media inquiries
Contact SproutLoud Senior Content Marketing Manager Elizabeth Vempala at  [email protected]
Sales inquiries
Contact [email protected] or call 954-476-6211 x3