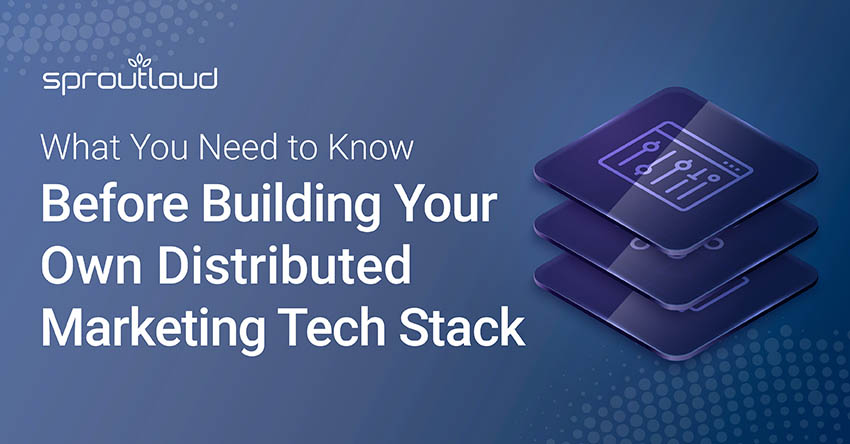 What You Need to Know Before Building Your Own Distributed Marketing Tech Stack
More companies than ever are gravitating toward developing an open architecture that would make it easier for clients to connect with their software products. And that's where the idea of building your own Distributed Marketing Tech Stack seems to be gaining momentum.  But what does it really take to build a group of marketing technologies to conduct and improve marketing activities — like lead generation, email marketing, social media management and search engine optimization, to name just a few?
Building your own Martech Stack involves a major investment in time, money and expertise to:
identify marketing strategies, goals and challenges
establish budgets
research tools
compile data
set up compatible systems
manage unique workflows for each tool
address data security and compliance needs
constantly evaluate, reevaluate and monitor performance
Considering that all of that is above and beyond what you're already pouring into your business, it's a lot to take on. And that's especially true for companies that use a Distributed Marketing strategy — selling their products and services through a network of local resellers, like retailers, dealers, distributors, agents, brokers, corporate employees, franchisees, branches, and/or multi-locations. Not only do your marketing technologies and systems have to work for your brand marketing team, they also need to work for each and every reseller in your national or global channel partner network.
Perhaps you've considered cobbling together a variety of existing single-point solutions (that may or may not be compatible with one another), as a way to "customize" or group together the marketing technologies you need. That also requires a significant amount of research and vetting, as you wade through a mountain of options. As of 2020, the marketing technology landscape comprises over 8,000 unique marketing-related software technologies — according to the most recent iteration of the martech supergraphic curated by Scott Brinker since 2011.
It is clear that the challenges and use cases for building your own Distributed Marketing Tech Stack are complex. The first thing brands need to understand is that this is no small task, and resources must be assigned to manage this complexity. Some firms that decide to build their own stack end up going down a rabbit hole, not knowing what to do first or what they are trying to solve for. The most important thing to do is make sure there is internal alignment on venturing down this path, and that budget is available to allocate to this project. You cannot simply budget for the build of your stack. It's crucial to ensure you add another 20%, at minimum, for additional annual maintenance costs. Then, make sure to budget for scope creep, which is typically another 50% added to your original budget. Everyone forgets about scope creep and ongoing costs to maintain.
And this is the point where "single-point solutions" start looking more attractive. While that may  seem like the most straightforward approach to solving an individual pain point, it tends to be a misguided strategy that winds up costing companies a lot more time, effort and money along the way. Companies that start out with no endgame in mind are the ones that end up trying to figure out where they went wrong.
There is an easier and more effective way.
For companies that use a Distributed Marketing strategy, there are Software as a Service solutions, like SproutLoud, that are built specifically to provide your company with a custom Distributed Marketing Tech Stack composed of best-in-class marketing integrations.
SproutLoud is presented with many situations, where a brand may already have long-standing relationships with specific vendors that they want to keep. While this may be a challenge for other Distributed Marketing software providers, SproutLoud has already solved for this.
We are seeing an industry being born before our eyes. Consulting firms, both large and small, are leaping at the opportunity to help companies understand where to start and what products to consider when building their stack. The challenge in the industry of Distributed Marketing is that this is a very specific component of a larger challenge in these organizations. Most consulting firms are focused on "Enterprise" marketing and not the National-to-Local portion that involves marketing through their local resellers, also known as the Channel Partner ecosystem. This is where Distributed Marketing solution providers, like SproutLoud, have the advantage and expertise of focusing on Distributed Marketing technologies that add value to national and global brands. One size does not fit all. We continue to see a growing need for Distributed Marketing solutions to provide leadership and guidance to brands, offering them a clear path to building a Martech Stack that works for their local reseller networks.
The best solutions typically involve a hybrid approach. The SproutLoud platform comes with over 100 integrated marketing service providers and more than 800 connector technology solutions, to meet brands' needs for very specific use cases. With SproutLoud's marketing service integration ecosystem, brands reduce the amount of overhead in managing multiple vendor contracts and relationships. They are pleasantly surprised by the lower costs associated with the marketing fulfillment because of the aggregated buying power in the SproutLoud network. Most importantly, with SproutLoud, brands are able to provide an easy-to-use platform for their end users. Bringing all their marketing technologies, workflows, tactics, funds management, and marketing analytics into a single environment makes the entire process more simple and effective for brand teams and their local resellers. SproutLoud clients have the added advantage of expert support and service, with a dedicated team for brands as well as local marketing experts for each reseller in their network.
Learn more about Distributed Marketing solutions designed to fit your brand.
Book a demo with a SproutLoud expert today.