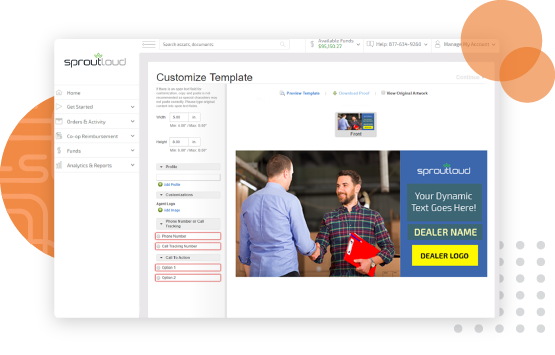 Studio
Local ad building for brand-compliant, customized and flawless results
Brands depend on their Partners to get brand-compliant ads in market to drive local sales. For Partners, this means agency fees for ad customization, vendor management, brand guidelines and obtaining approvals. It's a complicated, frustrating process that can lead to delays and costly mistakes. Studio delivers the results both Brands and their Partners need: flawless local ads in less time.

Studio combines local ad builder capabilities with advanced ad flexing technology and data-driven customization options to create dynamic templates pre-configured for brand compliance. This means, with a few mouse clicks, Partners can quickly and easily resize and customize local ads.
Let SproutLoud handle the heavy lifting
Studio offers advanced local ad builder and digital asset management technology with all the advantages of a comprehensive Through-Channel Marketing Automation platform:

Studio transforms Brand marketing assets into easily customizable brand-compliant dynamic templates.
Customization options can be pre-populated with Partners' local store name, address, phone number, store hours, product photos, and social media contact information.

Ad flexing technology and custom ad modules make it fast and easy to change ad sizes and customize content without sacrificing design integrity or aspect ratio.

Partners save time on vendor management and money on agency fees, when customized brand-compliant local ads are routed to our world-class network of Marketing Service Integrations.

When Partners get Brand messages in local markets with precision speed and cost-efficiency, they can spend less time on marketing and more time closing sales.