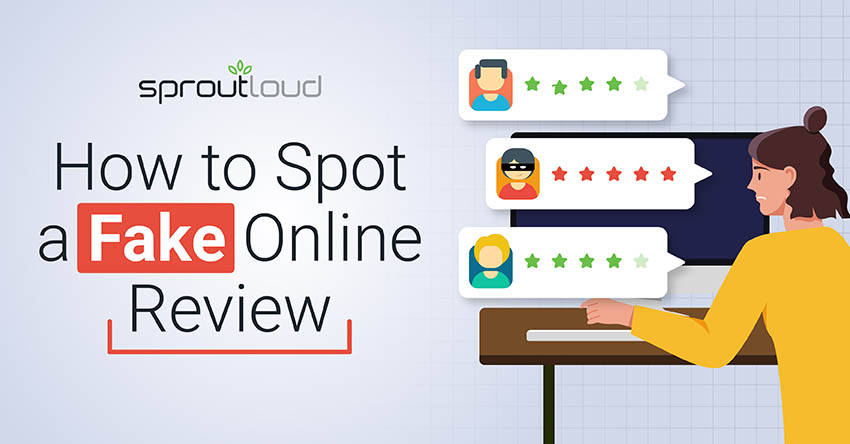 How to Spot a Fake Online Review
Fake online reviews are a growing problem for local businesses that has continued to get worse over the last few years. With the increase of consumer reliance on online reviews, there has been an exponential increase in fake reviews posted online to either deceive consumers about a product or service or increase the rating and ranking of a business online. Google has been keeping track of the number of fake reviews removed from business listings. Last year alone, Google removed 95 million fake reviews.
It's important for local businesses to manage their online reputation, and it's also key to be able to spot fake reviews so you can take immediate action. Let's review some key indicators of fake online reviews. 
Lack of business variety
Let's say that your business has received a review that you believe to be fake or disingenuous. When you click on the reviewer's profile and start going through all the reviews that they have posted on that site, you realize that they only ever post about one type of business (electrical, travel, retail, etc). This is a good indicator that the review is not genuine. Most consumers interact with businesses across various industries, such as medical, retail, home improvement, etc. So, for a review to only focus on one industry is a red flag to be on the lookout for. 
Geographical Location
While you're in that reviewer's profile going through their past reviews, take a look at the other businesses that they have reviewed. Are they in the same vicinity (within reasonable distance) or is there a major geographical distance between them? Obviously making allowances for occasional travel/vacations, if there are major distances between the businesses being reviewed, this could be another indicator of fake reviews posted by this profile. 
Reused content
If you see a pattern of duplicate reviews or phrases that are being reused across multiple reviews, this is another flag for fake reviews. Consumers may not always have the time to take a deep dive into the research and reviews before making a purchase decision, so reviewers have certainly reused content that other consumers have noted as impactful when making their buying decision. 
The moderation of online reviews, and especially the enforcement of consequences for fake reviews, has a long way to go but that does not mean that you're powerless against them when it comes to your business. 
Flag a review that you feel is fake or disingenuous and while that request is being processed, respond to the review. The best action you can take is to respond, address the feedback, and show other potential customers that the customer experience is important to you. 
If you are a current SproutLoud client, and you'd like to learn more about local marketing strategies, click here to schedule time with a SproutLoud Local Marketing Expert.