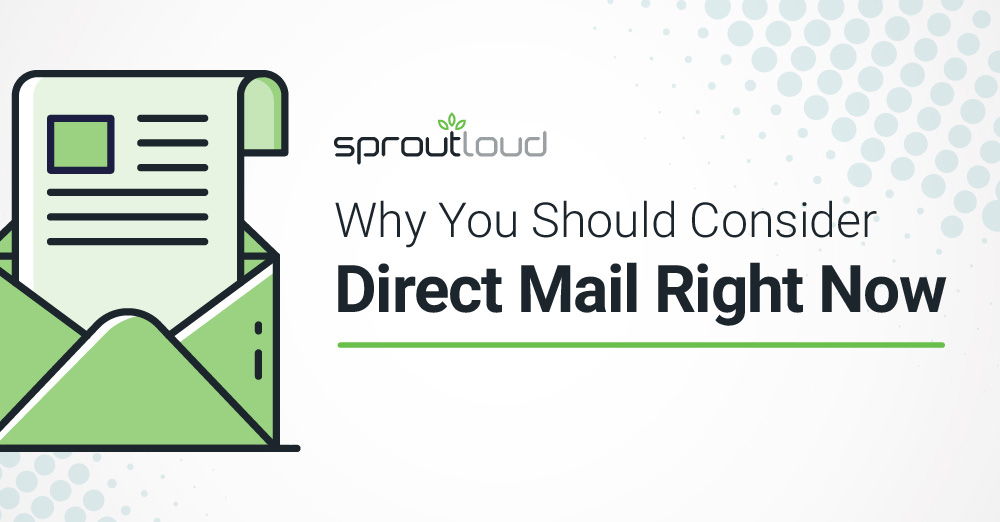 Why You Should Consider Direct Mail Right Now
We're living in an ever-evolving digital world. Consumers are more likely to use phones to browse the internet than make a call. Laptops and mobile devices make it simple to keep up with weekly game nights from the comfort of our living rooms. And transforming a home office into a trendy coffee house is as easy as asking Siri, Alexa or Google Home for your work-from-home playlist.
When consumers are constantly clicking, swiping and scrolling on devices, it can be challenging to capture their attention. That's why a strategic combination of digital marketing efforts and more traditional marketing tactics, such as direct mail, is the perfect way to target potential customers in local markets.
What is Direct Mail?
Direct mail is a traditional print marketing method that delivers tangible ads directly to potential customers. Targeting direct mail campaigns is simple with SproutLoud. Brands spend time researching and compiling data on ideal target audiences for their local partner networks. Some of these factors may include age range, gender and household income. Within the SproutLoud distributed marketing platform, local businesses can easily select a target marketing area by choosing specific zip codes, or cities, or a given radius around their business location.
Benefits of Using Direct Mail
Delivered straight to potential consumers' mailboxes, direct mail can be sent in many forms, including postcards, brochures and flyers. Households typically sift through their mail, offering more time for an individual to convert from a potential customer to an engaged lead. Even if recipients don't immediately take any action on direct mail, the branded personalized mailer allows for your business to be top-of-mind when the consumer needs your product or services in the future. Strategically layering targeted direct mail campaigns with digital marketing, such as local paid search campaigns, local display ads and email marketing, can reinforce brand awareness and help increase leads and sales.
Measuring the Success of Direct Mail Campaigns
Direct mail campaigns are commonly measured using call tracking numbers and online forms:
Call tracking numbers printed on direct mail pieces are an effective way to collect consumer data and gather relevant reporting metrics. Call tracking reports highlight the number of calls received, the length of these calls, and even the quality of what was said during the calls.
Online forms are another way to collect data on leads and measure campaign performance, when websites or landing pages are incorporated into calls-to-action on direct mail pieces. This allows potential customers to go to your businesses virtually, through your website, and submit contact information in order to access a discount or get more information about your business. Using online forms is a great way to integrate digital marketing with direct mail to help capture more leads and close more sales.
In the digital age, direct mail remains an effective way to reach target audiences, integrate multiple tactics and measure success.
If you are a current SproutLoud client, click here to book time with a local marketing expert.