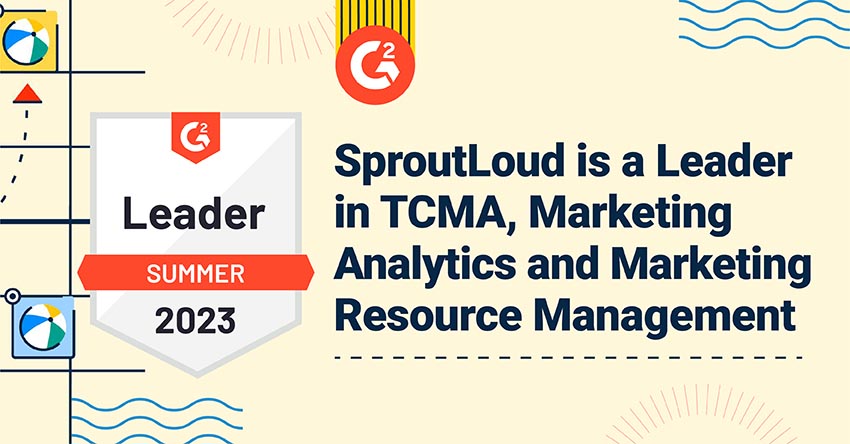 SproutLoud is a Leader in TCMA, Marketing Analytics and Marketing Resource Management
SproutLoud, a leader in distributed marketing, earned top rankings in the G2 Summer 2023 Report, with 112 recognition badges across six categories, including:
Leader in Through Channel Marketing
Leader in Marketing Analytics
Leader in Marketing Resource Management
Best Support – Quality of Support – in Local Marketing
Momentum Leader in Landing Page Builders
Users Most Likely to Recommend in Local SEO
SproutLoud maintains a 4.9 out of 5 stars ranking on the G2 software review platform, based on verified customer reviews.
View SproutLoud verified user reviews on G2
Here's what clients are saying about SproutLoud
"Gaining customers with SproutLoud"
Susanne A., benefits consultant with Aflac, said SproutLoud is "easy to use" and has "a huge variety of items. I like the business cards, landing pages and so much more."
"Keeps my team on brand and compliant with regulations"
Anna T., co-founder of an enterprise company, said, "I love that there are ready-made marketing materials that I can use when reaching out to my customers. … It really streamlines my ability to get valuable information to my clients and gives me peace of mind that I am following all regulations that govern communication in my industry, because each of the marketing materials have already been reviewed and approved by my headquarters team. It also ensures that my communications stay 'on brand' and are consistently aligned with our corporate headquarters."
"I truly don't know what I would do without SproutLoud!"
Cheryl L., co-owner of a small business said SproutLoud is "easy to use" and "I like how I can have different profiles available at the click of a button."
"SproutLoud is the BEST!"
Amanda D., a small business client, said she likes SproutLoud's "easy and quick claim processing."
"SproutLoud makes my job easier"
K.N., a mid-market client, said "I like that I can submit all my co-op online in an organized and efficient manner. I can also go to the website and check for accrued co-op and claim status! Easy, fast and efficient!"
ABOUT SPROUTLOUD
SproutLoud is a leading SaaS-based Through Channel Marketing Automation platform, designed to increase brand sales through channel partners, distributors, and customer-facing employees in local markets. SproutLoud's intuitive distributed marketing platform makes it simple to launch brand-compliant, sophisticated, omni-channel marketing campaigns quickly and easily. SproutLoud gives brands unparalleled visibility on ROI for individual tactics, campaigns, promotions, partner engagement, and platform usage. With SproutLoud, brands have the advantage of responding rapidly to changing market conditions with data-driven decisions.
Media inquiries
Contact Elizabeth Vempala, SproutLoud Senior Content Marketing Manager,
at [email protected]
Sales inquiries
Contact [email protected] or call 954-476-6211 x3